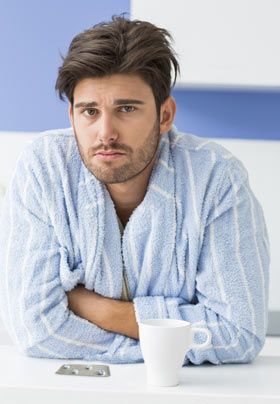 As with any medication, Viagra and other erectile dysfunction medications aren't guaranteed to work for everyone.
Your doctor should explain carefully how to use them, and what to expect, but even under the best of circumstances you may find that you need a number of attempts, or possibly an adjusted dose or different type of medication in order to see results.
If you aren't able to achieve an erection soon after you start treatment, don't despair. Check to ensure you are taking the medication exactly as directed according to the patient information leaflet supplied with the tablets, and be sure to let your doctor know what happens (or doesn't happen) when you do. Always consult a doctor if treatment doesn't work. Studies show an improved response rate after receiving appropriate dose and instructions on administration. You may require further tests and assessment, and possibly alternative treatments.
What is the 'success rate' of sildenafil (Viagra)?
From clinical trials the following percentages of men responded to the three different doses of sildenafil as follows:
Proportions of patients reporting improved erections in clinical trials of sildenafil

| | | |
| --- | --- | --- |
| Sildenafil | 25mg dose | 62% reported improved erections |
| Sildenafil | 50mg dose | 74% reported improved erections |
| Sildenafil | 100mg dose | 82% reported improved erections |
The results show sildenafil (Viagra, Viagra Connect) is not effective for all men, but the reasons can be complex and varied. Read on to learn a few different things you can try in order to help your medication have the desired effect. These points will help you develop a realistic expectation for your treatment.
Adopt the right mindset
Before all else, try to keep in mind that no erectile dysfunction medicine is a miracle cure. The PDE5 inhibitors (sildenafil, tadalafil, vardenafil, and avanafil) work by facilitating blood flow to the penis, but they all require sexual arousal. Your body sends the necessary chemicals to the blood vessels of the penis, the medication helps the blood flow, and also block the PDE5 enzymes that eliminate the chemicals, and this helps you get and maintain an erection.
Without proper sexual arousal the medication will simply not take effect. Try to make sure you are receiving stimulation that works for you; whether it's visual or from touch, scent or taste, you need to feel naturally turned on.
Distractions, interruptions, and low temperatures can stop the production of the chemicals responsible for erections.
Patient expectations
Psychological factors can make a big difference with regard to treatment and outcome, and should not be underestimated (the placebo effect is a good example). Brand, size, shape, and colour of a pill can all have a psychological impact on a patient's confidence in the treatment. There is also documented evidence that a higher dosage can have a positive psychological effect, however side effects are more likely. Studies also suggest men's mood improves after taking sildenafil.
Don't eat before taking Viagra, vardenafil, or Spedra
Many men make the mistake of taking Viagra, vardenafil, or Spedra after a meal. This can impede the absorption of the drugs, making them only marginally effective. You should wait at least 2 hours after eating before taking the tablets so you can experience their full effect. Avoid eating fatty foods or drinking sour fruits, particularly grapefruit, as these may affect efficacy.
Cialis (tadalafil) is the exception, which can be taken with food.
When you have ED, having sex may take more planning than before. For couples concerned about the loss of spontaneity, low dose (2.5mg or 5mg) Cialis/tadalafil taken daily provides continuous treatment and requires less planning.
But if sex is a night-time activity for you, it may not be much of an issue. Simply have your evening meal, take your medication a few hours later, and then just wait the required time before you plan to have sex. This leads us to our next point:
Give yourself an hour
The medication takes a while to enter your system and reach its peak effect, and the time varies from Viagra to Spedra, vardenafil, and Cialis. By waiting at least the required amount of time you will be giving yourself the best chance of achieving a full erection.
This also gives you and your partner time to get into the mood. Why not ease into the interlude by touching and kissing, lying down together, or even watching a sexy film. As the medication takes effect you can focus on foreplay leading up to sex, and this can make the experience less rushed and more enjoyable overall.
Keep trying
If your medication doesn't work the first time, or even the first few times, don't lose hope. It is recommended that you try the prescribed dosage at least 8 times to gauge its effectiveness. Your doctor can guide you as to how long you should continue with this initial dosage before considering any change to your medication.
Increased dosage or different ED medicine
The normal starting dose of Viagra (sildenafil) is a 50mg tablet, but if this dosage isn't effective it may be increased to one 100mg tablet. Doses of other ED medications can also be increased. Increasing dosage also increases the potential for side effects.
Conditions like high blood pressure, diabetes, or cholesterol will affect whether you are prescribed the higher dose, but if your ED medication isn't working, a higher dosage may well be the correct course of action.
However, if your body still doesn't respond to your treatment, it could be a question of trying a different medicine. Don't think that just because one medication doesn't work that another can't be successful.
Some brands of sildenafil (generic Viagra) come as scored tablets, meaning they can be broken in half or quarters if required to save money (eg: a 100mg tablet broken in half provides 2 x 50mg doses). Drug manufacturers do not recommend splitting tablets but it is often common practice by nurses. If you choose to split tablets break the tablet only at the time required, and store the remaining part of the tablet in a sealed container or cling-film, to limit any dehydration of the tablet. Generally, it is advised to use the correct dosage tablet.
It can be frustrating trying to determine why you aren't experiencing the desired results but there is usually a reason, so consider the preceding factors and arm yourself with this knowledge as you speak with your GP. There are different things you can do to help bring about the results you're hoping for, just remember that success with ED isn't always instantaneous.
Further information