Avomine
Avomine tablets (promethazine 25mg) to prevent and control travel sickness.
Long journey: take the night before
Short journey: take 1-2 hours before travel
Start order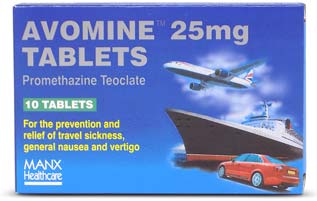 About us | Approved to sell medications online


Prices
| Travel sickness patches | Quantity | Cost |
| --- | --- | --- |
| Avomine 25mg (promethazine) | 10 tablets | £6.20 |
| Avomine 25mg (promethazine) | 20 tablets | £8.30 |
| Avomine 25mg (promethazine) | 28 tablets | £10.55 |

Price match guarantee
Prescription issued online - small prescription fee per order.
Prescription fees
Dr Fox supplies medicine on prescription and charges a small prescription fee based on the order value of each prescription.
Prescriptions are issued by our doctors online and sent electronically to our pharmacy.
If you have your own private paper prescription please post to our pharmacy (details).
Dr Fox prices are 25%–50% lower than other UK online clinics.
| Order value | Prescription fee |
| --- | --- |
| up to £10 | £1.00 |
| up to £20 | £2.00 |
| up to £40 | £3.00 |
| over £40 | £4.00 |
Delivery charges
UK delivery only: £2.90 per consultation via Royal Mail 24 Signed For (1-3 working days with tracking).
Parcel forwarding services are not permitted. Use only UK home or work delivery address.
Returns and refunds - unwanted items can be returned within 14 working days for a full refund.
---
About Avomine
Avomine tablets contain promethazine which belongs to a group of medicines called phenothiazines. Avomine is an anti-emetic (anti-sickness drug) which helps to prevent, and treat nausea and vomiting, including travel sickness, and vertigo.
Preventing travel sickness
The usual dose for adults is:
Long journeys: take one tablet each night at bedtime starting the night before you travel.
Short journeys: take one tablet one or two hours before travelling.
Treatment of travel sickness
Take one tablet as soon as you feel sick followed by a second tablet the same evening. Take a third tablet the next evening if necessary.
Nausea and vomiting due to other causes
One tablet each night is usually enough, but two or three tablets may be required by some patients. These can be taken at intervals during the day, but it is often not necessary for more than 4 tablets to be needed in any 24 hour period.
Possible side effects
Like all medicines Avomine can cause side effects, although not everybody gets them. If you experience any of the following side effects speak to your doctor immediately:
severe rash, itching, swelling of the face, lips or mouth.
shortness of breath or difficulty breathing.
irregular heartbeats, low blood pressure (light-headed feeling when standing).
If you notice any of the following side effects speak to your doctor or pharmacist:
infections, fevers or sore throats which seem to go on a long time.
unexplained bruising or nose-bleeds.
if you develop a yellow colour of your skin, dark urine and yellowing of the whites of the eyes.
Other side effects may include:
headache, dizziness, restlessness, confusion, you may feel tired or sleepy.
children may become over excited while taking this product.
occasionally some people, especially the elderly, may experience blurred vision, dry mouth or have difficulty passing water.
loss of appetite, upset stomach, nightmares.
cramp or muscles twitching or jerking, or the muscles become rigid.
unusual movements of the head and face muscles.
Cautions
Do not take Avomine if you have or have had:
an allergic reaction to promethazine, any phenothiazine or any of the ingredients (sodium metabisulphite, lactose - see patient leaflet for more details).
taken medicines for depression, known as Monoamine Oxidase Inhibitors (MAOIs) within the last 14 days.
CNS depression, people with CNS depression will seem sleepy or unconscious (including coma).
Take special care with Avomine and tell your doctor or pharmacist if you suffer with:
glaucoma (increased pressure in the eye).
epilepsy.
heart problems.
liver problems.
kidney or bladder problems.
a chest condition such as asthma or bronchitis.
severe headaches with blurred vision, severe stomach pains with vomiting, dizziness, difficulty with keeping your balance, ringing in the ears or other ear problems as well as feeling sick.
a bad cough.
Reye's Syndrome or symptoms of Reye's Syndrome (including persistent vomiting, feeling tired or sleepiness).
Do not take Avomine for more than 7 days without contacting your doctor.
Avomine and taking other medicines
Please tell your doctor or pharmacist if you are taking or have recently taken any other medicines, including medicines obtained without a prescription.
You must tell your doctor or pharmacist if you are already taking any of the following medicines:
anticholinergic agents.
medicines to help you sleep (hypnotics).
medicines for depression, mental illness or anxiety (tricyclic antidepressants, sedatives).
medicines for crampy stomach pains, Parkinson's disease or bladder problems.
If you are having skin tests for allergy, do not take this medicine as it interferes with the results. You should stop taking this medicine at least 72 hours before the skin tests.
Avoid strong sunlight while taking this product as your skin may be more sensitive to the effect of the sun.
Taking with food and drink
While taking Avomine, you should avoid drinking alcohol as the tablets will add to the effects of alcohol.
Pregnancy and breast-feeding
If you are pregnant, think you may be pregnant or are breast-feeding your baby, you should not take Avomine, unless they have been recommended for you by a doctor.
If you are breast-feeding your baby, Avomine may cause your baby to be irritable and excited.
If you are having a pregnancy test, do not take this product as it interferes with the results.
Driving and operating machinery
These tablets may make you feel dizzy, sleepy, disorientated or confused or cause you to have a headache. You should not drive or operate machinery for the first few days, and until you are sure that you are not affected by these unwanted effects.
Patient information leaflet
The 'Patient Information Leaflet' supplied with medication must be read before use.
---
Authored 25 November 2015
by Dr Tony Steele, MB ChB
Reviewed 04 January 2017 by Dr B. Babor, MB ChB
Last updated 5 February 2020
---
The order process
Answer short medical questionnaire
Choose medication, register, and pay
Doctor issues prescription online
Pharmacy team post medication direct
---
Recent reviews
"Excellent service and price"09 August 2020 – Anonymous
"Products delivered discreetly and promptly. Excellent service"09 August 2020 – Anonymous
"I am so impressed. Good straight forward website. Loads of information. I like that they use the Post Office tracked delivery service. I ordered a product, it was delivered quickly in plain packaging, It was an excellent price compared to the high street chemists. I will definitely use them again. Unhesitatingly recommend."09 August 2020 – Derek S., Manchester
"Well communicated , good service , fair price ...."09 August 2020 – Anonymous
"These guys work great I get my medicine delieverd on time thanks to all you guys."09 August 2020 – Razz A., Bradford West Yorkshire
"Very professional service"09 August 2020 – Anonymous
"Delivery very quick and discreet as promised. Very pleased with product and will most definitely order again"09 August 2020 – Dink D., Northampton
"Great service"09 August 2020 – Anonymous
"Quick and easy process."09 August 2020 – Anonymous
"I have been using this service for about 7 years. Completely reliable and professional,I hav3 no hesitation in r3commending th3m."09 August 2020 – Anonymous
"Great service, fast shipping, especially when I need my medicines quickly. A+"09 August 2020 – Anonymous