Avomine
Avomine tablets (promethazine 25mg) medication to prevent and control travel sickness available to buy online from Dr Fox.
Start order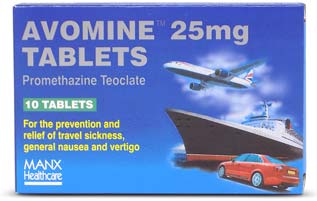 Buy Avomine online
Read medical information about travel sickness
Answer medical questions to check for eligibility
Reviewed by doctors - posted from UK pharmacy (tracked 24hr service)
Prices
| Travel sickness tablets | Quantity | Cost |
| --- | --- | --- |
| Avomine 25mg (promethazine) | 10 tablets | £6.20 |
| Avomine 25mg (promethazine) | 20 tablets | £8.30 |
| Avomine 25mg (promethazine) | 28 tablets | £10.55 |
Prescription fees
Dr Fox supplies medicine on prescription and charges a small prescription fee based on the order value of each prescription.
Prescriptions are issued by our doctors online and sent electronically to our pharmacy.
| Order value | Prescription fee |
| --- | --- |
| up to £10 | £1.00 |
| up to £20 | £2.00 |
| up to £40 | £3.00 |
| over £40 | £4.00 |
If you have your own private paper prescription please post to our pharmacy (details).
Dr Fox prices are 25%–50% lower than other UK online clinics.
Delivery charges
UK delivery only: £2.90 per consultation via Royal Mail Tracked 24 Signed For (1-2 working days with tracking).
Parcel forwarding services are not permitted. Use only UK home or work delivery address.
Returns and refunds - unwanted items can be returned within 14 working days for a full refund.
---
About Avomine
Avomine tablets contain promethazine which belongs to a group of medicines called phenothiazines. Avomine is an antihistamine and antiemetic (anti-sickness drug) which helps to prevent and treat nausea and vomiting, including travel sickness and vertigo.
Preventing travel sickness
The usual dose for adults is:
Long journeys: take one tablet each night at bedtime starting the night before you travel.
Short journeys: take one tablet one or two hours before travelling.
Treatment of travel sickness
Take one tablet as soon as you feel sick followed by a second tablet the same evening. Take a third tablet the next evening if necessary.
Nausea and vomiting due to other causes
One tablet each night is usually enough, but two or three tablets may be required by some patients. These can be taken at intervals during the day, but it is not usually necessary for more than 4 tablets to be needed in any 24 hour period. Dr Fox supplies Avomine to treat travel sickness and any vomiting associated with travellers diarrhoea.
Possible side effects
Like all medicines Avomine can cause side effects, although not everybody gets them. Most are very mild but if you experience any of the following severe side effects which may indicate allergy to Avomine, then seek medical help immediately:
Severe rash, itching, swelling of the face, lips, or mouth.
Shortness of breath or difficulty breathing.
Irregular heartbeats, low blood pressure (light-headed feeling when standing).
If you notice any of the following side effects speak to a doctor or pharmacist:
Infections, fevers, or sore throats which seem to go on a long time.
Unexplained bruising or nose-bleeds.
If you develop a yellow colour of your skin, dark urine, and yellowing of the whites of the eyes.
Other side effects may include:
Headache, dizziness, restlessness, confusion, feeling tired or sleepy.
Children may become over excited while taking this product.
Occasionally some people, especially the elderly, may experience blurred vision, dry mouth, or have difficulty passing water.
Loss of appetite, upset stomach, nightmares.
Cramp or muscles twitching or jerking, or the muscles become rigid.
Unusual movements of the head and face muscles.
Photosensitivity - your skin may be more sensitive to the effect of the sun so avoid strong sunlight while taking this product.
Cautions
Do not take Avomine if you have or have had:
An allergic reaction to promethazine, any phenothiazine or any of the ingredients (sodium metabisulphite, lactose - see patient leaflet for more details).
Taken medicines for depression, Tricyclic antidepressants or Monoamine Oxidase Inhibitors (MAOIs) within the last 14 days.
CNS depression, people with CNS depression will seem sleepy or unconscious (including coma).
Take special care with Avomine and tell your doctor or pharmacist if you suffer with:
Glaucoma (increased pressure in the eye).
Epilepsy.
Heart problems.
Liver problems.
Kidney or bladder problems.
A chest condition such as asthma, bronchiectasis, bronchitis or a bad cough.
Severe headaches with blurred vision, severe stomach pains with vomiting, dizziness, difficulty with keeping your balance, ringing in the ears or other ear problems as well as feeling sick.
Reye's Syndrome or symptoms of Reye's Syndrome (including persistent vomiting, feeling tired or sleepiness).
Lactose intolerant - Avomine tablets contain lactose.
Do not take Avomine for more than 7 days without contacting your doctor.
Avomine and taking other medicines
Please tell your doctor or pharmacist if you are taking or have recently taken any other medicines, including medicines obtained without a prescription.
You must tell your doctor or pharmacist if you are already taking any of the following medicines:
Anticholinergic agents, including inhalers for COPD.
Medicines to help you sleep (hypnotics).
Medicines for depression, mental illness or anxiety (tricyclic antidepressants, sedatives).
Medicines for crampy stomach pains, Parkinson's disease, or bladder problems.
Taking with food and drink
While taking Avomine, you should avoid drinking alcohol as the tablets will add to the effects of alcohol. Avomine tablets contain lactose.
Pregnancy and breastfeeding
If you are pregnant, think you may be pregnant or are breastfeeding your baby, you should not take Avomine, unless they have been recommended for you by a doctor.
If you are breastfeeding your baby, Avomine may cause your baby to be irritable and excited.
If you are having a pregnancy test, do not take this product as it interferes with the results.
Driving and operating machinery
These tablets may make you feel dizzy, sleepy, disorientated or confused, or cause you to have a headache. You should not drive or operate machinery for the first few days, and until you are sure that you are not affected by these unwanted effects.
Skin tests for allergy
If you are having skin tests for allergy, do not take this medicine as it interferes with the results. You should stop taking this medicine at least 72 hours before the skin tests.
Other uses of Avomine
In addition to preventing travel sickness, Avomine can also be used to treat:
Nausea and vomiting due to other causes, including gastro-enteritis.
Allergy.
Vestibular disturbance.
Drug intolerance.
Migraines.
Side effects from radiotherapy.
Patient Information Leaflet

The Patient Information Leaflet (PIL) is the leaflet included in the pack with a medicine and must be read before taking the medicine. It is written for patients and gives information about taking or using a medicine.

Authored 25 November 2015 by Dr Tony Steele
MB ChB Sheffield University 1983. Former hospital doctor and GP. GMC no. 2825328
These tablets work well as a sleeping tablet. Each time I've taken one 25mg tablet I have slept through the night. Felt a bit groggy initially the next day but worth it. I understand that they should not be used too frequently as a sleeping tablet because the body becomes accustomed to the drug and they then lose their efficacy. They are also effective as a decongestant preventing an annoying 'post nasal drip' at the back of the throat especially at night.
27/01/2020 16:41
Anonymous Verified
Works wonderful for me. I can travel on all means of transport with no sickness or dizziness. Has opened up the world for me.
03/07/2023 14:07
Anonymous Verified
30/04/2021 20:23
Anonymous Verified
Works perfectly to prevent my motion sickness thank you
04/07/2020 23:20
Anonymous Verified
Love these patches as they really work for me
08/11/2018 12:09
Anonymous Verified
Read more reviews
---
The order process
Choose medication, register, and pay
Dr Fox issues prescription online
Pharmacy team post medication direct