Kwells
Melt in the mouth Kwells tablets (hyoscine 0.3mg) work fast to prevent travel sickness. Available to buy online from Dr Fox.
Start order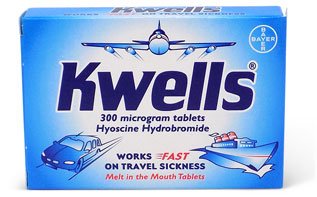 How to buy online
Read medical information about travel sickness
Answer medical questions to check for eligibility
Reviewed by doctors - posted from UK pharmacy (tracked 24hr service)
Prices
| Travel sickness tablets | Quantity | Cost |
| --- | --- | --- |
| Kwells 0.3mg hyoscine | 12 tablets | £6.90 |
| Kwells 0.3mg hyoscine | 24 tablets | £9.60 |
| Kwells 0.3mg hyoscine | 36 tablets | £13.40 |
Prescription fees
Dr Fox supplies medicine on prescription and charges a small prescription fee based on the order value of each prescription.
Prescriptions are issued by our doctors online and sent electronically to our pharmacy.
| Order value | Prescription fee |
| --- | --- |
| up to £10 | £1.00 |
| up to £20 | £2.00 |
| up to £40 | £3.00 |
| over £40 | £4.00 |
If you have your own private paper prescription please post to our pharmacy (details).
Dr Fox prices are 25%–50% lower than other UK online clinics.
Delivery charges
UK delivery only: £2.90 per consultation via Royal Mail Tracked 24 Signed For (1-2 working days with tracking).
Parcel forwarding services are not permitted. Use only UK home or work delivery address.
Returns and refunds - unwanted items can be returned within 14 working days for a full refund.
---
About Kwells travel sickness tablets
Kwells tablets are for the prevention of travel sickness. Kwells tablets can be taken up to 20-30 minutes before travelling to prevent travel sickness, or at the onset of nausea.
Tablets may be sucked, chewed, or swallowed. Adults should take 1 tablet every 6 hours, as required. Do not take more than 3 times in 24 hours. Elderly patients should consult their regular doctor before taking Kwells tablets as they may be at more risk from side effects, especially dizziness.
Separate dosage instructions for children over 10 years (Dr Fox does not supply treatment for under 18s).
Side effects
As with any medicine, there are potential side effects. The most commonly reported side effect is a dryness of the mouth, although this does not last long.
If you experience a dry mouth as a side effect of this medicine you may find that medicines designed to dissolve and be absorbed from the tongue, e.g. Maxalt melts for migraine, do not dissolve properly in a dry mouth. To resolve this, drink a mouthful of water before taking melt in the mouth tablets.
Other possible side effects include:
Sleepiness.
Dizziness.
Blurred vision or other visual disturbance.
Changes in size of pupils.
Decreased sweating.
Cautions
Do not take if suffering from:
Glaucoma.
Paralytic ileus (intestinal nerves/muscles impairing digestive movement).
Pyloric stenosis (narrowing of passage between stomach and small bowel).
Myasthenia gravis (rare long-term autoimmune condition).
Enlarged prostate gland.
Allergic to hyoscine hydrobromide.
Kwells tablets may make you feel sleepy. If this happens do not drive or use tools or machines. Do not drink alcohol.
Do not take Kwells tablets if you are pregnant or breastfeeding unless recommended by your doctor.
Before taking Kwells tablets, you should consult your doctor if you:
Are under medical care, especially for heart, metabolic, gastrointestinal, kidney conditions, liver or bladder obstruction.
Have ulcerative colitis or a known bowel obstruction.
Have diarrhoea or fever.
Have Down's Syndrome.
Suffer from seizure or fits.
You are pregnant or breastfeeding.
If you have ever had glaucoma.
If you have reacted to hyoscine or other anti-sickness medications in the past.
Please note the patient information leaflet suggests seeing your doctor if you are over 60 years of age. If you are fit and well and over 60 there should be no problem taking Kwells. If you take other medications or have other health issues and are over 60, then Dr Fox suggests consulting your GP before using Kwells. If you experience side effects, especially dizziness, then stop the tablets.
Kwells are not suitable for children less than 10 years old.
Other medications
If you are taking some other medicines, you may still be able to use Kwells, but there are some medication interactions with Kwells. Please check and consult your regular doctor if advised.
Patient Information Leaflet

The Patient Information Leaflet (PIL) is the leaflet included in the pack with a medicine and must be read before taking the medicine. It is written for patients and gives information about taking or using a medicine.

Authored 25 November 2015 by Dr Tony Steele
MB ChB Sheffield University 1983. Former hospital doctor and GP. GMC no. 2825328
08/07/2017 08:58
Anonymous Verified
22/05/2017 11:40
Anonymous Verified
Read more reviews
---
The order process
Choose medication, register, and pay
Dr Fox issues prescription online
Pharmacy team post medication direct