Efracea
Efracea (40mg doxycycline) modified release hard capsules to treat more severe inflammation in rosacea. Available to buy online from Dr Fox.
Start order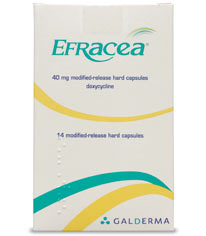 Buy Efracea online in UK
How to order Efracea online for UK delivery:
Read medical information about rosacea treatment
Answer medical questions to check for eligibility
Reviewed by doctors - posted from UK pharmacy (tracked 24hr service)
Prices
Start order
---
About Efracea
Efracea is a prescription-only treatment of moderate to severe papules and pustules of rosacea.
Efracea are modified release hard capsules containing 40mg doxycycline.
Inflammatory lesions and facial redness is improved significantly after 4 weeks of taking Efracea.
Read the patient leaflet for a full list of side effects, cautions, and interactions with other drugs.
Once daily Efracea capsules
Efracea capsules, for the moderate to severe papules and pustules of rosacea, are available on prescription. They contain a low dose (40mg) of the antibiotic doxycycline from the tetracycline class of antibiotics. Tetracyclines have been used for over 40 years to treat rosacea. At this low dose there is no actual antimicrobial effect and the impact on rosacea is through the anti-inflammatory effects of doxycycline. This may also reduce redness. The course is usually 8-16 weeks.
In studies, inflammatory lesions cleared in 80-100% of people after 4 weeks and there was a 50% reduction in redness.
If there is no improvement at 6 weeks then stop taking the capsules.
After finishing the course, some symptoms may recur over the following few weeks. The course can be repeated after a month.
Mirvaso gel can be used for flushing at the same time.
Soolantra cream and Rozex gel/cream for mild papules and pustules work in different ways and can be continued during and after a course of Efracea.
How to take Efracea capsules
Take one capsule daily in the morning, on an empty stomach, either one hour before or two hours after food.
Drink a full glass of water with the capsules. This reduces the risk of gullet irritation/ulceration.
Some products could reduce absorption of Efracea and it is recommended not to take products that contain calcium (antacids, multi-vitamins, milk and dairy products, and calcium-containing fruit juices), aluminium, magnesium, iron, bismuth, or cholestyramine, activated charcoal, or sucralfate until 2 to 3 hours after taking Efracea.
Can everyone take Efracea capsules?
Do not take if:
Reduced stomach acidity, or pre-existing oesophageal (gullet) irritation/ulceration.
Liver disease, colitis, myasthenia gravis, ocular (eye) rosacea.
Efracea contains sucrose but does NOT contain lactose.
Efracea is not to be used as an antibiotic as the dose is not strong enough.
Pregnancy, breastfeeding, and children
Do not take Efracea if pregnant or breastfeeding, or under 12 years old.
Sunlight and sunbeds
Sunlight and sunbeds will usually make rosacea worse, but there is also an increased risk of skin reactions if taking Efracea whilst using sunbeds or exposing the skin to strong sunlight.
Efracea and other medications
There is a possibility of interactions with some other medications and Efracea should not be taken at the same time as:
Warfarin or other anticoagulant/ blood thinning medicines which require regular blood tests to monitor.
Rifampicin (tuberculosis).
Barbiturates (sedatives).
Carbamazepine, phenytoin, primidone (epilepsy).
Lithium (mood stabiliser).
Retinoids e.g. isotretinoin, alitretinoin, acitretin (acne, psoriasis, or severe rosacea).
Cyclosporin (organ transplant).
Penicillin type antibiotics.
Sulphonylurea drugs (diabetes) e.g. gliclazide.
Side effects of Efracea
All medications have the potential to cause side effects and these are often dose related. Side effects of Efracea are the same as those found with any dose of doxycycline, but as Efracea contains less than half the dose of a standard doxycycline antibiotic capsule, the risk of side effects is very low.
The most common (up to 1 in 10) reported side effects of doxycycline are:
Inflammation of the nose, throat, sinuses.
Upper stomach pain - heartburn, nausea.
Diarrhoea - if severe, prolonged or bloody speak to your GP immediately.
Skin reactions - especially sunlight related.
Fungal infection e.g. thrush.
Dry mouth.
Headache.
Anxiety.
Back pain.
Altered blood test results and blood pressure.
More information on side effects can be found in the manufacturer's patient leaflet.
Patient Information Leaflet

The Patient Information Leaflet (PIL) is the leaflet included in the pack with a medicine and must be read before taking the medicine. It is written for patients and gives information about taking or using a medicine.

Authored 19 May 2021 by Dr A. Wood
MB ChB Manchester University 1984. NHS GP in Bristol. GMC no. 2855422
---
The order process
Choose medication, register, and pay
Dr Fox issues prescription online
Pharmacy team post medication direct