Tamiflu (oseltamivir)
Tamiflu is an antiviral drug used to prevent and treat the influenza virus. Available to buy online from Dr Fox.
Start order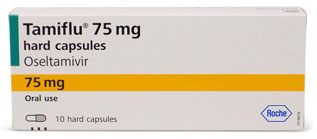 Buy Tamiflu online in UK
How to order Tamiflu online for UK delivery:
Read medical information about antiviral flu treatment
Answer medical questions to check for eligibility
Reviewed by doctors - posted from UK pharmacy
Prices
| Flu antiviral | Quantity | Cost |
| --- | --- | --- |
| Tamiflu 75mg capsules | 10 capsules | £23.30 |
Prescription fees
Dr Fox supplies medicine on prescription and charges a small prescription fee based on the order value of each prescription.
Prescriptions are issued by our doctors online and sent electronically to our pharmacy.
| Order value | Prescription fee |
| --- | --- |
| up to £10 | £1.00 |
| up to £20 | £2.00 |
| up to £40 | £3.00 |
| over £40 | £4.00 |
If you have your own private paper prescription please post to our pharmacy (details).
Dr Fox prices are 25%–50% lower than other UK online clinics.
Delivery charges
UK delivery only: £2.90 per consultation via Royal Mail Tracked 24 Signed For (1-2 working days with tracking).
Parcel forwarding services are not permitted. Use only UK home or work delivery address.
Returns and refunds - unwanted items can be returned within 14 working days for a full refund.
Start order
---
About Tamiflu
Tamiflu is a prescription-only antiviral medicine used for the prevention and treatment of flu caused by the influenza virus.
Tamiflu is the brand name of the drug. The active ingredient is called oseltamivir.
Only 1 course of Tamiflu per person per flu season is permitted.
Read the patient leaflet for a full list of side effects, cautions, and interactions with other drugs.
How does Tamiflu work?
Influenza (flu) is caused by infection with the influenza virus. Tamiflu works by stopping the influenza virus from reproducing. It does this by blocking the effect of neuroaminidase enzymes, which are present in the viral cell wall.
Antibiotics are only effective against bacterial infections. To treat viral infections such as flu, an antiviral medication is needed.
What is a Tamiflu used for?
Tamiflu is licensed as a treatment for flu, and also for anyone who has been in contact with flu, to reduce the likelihood of them developing the infection.
Tamiflu is not an alternative to having a flu jab (vaccine). If you are at risk of severe symptoms from flu, flu jabs are highly recommended and are the most effective way of preventing flu.
Tamiflu and COVID-19
Tamiflu does not have any effect on preventing or treating COVID-19.
Flu is not just a severe 'cold'
Many people call bad colds 'flu' but real flu is caused by the influenza virus and causes more severe symptoms. Common colds are mostly caused by rhinoviruses. Flu symptoms usually include:
High temperature of 38C or above.
General muscle aches.
Feeling tired, exhausted, washed out, unable to get out of bed.
Dry cough.
Sore throat.
Headache.
Difficulty sleeping.
Loss of appetite.
Sometimes sickness, diarrhoea, or tummy pain.
Flu can lead to medical complications such as pneumonia, ear infections, sinus infections, and also worsening of other medical conditions, such as congestive heart failure, asthma, or diabetes.
For further information see NHS - Flu and WHO - Influenza (Seasonal).
How do you take Tamiflu?
Each Tamiflu capsule contains 75mg of oseltamivir. The recommended doses for adults weighing 40kg and over are below.
To treat influenza - the adult dose is one 75mg capsule twice a day, for 5 days. It should be started within 2 days of onset of symptoms for best results.
To prevent an attack of flu - the adult dose is one 75mg capsule per day, for 10 days.
Swallow the Tamiflu capsule whole – do not break it or crush it.
Tamiflu can be taken with or without food - taking it with food can reduce the chance of feeling or being sick.
For more information See the Tamiflu Patient Information Leaflet.
What to do if you miss a dose of Tamiflu?
If you miss a dose, take it as soon as you remember and take the next one on time. This is unless it is less than 2 hours to your next capsule, whereupon leave this dose out. Do not take 2 Tamiflu capsules at the same time.
How effective is Tamiflu?
Initial clinical trials with Tamiflu were promising. One study in the year 2000 concluded that Tamiflu started within 36 hours of onset of symptoms reduced the duration of the episode by 30%, and the severity by 40%. Flu complications, such as bronchitis/pneumonia were also reduced.
Another study took a group of people who had been in contact with someone suffering with flu. This group was split into two smaller groups: one group were given Tamiflu and the other group a placebo. 12% of the placebo group developed the flu, compared to 1% in the Tamiflu group. This was statistically significant.
The manufacturer's own studies reported that Tamiflu reduced the infectiousness of the influenza virus.
However since this time, other studies have had less impressive results. Critics have concluded that some of the evidence about Tamiflu was possibly exaggerated, and also that the side effects were not necessarily clearly presented.
The Cochrane Library systematically collated and reviewed all the published evidence about Tamiflu in several reports between 1999-2014. They concluded that Tamiflu only shortens an episode of flu by 16.8 hours. They raised concern about the frequency and severity of side effects, especially psychiatric conditions such as depression, and suicidal thoughts. They failed to confirm a significant benefit from Tamiflu in patients in high risk situations.
Nevertheless, the UK government purchased large quantities of Tamiflu, in preparation for a supposed bird flu epidemic which never arrived. It remains a possible antiviral remedy for those who choose to take it, specifically for those who take it after exposure to the flu virus, as a form of prophylactic treatment, to prevent them developing the infection.
Resistance to Tamiflu
There is increasing resistance of some flu strains to Tamiflu. It is therefore recommended to limit taking Tamiflu to only once in any flu season.
Are there side effects from using Tamiflu?
An expert review into Tamiflu has suggested that the side effects of Tamiflu may outweigh the small benefits in treating and preventing influenza infection. The list of side effects below is not exhaustive. For more details see the Tamiflu Patient Information Leaflet.
Very common side effects (1 in 10 users)
Common side effects (1 in 100 users)
Vomiting
Cough
Abdominal pain
Insomnia
Dizziness
Are there any special precautions with Tamiflu?
Tamiflu is only effective against the influenza virus – and not against any other types of virus.
Tamiflu is not an alternative to having a flu jab. It is important to have the flu jab if you are aged over 65, pregnant, have a chronic heart or lung condition, or have a weakened immune system, are in long stay residential care, are a frontline health or social care worker, are a carer for - or live with - an older or disabled person or someone who is more vulnerable to infection.
There is a lack of evidence about the safety or efficacy of Tamiflu taken by patients with chronic heart or lung conditions, or other medical conditions, in particular if you need admission to hospital. If you have a weakened immune system, there is a lack of evidence about the efficacy of Tamiflu. If you have any of these conditions, and are concerned about flu, you are advised to consult your doctor, and will not be suitable to purchase Tamiflu online from Dr Fox.
Psychiatric disturbance has been reported in Tamiflu users, but also in patients with influenza who are not taking Tamiflu. If you choose to take Tamiflu you should be monitored, and report any change or worsening of any psychiatric symptoms to your doctor.
Tamiflu does not cause drowsiness or affect your ability to drive.
Can you use Tamiflu if you are pregnant or breastfeeding?
Influenza itself is associated with adverse pregnancy and foetal outcomes, with a risk of major congenital malformations, including congenital heart defects. Pregnant women are strongly advised to have the seasonal flu vaccine (flu jab).
Although Tamiflu has not been demonstrated to be associated with any major foetal problems in pregnancy, you are strongly advised to discuss this with your healthcare provider before taking it.
Very low levels are detectable in breast milk, so it is not advisable to take Tamiflu while breastfeeding.
Can you drink alcohol with Tamiflu?
There are no warnings about drinking alcohol with Tamiflu. However it is always safer to avoid alcohol or drink in moderation while taking medication.
Does Tamiflu interfere with your contraception?
No interactions with any types of contraception are listed.
What are the drug interactions with Tamiflu?
There are no clinically significant drug interactions with Tamiflu, although there are theoretical interactions with chlorpropamide, methotrexate, and probenecid. If taking any of these, check with your regular doctor, before taking Tamiflu.
Alternatives to Tamiflu
The best preventative against flu is to have a flu jab each year. These are free in the UK for eligible people.
There is another similar medication to Tamiflu called zanamivir which is manufactured in an inhaler form as Relenza. It is not available from Dr Fox.
Patient Information Leaflet

The Patient Information Leaflet (PIL) is the leaflet included in the pack with a medicine and must be read before taking the medicine. It is written for patients and gives information about taking or using a medicine.

Authored 20 February 2019 by Dr Tony Steele
MB ChB Sheffield University 1983. Former hospital doctor and GP. GMC no. 2825328
27/12/2022 10:41
Anonymous Verified
An excellent preventative medicine if you have been exposed to someone with genuine influenza. Look up the medical literature yourself: preventative effect is VERY WELL supported (circa 90% effective). Usefulness once already infected is rather less certain, but seems worthwhile to give it a go, especially if you are vulnerable or have caring responsibilities that cannot be "parked" while ill. The common (10%) side effect of nausea fortunately does not occur for me. In my humble opinion, this medicine is underused in UK. Talk to your GP!
11/12/2022 17:11
F. Arnott Verified
29/05/2022 17:32
Anonymous Verified
Helped enormously to relieve flu symptoms.
30/03/2022 12:07
R. Owens Verified
24/01/2022 12:26
Anonymous Verified
Read more reviews
---
The order process
Choose medication, register, and pay
Dr Fox issues prescription online
Pharmacy team post medication direct