Female facial hair
Eligible women affected by unwanted female facial hair (hirsutism) can buy Vaniqa cream online from Dr Fox pharmacy.
Read medical information and answer medical questions to buy treatment online.
Selecting treatment
All medicine supplied is UK licensed.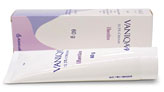 1-4 tubes from £66.00
Buy treatment
Prices
Medical information
Written and reviewed by a team of doctors. Dr Fox is regulated by the CQC & GPhC.
Causes of female facial hair
Women of South Asian and Southern European origin are troubled by female facial hair more frequently than other women. The problem of hirsutism (excessive facial hair) can be normal in families and appear at puberty, at the same time as underarm and pubic hair.
Other causes include the hormonal changes which take place around the menopause and at adolescence. Polycystic ovaries (PCOS) is a common medical condition in which some women have increased facial hair associated with weight problems, acne, and irregular periods. Some prescription medicines and contraceptive pills can cause an increase in facial hair. Less commonly hormone abnormalities of the thyroid and adrenal glands can cause the problem.
It is important women who are worried by facial hair see their doctors. Women who develop increased facial hair later in life, after puberty, should always consult a doctor, as it could be a symptom which needs investigating. Facial hirsutism associated with other symptoms, such as thinning of hair over the scalp, period problems, or obesity, should also consult a doctor. Doctors may want to carry out investigations and tests to find the cause of the problem. There may be prescription medicines, including tablets, which may help. Women should not use Vaniqa without first being checked and advised by their own doctors.
Vaniqa cream
Vaniqa cream (eflornithine 11.5%) is applied to areas of facial hair growth twice daily. Vaniqa works on hair follicles to slow down hair growth. Studies show 7 out of 10 women improve with Vaniqa treatment and 3 out of 10 have marked improvement after 24 weeks.
There is no other UK licensed non-hormone cream to treat female facial hair.
How does Vaniqa work?
Vaniqa contains the active ingredient eflornithine, which penetrates to the base of hair follicles. It affects an enzyme which plays a part in hair growth, reducing new hair growth. Vaniqa is well suited for use with hair removal products and procedures. Other prescribed medicines and tablets to reduce hair growth can be taken at the same time.
Vaniqa is used in the region of the top lip and around the chin. One 60 gram tube will normally last two months.
Most NHS doctors do not prescribe Vaniqa, in part because of the cost.
How to use Vaniqa
Vaniqa is applied twice daily and is rubbed-in to areas of increased hair growth, usually the top lip and under the chin. Vaniqa is not for use on other parts of the body, where it is unlikely to be effective.
It takes time for Vaniqa to work. Improvement may be seen after 8 weeks, although it can take up to 4 months. If, after 4 months there is no improvement, Vaniqa should be stopped.
Vaniqa slows down the growth of new hair. It is not a hair remover and does not cause hair to fall out. For this reason, hair removal techniques and products should be continued at the same time. This could include: shaving, laser, electrolysis, plucking or depilatory (hair-remover) applications.
Vaniqa is only effective if its use is continued. After Vaniqa cream is stopped, its effects wear off after about 8 weeks.
Vaniqa does not replace other prescription medicines and tablets, and these should NOT be stopped without talking to a doctor.
Vaniqa is not more effective if it is used more frequently than recommended. If an application is missed, catch-up extra applications are not required.
Vaniqa side effects
Most women do not experience side effects when using Vaniqa cream. Stinging of the skin, tingling, soreness and redness occur in some women, although it is unusual for treatment to be discontinued because of side effects.
Further information about possible side-effects of Vaniqa and other aspects of treatment can be found in the manufacturer's patient information leaflet.
Vaniqa and pregnancy
Vaniqa is not known to harm pregnancies, however as a precaution, women who are pregnant or planning to become pregnant should not use Vaniqa. Similarly women who are breastfeeding are advised not to use Vaniqa at the same time, although there is no proven risk.
Depression and stress
Some women who are troubled by excess facial hair find it embarrassing and even depressing. Women who feel this way are not alone and should not suffer in silence. It is important that low mood and anxiety are discussed with a doctor.
Buy treatment
Dr Fox supplies Vaniqa cream on prescription – you are required to answer a short medical questionnaire before your order can be completed.

Authored 28 May 2013 by Dr Tony Steele
Last updated 15 October 2021
questions
Choose
order
Answer medical questions to order
(female facial hair)
Women only
---
The order process
Answer short medical questionnaire
Choose medication, register, and pay
Doctor issues prescription online
Pharmacy team post medication direct
---
Recent reviews
"Very good."20 October 2021 – Anonymous
"Very efficient service in these Covid times"20 October 2021 – Anonymous
"Re order & as usual prompt & excellent service."20 October 2021 – Anonymous
"Thank you for your help,very much appreciated."20 October 2021 – Anonymous
"Fast delivery completely priced"20 October 2021 – Anonymous
"Easy to order, good price and fast delivery."20 October 2021 – Anonymous
"Efficient quick service as always!"20 October 2021 – Ken M., Edinburgh
"Superb and professional"20 October 2021 – Anonymous
"I got what I ordered and delivered on time"20 October 2021 – Anonymous
"A great company to deal with, can't fault them."20 October 2021 – Anonymous
"Everything they said they did, faultless"20 October 2021 – Anonymous