Female facial hair
Eligible women effected by unwanted female facial hair can buy prescription Vaniqa online from Dr Fox, posted from an NHS pharmacy.
Read medical information and answer medical questions to buy treatment online.
Treatment available
Prices
---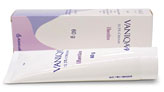 1-3 tubes from £72.50
Buy treatment
Prices
| Treatment | Quantity | Cost |
| --- | --- | --- |
| Vaniqa cream (60 gram tube) | x1 (2 months) | £72.50 |
| Vaniqa cream (60 gram tube) | x2 (4 months) | £139.00 |
| Vaniqa cream (60 gram tube) | x3 (6 months) | £206.00 |
Buy treatment
Dr Fox charges a small prescription fee per order.
Dr Fox prices are 25%-50% lower cost than other online clinics.
If you have your own private paper prescription please post to our pharmacy (details).
Vaniqa cream (eflornithine 11.5%) is prescription only medicine. You are required to answer medical questions before completing order. A doctor will review your information and issue a prescription online to our pharmacy.
Prescription fees
Dr Fox supplies medicine on prescription and charges a small prescription fee based on the order value of each prescription.
Prescriptions are issued by our doctors online and sent electronically to our pharmacy.
If you have your own private paper prescription please post to our pharmacy (details).
Dr Fox prices are 25%–50% lower than other UK online clinics.
| Order value | Prescription fee |
| --- | --- |
| up to £10 | £1.00 |
| up to £20 | £3.00 |
| up to £50 | £5.00 |
| up to £100 | £8.00 |
| over £100 | £10.00 |
Comparative costs of Vaniqa cream from UK online clinics (30 May 2013) - qualifying notes

The prices shown are listed by the online clinics named after a customer first enters consultation information and is offered prescriptions. It is possible these clinics may have special offers or lower prices for repeat supplies.
Prices may change and are, to the best of our knowledge, accurate on the date stated.
Dr Fox does NOT claim to provide a superior service to any of the online clinics listed. All the clinics listed, as far as we can tell, comply with all regulation and, as far as we can tell, operate to high ethical standards.
Dr Fox adds a small prescription fee not included in the table (between £1 and £10 depending on value of the order).
To amend the information in this table please contact us
The prices listed in the table do not identify the cost of prescription medicine as online clinics charge a single fee to cover services which includes advice, consultations, prescriptions and dispensing and supply of treatments.

| Vaniqa (eflornithine 11.5%) | Dr Fox | Online Clinic | Health Express | 121 Doc |
| --- | --- | --- | --- | --- |
| 60 gram tube (2 months) x 1 | £72.50 | £109.95 | £109.95 | £110.00 |
| 60 gram tube (4 months) x 2 | £139.00 | £179.95 | £179.95 | £200.00 |
| 60 gram tube (6 months) x 3 | £206.00 | not listed | not listed | not listed |
| UK delivery | £2.90 | included | included | included |
Medical information
Causes of female facial hair
Women of South Asian and Southern European origin are troubled by female facial hair more frequently than other women. The problem of hirsutism (excessive facial hair) can run in families.
Other causes include the hormonal changes which take place around the menopause and at adolescence. Polycystic ovaries (PCO) is a common medical condition in which some women have increased facial hair associated with weight problems, acne, and irregular periods. Some prescription medicines and contraceptive pills can cause increase facial hair. Less common hormone abnormalities of the thyroid and adrenal glands can cause the problem.
It is important women who are worried by facial hair see their doctors. Doctors may want to carry out investigations and tests to find the cause of the problem. There may be prescription medicines, including tablets, which may help. Women should not use Vaniqa without first being checked and advised by their own doctors.
Vaniqa cream
Vaniqa cream (eflornithine 11.5%) is applied to areas of facial hair growth twice daily. Vaniqa works on hair follicles to slow down hair growth. Studies show 7 out of 10 women improve with Vaniqa treatment and 3 out of 10 have marked improvement after 24 weeks.
There is no other UK licensed non-hormone cream to treat female facial hair.
How does Vaniqa work?
Vaniqa contains the active ingredient eflornithine, which penetrates to the base of hair follicles. It effects an enzyme which plays a part in hair growth, reducing new hair growth. Vaniqa is well suited for use with hair removal products and procedures. Other prescribed medicines and tablets to reduce hair growth can be taken at the same time.
Vaniqa is used in the region of the top lip and around the chin. One 60 gram tube will normally last two months.
Most NHS doctors do not prescribe Vaniqa, in part because of the cost.
How to use Vaniqa
Vaniqa is applied twice daily and is rubbed-in to areas of increased hair growth, usually the top lip and under the chin. Vaniqa is not for use on other parts of the body, where it is unlikely to be effective.
It takes time for Vaniqa to work. Improvement may be seen after 8 weeks, although it can take up to 4 months. If, after 4 months there is no improvement, Vaniqa should be stopped.
Vaniqa slows down the growth of new hair. It is not a hair remover and does not cause hair to fall out. For this reason, hair removal techniques and products should be continued at the same time. This could include: shaving, laser, electrolysis, plucking or depilatory (hair-remover) applications.
Vaniqa is only effective if its use is continued. After Vaniqa cream is stopped, its effects wear off after about 8 weeks.
Vaniqa does not replace other prescription medicines and tablets, and these should NOT be stopped without talking to a doctor.
Vaniqa is not more effective if it is used more frequently than recommended. If an application is missed, catch-up extra applications are not required.
Vaniqa side effects
Most women do not experience side effects when using Vaniqa cream. Stinging of the skin, tingling, soreness and redness occur in some women, although it is unusual for treatment to be discontinued because of side effects.
Further information about possible side-effects of Vaniqa and other aspects of treatment can be found in the manufacturer's patient information leaflet.
Vaniqa and pregnancy
Vaniqa is not known to harm pregnancies, however as a precaution, women who are pregnant or planning to become pregnant should not use Vaniqa. Similarly women who are breast feeding are advised not to use Vaniqa at the same time, although there is no proven risk.
Depression and stress
Some women who are troubled by excess facial hair find it embarrassing and even depressing. Women who feel this way are not alone and should not suffer in silence. It is important that low mood and anxiety are discussed with a doctor.
Buy treatment
Dr Fox supplies Vaniqa cream on prescription – you are required to answer a short medical questionnaire before your order can be completed.
questions
Choose
order
Answer medical questions to order
(female facial hair)
Women only
---
The order process
Answer short medical questionnaire
Choose treatment, register, and pay
Doctor issues prescription online
Medicine posted direct from pharmacy
---
Independent reviews
"So pleased to see that it is possible to order medication online. The consultation was very easily done and ... the goods arrived very quickly."05/10/2015 – Trusted Shops
"Very pleased with the service received. A lot of information provided about the products available makes an informed choice straightforward."05/10/2015 – Trusted Shops
"Very quick delivery, excellent service. I have recommended Dr Fox to others that are having the same problem."04/10/2015 – Trusted Shops
"Working early mornings until late hours there is no time to see a GP. This was quick and helpful."08/10/2015 – Trusted Shops
"Second time I have used Dr Fox I highly recommend this service."10/10/2015 – Trusted Shops
"Fast accurate and hassle free and good price too. Can't see how you can improve on that."02/10/2015 – Trusted Shops
"Product arrived a day earlier than expected and was exactly what I'd ordered. Will definitely use this site again."29/09/2015 – Trusted Shops
"Very quick service, keeping you updated at each stage. Will definitely use them again."30/09/2015 – Trusted Shops
"As usual excellent service but the option for next day delivery would be a good idea."07/10/2015 – Trusted Shops
"I have been using the service for around 8 months now and had very good service each time. Recommended."28/09/2015 – Trusted Shops