Duac
Duac gel (benzoyl peroxide 3% and clindamycin 1%) contains antibiotic and peeling agent used to treat acne as part of a treatment plan. Available to buy online from Dr Fox.
Start order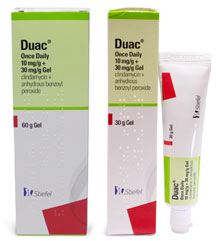 Buy Duac online in UK
How to order Duac online for UK delivery:
Read medical information about acne treatment
Answer medical questions to check for eligibility
Reviewed by doctors - posted from UK pharmacy
Prices
Duac Gel cost (in stock)

| Acne treatment | Quantity | Cost |
| --- | --- | --- |
| Duac Once Daily Gel (benzoyl peroxide 3% and clindamycin 1%) | 30gm tube | £17.95 |
| Duac Once Daily Gel (benzoyl peroxide 3% and clindamycin 1%) | 60gm tube | £34.10 |
Price match guarantee
Prescription issued online - small prescription fee per order.
Delivery charges
UK delivery only: £2.90 per consultation via Royal Mail Tracked 24 Signed For (1-2 working days with tracking).
Parcel forwarding services are not permitted. Use only UK home or work delivery address.
Returns and refunds - unwanted items can be returned within 14 working days for a full refund.
Prescription fees
Dr Fox supplies medicine on prescription and charges a small prescription fee based on the order value of each prescription.
Prescriptions are issued by our doctors online and sent electronically to our pharmacy.
| Order value | Prescription fee |
| --- | --- |
| up to £10 | £1.00 |
| up to £20 | £2.00 |
| up to £40 | £3.00 |
| over £40 | £4.00 |
If you have your own private paper prescription please post to our pharmacy (details).
Dr Fox prices are 25%–50% lower than other UK online clinics.
Start order
---
About Duac
Duac Gel is a prescription-only topical acne treatment for blackheads and whiteheads.
Contains the antibiotic clindamycin and the peeling agent benzoyl peroxide.
Duac is applied once daily to affected areas in the evening, for up to 12 weeks.
Read the patient leaflet for a full list of side effects, cautions, and interactions with other drugs.
How does Duac treat acne?
In acne, skin pores get blocked with excess greasy sebum. Acne bacteria grow in the blocked pores leading to whiteheads, inflammation, and pustules.
Duac combines two ingredients, clindamycin and benzoyl peroxide, which both work to reduce the bacteria associated with acne. In addition benzoyl peroxide helps to unblock pores, so preventing whiteheads and blackheads. Duac reduces spots, infection, and inflammation.
Who can use Duac?
Duac is a step 3 treatment in the Dr Fox acne treatment plan, to be used on mild acne with blackheads and whiteheads.
When should Duac not be used?
Duac is only for use in over 12 year olds. Dr Fox only prescribes for over 18s.
Do not use at the same time as other antibiotics to treat acne.
Duac should not be used if you are allergic to the antibiotics clindamycin or lincomycin, or have recently taken a course of clindamycin, lincomycin, or erythromycin.
Do not use Duac on cuts, grazes, sunburn, or eczema.
How to use Duac Gel
Duac should only be used if you have consulted a doctor and been diagnosed with acne.
Duac should be applied once a day in the evening.
Remove makeup, wash, rinse and dry skin.
Apply a thin film of gel, with your finger tips, over the affected area, not just the spots.
One finger tip amount of gel will cover the whole face.
Wash hands after use.
Non greasy makeup can be applied once the gel has dried.
As with all acne treatments, Duac may take some time to work. Some improvement should be seen after about 5 weeks. If after 8 weeks there is no improvement, treatment should be stopped.
The manufacturers recommend using Duac for up to 12 weeks and take a 6 month break. Once bacteria become resistant to the antibiotic component, clindamycin, the gel will become less effective.
Side effects of Duac
The most common side effect is redness and soreness, particularly in the first few weeks of treatment. This is mainly due to the benzoyl peroxide component, which is a mild irritant. A non-oily moisturiser can be used. If the redness and soreness doesn't settle quickly, Duac should be applied less frequently or even stopped. However the antibiotic works best if applied every day. If there is a marked very bad reaction, treatment should be stopped straight away.
Duac makes the skin more than usually sensitive to sunlight. High factor sun cream, sun hats and sun avoidance are all advisable.
Cautions
Use with care as Duac gel can stain or bleach clothing, bedding and towels, and even bleach hair.
Duac is a topical preparation for use only on the skin. It should not be swallowed or applied to the lips. Accidental ingestion should be reported to a doctor straight away.
Other topical acne treatments containing antibiotics, e.g. Zineryt, should not be used at the same time. Antibiotic tablets or capsules, e.g. lymecycline, to treat acne should not be taken whilst using Duac.
A small amount of antibiotic from Duac is absorbed through the skin and has the potential to cause intestinal upset, although this is very unlikely.
Pregnant and breastfeeding women should not use Duac, although there is no known identified incidence of significant adverse effects.
Interactions
Duac may make other topical acne preparations containing tretinoin, isotretinoin, or tazarotene, less effective, and so they should not be used at the same time.
Creams, gels, or lotions containing benzoyl peroxide should also not be used at the same time.
Other acne treatments
Benzoyl peroxide on its own is available from pharmacies in various strengths as a non-prescription medicine.
Differin cream and gel contains adapalene, which also reduces blocking of pores by reducing skin shedding.
There are other antibiotic treatments for acne including Zineryt topical skin lotion or lymecycline capsules which are available from Dr Fox.
Some women find that contraceptive pills help improve acne.
People with severe acne including scarring, may benefit from seeing a dermatologist to consider Roaccutane (isotretinoin) tablet treatment.
Patient Information Leaflet

The Patient Information Leaflet (PIL) is the leaflet included in the pack with a medicine and must be read before taking the medicine. It is written for patients and gives information about taking or using a medicine.
Duac FAQs
How long should I use Duac for?
Use Duac for at least 8 weeks. After 3 months, it should be stopped and a 6 month break taken, to prevent antibiotic resistance.
Do I have to use Duac at night?
As Duac needs to be applied to clean, dry, makeup-free skin, it is usually most convenient to apply it at night. But make sure it is dry before lying on your pillow as it can bleach bed linen, clothing, etc.
Can I wear makeup over Duac?
Makeup must be removed before applying Duac. Non greasy makeup can be reapplied after the Duac has completely dried.
Duac isn't working - what next?
If after 8 weeks Duac hasn't cleared the acne, either try another step 3 treatment from the Dr Fox acne treatment plan, e.g. Epiduo or Zineryt, or move onto step 4 and try lymecycline capsules.
See also FAQs: Acne and treatment options.

Authored 19 November 2015 by Dr B. Babor
NHS GP & dermatology specialist. MB ChB Dundee University 1996. GMC no. 4336464
Cleared the acne up brilliantly!
23/08/2023 10:43
Anonymous Verified
08/06/2023 07:22
P. Davies Verified
Very good, it helps with my acne
17/04/2023 21:30
Anonymous Verified
06/02/2023 08:53
Anonymous Verified
It's amazing does the job not too drying be careful does bleach clothing so avoid
25/01/2023 09:55
C. Field Verified
Read more reviews
---
The order process
Choose medication, register, and pay
Dr Fox issues prescription online
Pharmacy team post medication direct