Cold sores
Antiviral aciclovir tablets and cream for the treatment of topical cold sores available to buy online.
Read medical information and answer medical questions to buy treatment online.
Cold sore medication
Prices
All medicine supplied is UK licensed.
25-50 tablets from £8.95
Buy treatment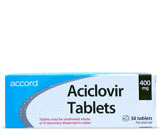 Suppression from 30p/day
Buy treatment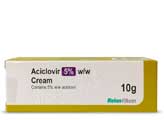 Tubes from £2.75
Buy treatment
Prices
| Treatment type | Quantity | Cost |
| --- | --- | --- |
| Aciclovir 200mg tablets | 25 tablets (one treatment) | £8.95 |
| Aciclovir 200mg tablets | 50 tablets (two treatments) | £13.95 |
| Aciclovir 400mg | 168 tablets (3 months suppressive treatment) | £29.20 |
| Aciclovir 400mg | 336 tablets (6 months suppressive treatment) | £49.40 |
| Aciclovir cream 5% | 2gm tube | £2.75 |
| Aciclovir cream 5% | 4gm (2 x 2gm tube) | £5.00 |
| Aciclovir cream 5% | 10gm (large tube) | £9.50 |

Price match guarantee
Prescription issued online - small prescription fee per order.
Prescription fees
Dr Fox supplies medicine on prescription and charges a small prescription fee based on the order value of each prescription.
Prescriptions are issued by our doctors online and sent electronically to our pharmacy.
| Order value | Prescription fee |
| --- | --- |
| up to £10 | £1.00 |
| up to £20 | £2.00 |
| up to £40 | £3.00 |
| over £40 | £4.00 |
If you have your own private or NHS paper prescription please post to our pharmacy (details).
Dr Fox prices are 25%–50% lower than other UK online clinics.
Delivery charges
UK delivery only: £2.90 per consultation via Royal Mail 24 Signed For (1-3 working days with tracking).
Parcel forwarding services are not permitted. Use only UK home or work delivery address.
Returns and refunds - unwanted items can be returned within 14 working days for a full refund.
Medical information
Written and reviewed by a team of doctors. Dr Fox is regulated by the CQC & GPhC.
What are cold sores?
Cold sores are sores on the lips caused by a herpes virus - usually HSV1 (herpes simplex virus type 1), but occasionally HSV2 (herpes simplex virus type 2) which more commonly causes genital herpes. Aciclovir tablets and cream are antiviral treatments which can reduce the severity and duration of cold sores. Tablets may be a more convenient treatment than cream.
Is it a cold sore?
People who have had cold sores before usually recognise the symptoms, mainly because the sores come up in exactly the same place each time. There is often a tingling sensation for 24 to 48 hours before the redness, then blistering, then an ulcer develops.
Most cold sores usually last 7-10 days before completely healing, usually without scarring. If symptoms are not improving after a few days, or are worsening, or there is a high fever and generalised flu-like symptoms, consult a doctor.
People who have not had cold sores before, and have symptoms for the first time, should consult a doctor.
Sores starting around the nose that are yellow, sticky, and crusty - and spread out over a period of a few days - are likely to be impetigo, not cold sores. Impetigo is a bacterial infection treated with antibiotics, not aciclovir, which is an antiviral.
Below is a photograph of a typical cold sore.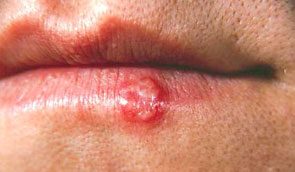 Aciclovir cream and tablets
Aciclovir cream and aciclovir 200mg tablets are supplied by Dr Fox pharmacy to treat recurrent cold sores on the lips. Some people have cold sores which come up time and again in the same place on the lips. This is because after the first infection the virus stays living in the body and so new cold sores can break out - usually at times of stress or in response to triggers such as fatigue, cold weather, strong sun or wind exposure, or menstruation. In some cases cold sores come up without an obvious trigger. Early treatment with either aciclovir cream or tablets will usually reduce the severity and the duration of the sore.
Treatment with either tablets or cream should be started as soon as symptoms begin, preferably at the tingling stage, before a sore breaks out on the skin surface. If treatment is started more than a few days after the onset of symptoms, it is likely to be ineffective. Aciclovir cream (Zovirax) is also available from pharmacies and many supermarkets.
Dose of aciclovir
Apply aciclovir cream or take one aciclovir 200mg tablet 5 times daily for 5 days (every 4 hours during the day time, leaving out a dose overnight). Tablets can be swallowed whole or dissolved in water - there are 25 tablets total in one course. Cream is usually continued for about the same length of time, until the sore has almost completely healed. Both treatments are equally effective.
Suppressive dose
Some patients with severe and frequent sores take daily aciclovir to help prevent outbreaks of cold sores or genital herpes. Frequent episodes are generally considered to be 6 or more in a year and it is recommended to take aciclovir 400mg tablets twice a day for 6-12 months. This may reduce the number of outbreaks you have.
Cautions
Aciclovir can be used by almost all people under 65, unless they are sensitive to it. Most people can take aciclovir tablets, even with other prescribed medication.
Consult a doctor if taking:
Probenecid, used to treat gout.
Cimetidine, used to treat stomach ulcers.
Mycophenolate mofetil, used to stop your body rejecting transplanted organs.
Ciclosporin or tacrolimus (immunosuppressive drugs).
Theophylline or aminophylline (used in asthma and other breathing problems).
Zidovudine (used in HIV infection).
People with significantly reduced kidney function may require reduced doses of aciclovir tablets.
People who have been diagnosed with a neurological illness should consult their doctor before taking aciclovir tablets.
Pregnancy and breastfeeding: The manufacturers of aciclovir cream and tablets advise avoidance in pregnancy and breastfeeding. This is precautionary advice, and there is no evidence of harm to developing pregnancies or breastfed infants.
Side effects of aciclovir
Most people do not experience significant side effects. Of those who experience side effects the most common (affecting between 1 in 10 and 1 in 100) are dizziness and headache or nausea, vomiting, diarrhoea and abdominal pain, fatigue and fever, skin reactions, or photosensitivity.
People who are affected by drowsiness should not drive or operate machinery.
A full list of cautions and side effects can be found in the manufacturer's patient information leaflets:
Cold sores and genital herpes
Cold sores are sometimes called the 'kissing disease'. Spread of herpes viruses are more likely when there is an open sore on the surface of the skin. This is the time when the virus is being shed from the surface of the skin and is most likely to be spread from one person to another.
Cold sores and genital herpes infections are caused by similar types of herpes viruses - HSV1 and HSV2. Because of this, a cold sore infection can spread by direct contact from the lips to the genital region, or vice versa. The cold sore virus can also be spread from the lip region of one person to the lip region of another and from the genital region of one person to the genital region of another.
How to prevent passing the virus to others
When you have a cold sore, it is therefore very important to avoid intimate contact and also to avoid sharing towels, flannels, and other items such as lipstick, lip balm, and lip gloss. Wash your hands with soap and water after touching the cold sore and be careful not to transfer the virus to your eyes especially if you wear contact lenses.
Buy treatment
Dr Fox supplies cold sore medication on prescription - you are required to answer a short medical questionnaire before your order can be completed.

Authored 18 February 2015 by Dr Tony Steele
MB ChB Sheffield University 1983. Former hospital doctor and GP.
questions
Choose
order
Answer medical questions to order
(cold sore treatment)
---
The order process
Choose medication, register, and pay
Dr Fox issues prescription online
Pharmacy team post medication direct
Recent reviews
"Excellent thank you"05 April 2022 – Margaret P., Staffordshire
"Excellent Five Star Service with an All Good Fast Discreet and Secure Dispatch"05 April 2022 – Anonymous
"Affordable prices.Easy to navigate website, lots of options to choose from, quick service and discreet delivery. Thank you"05 April 2022 – Anonymous
"Excellent communication, with timely delivery"05 April 2022 – Anonymous
"Excellent service as always"05 April 2022 – Anonymous
"absolutely brilliant place order gets approved within 24 hours yhen despatched approx 3/4 days acwell run organisation always use them now and reasonably priced"05 April 2022 – Anonymous
"Quick and easy system"05 April 2022 – Anonymous
"Dr Fox provides a very professional and well organised service. Responds quickly to questions and updated my details almost immediately when I made an error creating my account. My order was updated throughout until receipt."05 April 2022 – Anonymous
"Good service would order again."05 April 2022 – Anonymous
"I am satisfied . Fast and professional."05 April 2022 – Anonymous
"Easy to order, great value for money"05 April 2022 – Anonymous
"Very good product at a competive price."05 April 2022 – Anonymous