Vydura
Vydura (rimegepant 75mg) dissolve-on-the-tongue wafers for migraine relief available to buy online from Dr Fox.
Start order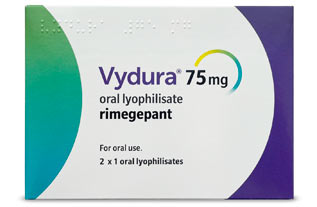 Prices
Start order
---
About Vydura
Vydura is an antimigraine treatment, which doesn't just treat the migraine, it targets the underlying chemical changes in the brain which cause migraine.
It has been available in the USA as NurtecODT since 2020 with over 3 million prescriptions used there. It has now become available in the UK.
Dr Fox supplies Vydura (rimegepant 75mg) mint flavoured, dissolve-on-the-tongue, lyophilisate (freeze-dried) wafers. It is available in packs of 2, 4, or 8 wafers.
How does Vydura work?
Vydura is in the gepant class of medication which are oral CGRP antagonists. CGRP (calcitonin gene‑related peptide) is a brain protein. During a migraine, there is an increase in the levels of this protein in the brain, which leads to pain and swelling of blood vessels. Vydura contains rimegepant which blocks the activity of CGRP so reducing the pain and swelling, and reducing the symptoms of migraine.
Who can take Vydura
Always consult your regular doctor to confirm the diagnosis before obtaining supplies of migraine treatment online. Consult your doctor if your symptoms are changing or you experience any new medical conditions or side effects.
Vydura should only be used to treat migraine headaches. It should not be taken for other sorts of headaches. Migraine headaches are typically throbbing and severe, and are associated with nausea, vomiting, and aversion to strong light (photophobia). They tend to be on one side of the head only, but not always. A migraine sometimes begins with an aura (symptoms such as flashing lights or other visual or sensory disturbance) later followed by the headache phase. They usually last a few hours and then go away, with no symptoms between attacks. See NHS migraine page for further details.
Vydura is particularly recommended for people who have tried at least 2 triptan antimigraine treatments, but with minimal benefit to their migraines, and for people who are unable to take triptans due to their age (over 65), contraindications, or side effects.
Who should not use Vydura
Vydura can be used by many people. However, the manufacturers recommend that it should not be used in cases of severe kidney or liver disease. Unlike triptans, there are no restrictions on using Vydura if someone is known to have circulation or heart problems.
As for many medications, it is not recommended to be used whilst pregnant or breastfeeding.
Vydura has not been tested in under 18s and is not suitable for children. The manufacturer's licence has no upper age limit, but only a few over 65s were included in research trials.
Taking Vydura with other medicines
Vydura does interact with some other medications, leading to either too much or too little to be effective in the system.
Vydura should not be taken at the same time as:
Itraconazole (fungal infection).
Clarithromycin (bacterial infection).
Ritonavir and efavirenz (HIV infection).
Bosentan (high blood pressure).
St. John's wort (herbal remedy for depression).
Phenobarbital (epilepsy).
Rifampicin (tuberculosis).
Modafinil (narcolepsy).
Vydura should not be taken more than once in 48 hours if also taking:
Fluconazole (fungal infection).
Erythromycin (bacterial infection).
Diltiazem, quinidine, and verapamil (abnormal heart rhythm, angina chest pain, high blood pressure).
Cyclosporin (prevents organ rejection after an organ transplant).
Dr Fox checks for interacting medication in the online consultation for migraine treatment.
How effective is Vydura?
Vydura has been shown to be effective in clinical trials comparing it directly with placebo (non-active) medication. It can improve symptoms within 60 minutes and get patients back to normal activities within 2 hours.
A 2021 study from Taiwan which reviewed 64 trials of rimegepant, other new migraine treatments (lasmiditan and ubrogepant) and triptans, placed rimegepant as better than placebo but not as good as triptans at 2 hour migraine relief. There were fewer side effects than triptans, and there may be a better effect at delaying return of the migraine.
How to use Vydura
Vydura oral lyophilisate (freeze-dried) wafers are supplied in blister packs. The wafer should not be pushed through the foil as it will crumble. Instead, using clean dry hands, peel back the foil covering of one blister, and carefully remove the wafer. Put it on or under the tongue straight away. It should dissolve without needing a drink, though if you have a particularly dry mouth, then taking a drink first may help it to dissolve. The wafer should be used immediately after removal from the pack.
A second dose of Vydura can be taken after 24 hours. The maximum dose is 1 oral lyophilisate wafer per 24 hours.
Vydura can be prescribed as a preventative treatment for migraine at a dose of one lyophilisate wafer every 48 hours. Dr Fox does not supply preventative migraine treatments.
Possible side effects of Vydura
The most common side effect when using Vydura as a migraine treatment is nausea, which may affect up to 1 in 10 people.
An allergic reaction including severe rash or shortness of breath is uncommon, being reported in up to 1 in 100. If this does happen, stop using Vydura and contact your doctor or the emergency services immediately.
As Vydura is new to the UK, it is subject to additional monitoring and reporting side effects will help to identify new safety information. Side effects can be reported directly via the MHRA Yellow Card Scheme or their app which can be downloaded from Google Play or Apple App Store.
Medication overuse headache
Many migraine medications are known to cause medication overuse headache where frequent use of the treatment can then lead to a rebound headache/migraine on stopping the medication, so leading to further overuse of the medication.
It appears that this new class of migraine treatment, including Vydura, does not cause medication overuse headache, although patients still need to be aware of the possibility.
Using Vydura with other migraine treatments
There are no known or expected drug interactions with either preventative or treatment medications used for migraine.
During premarketing trials, Vydura was used alongside all types of preventative migraine treatments and there were no adverse interactions.
However, the data is still limited and the manufacturers (Pfizer) have not yet given any recommendations about the use of Vydura/rimegepant alongside other migraine therapies, both preventative and acute treatments.
Alternative treatments for migraine
Migraines usually improve after a few hours lying down in a darkened room.
Simple painkillers, such as ibuprofen and aspirin, may be effective.
Triptan medication can be used to treat migraine. These include naratriptan, sumatriptan, rizatriptan, and zolmitriptan. Different triptans may work better than others, but after trying two types it is worth trying Vydura.
If vomiting is marked, an anti-sickness tablet may also be prescribed - discuss with your regular GP (not prescribed by Dr Fox). Some migraine tablets contain combinations of painkillers and antiemetics (anti-sickness). Painkillers which contain codeine and other 'opiates' should usually be avoided as they can increase sickness and are potentially addictive.
People who get frequent migraines (two or more attacks a month), or if headache treatment is not working, may be helped by long-term preventative treatments, such as daily beta-blocker tablets, other heart or blood pressure tablets, pizotifen, amitriptyline, or epilepsy treatments such as topiramate or sodium valproate. Consult with your GP to discuss these treatment options.
There is ongoing research into migraine treatments and some newer preventative treatments are available, usually only from a specialist migraine clinic. These include botox injections, CGRP monoclonal antibody therapies - erenumab, fremanezumab, and galcanezumab, and magnetic and nerve stimulation techniques.
Alternative therapies include acupuncture and various herbs (e.g. feverfew) and other supplements, from health food shops.
See also The Migraine Trust - Living with migraine - Treatment options.
Patient Information Leaflet

The Patient Information Leaflet (PIL) is the leaflet included in the pack with a medicine and must be read before taking the medicine. It is written for patients and gives information about taking or using a medicine.
Vydura FAQs
Does Vydura contain lactose?
No. There is no lactose in Vydura lyophilisate wafers.
Can I take Vydura if I have already taken a triptan for this migraine?
A small trial in 2021 reported that it appeared to be safe to take both a triptan and Vydura (rimegepant) at the same time.
Can I take Vydura to treat migraine if I am taking other migraine preventative (prophylactic) medication?
Yes. Vydura can be taken to treat a migraine when taking most other preventative migraine treatments.
You should not take Vydura to treat a migraine if you have taken Vydura or another gepant medication as a preventative that day. The maximum dose of Vydura is one lyophilisate wafer per 24 hour period. The preventative dose is one lyophilisate wafer on alternate days.
Can I take Vydura to treat migraine if I'm having CGRP monoclonal antibody therapy?
The manufacturers (Pfizer) do not give a recommendation. However some patients taking CGRP antibody therapy (injections or infusions of Eptinezumab, Erenumab, Fremanezumab, Galcanezumab) were included in the clinical trial and there were no specific adverse interactions noted.
See also Migraine FAQs.
This page written and reviewed by doctors

Authored 09 November 2023 by Dr A. Wood
MB ChB Manchester University 1984. NHS GP in Bristol. GMC no. 2855422
---
The order process
Choose medication, register, and pay
Dr Fox issues prescription online
Pharmacy team post medication direct