Rosacea treatment
Treatment for rosacea with Mirvaso gel (brimonidine) on prescription from Dr Fox online doctor.
Read medical information and answer medical questions to buy treatment online.
Treatment available
Prices
---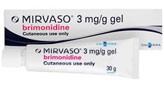 30-90gm from £41.00
Buy treatment
Prices
| Rosacea treatment | Quantity | Cost |
| --- | --- | --- |
| Mirvaso Gel (brimonidine 3mg/1g) | 30 gram tube | £41.00 |
| Mirvaso Gel (brimonidine 3mg/1g) | Two 30 gram tubes | £80.00 |
| Mirvaso Gel (brimonidine 3mg/1g) | Three 30 gram tubes | £120.00 |
Dr Fox charges a small prescription fee per order.
If you have your own private paper prescription please post to our pharmacy (details).
Mirvaso Gel is prescription only medicine. You are required to answer medical questions before completing order. A doctor will review your information and issue a prescription online to our pharmacy.
Prescription fees
Dr Fox supplies medicine on prescription and charges a small prescription fee based on the order value of each prescription.
Prescriptions are issued by our doctors online and sent electronically to our pharmacy.
If you have your own private or NHS paper prescription please post to our pharmacy (details).
Dr Fox prices are 25%–50% lower than other UK online clinics.
| Order value | Prescription fee |
| --- | --- |
| up to £10 | £1.00 |
| up to £20 | £3.00 |
| up to £50 | £5.00 |
| up to £100 | £8.00 |
| over £100 | £10.00 |
Comparative costs of rosacea treatment from UK online clinics (27 Sept 2014) - qualifying notes

The prices shown are listed by the online clinics named after a customer first enters consultation information and is offered prescriptions. It is possible these clinics may have special offers or lower prices for repeat supplies.
Prices may change and are, to the best of our knowledge, accurate on the date stated.
Dr Fox does NOT claim to provide a superior service to any of the online clinics listed. All the clinics listed, as far as we can tell, comply with all regulation and, as far as we can tell, operate to high ethical standards.
Dr Fox adds a small prescription fee not included in the table (between £1 and £10 depending on value of the order).
To amend the information in this table please contact us
The prices listed in the table do not identify the cost of prescription medicine as online clinics charge a single fee to cover services which includes advice, consultations, prescriptions and dispensing and supply of treatments.

Treatment
Dr Fox
Pharmacy2U
online doctor
Superdrug
online doctor
Mirvaso Gel (brimonidine 3mg/1g) 30 gram x 1
£41.00
£55.00
£49.00
Mirvaso Gel (brimonidine 3mg/1g) 30 gram x 2
£80.00
£100.00
£95.00
Mirvaso Gel (brimonidine 3mg/1g) 30 gram x 3
£120.00
£145.00
£140.00
UK delivery
£2.90
£3.45
included
Medical information
Mirvaso gel
Mirvaso gel applied to the face once daily reduces the redness of rosacea quickly and works for up to 12 hours. Mirvaso gel contains the active ingredient brimonidine. Relief of redness usually starts within the first 30 minutes.
In studies 7 out of 10 people with rosacea had reduced redness 3 hours after applying Mirvaso. The improvement with Mirvaso lasts up to 12 hours (see detailed study data).
What is rosacea?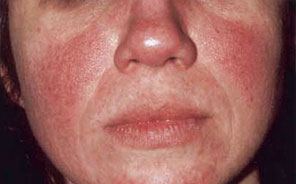 Rosacea is a reddening and sensitivity of skin, with increased flushing and sometimes visible blood vessels in the areas of the cheeks, forehead, nose and chin. Inflamed pustules develop in severe cases. Rosacea is more common in fair-skinned people.
Rosacea is different from acne, and treatment is different. They may look similar, but in rosacea redness tends to come and go depending on factors like stress and heat, and stimulants such as spicy food and alcohol. In rosacea there are no black heads and white heads, or the infected nodules found in severe acne. Rosacea is sometimes called acne rosacea, but this is a misleading name. Rosacea is not a type of acne.
The exact cause of rosacea is not known. Various genetic and environmental causes may play a part. Disturbances of blood flow to the skin and chronic inflammation may be factors. Exposure to ultraviolet radiation sometimes plays a part.
See a doctor before treatment
People with troublesome facial redness should see a doctor before treatment. Not all facial redness is caused by rosacea, some is due to acne, and there are some less common and potentially serious conditions which need to be considered. Your doctor may want to carry out tests or refer to a skin specialist before treatment.
Further information from NHS Choices - Rosacea.
Side effects of Mirvaso gel (brimonidine)
Most people who use Mirvaso do not experience side effects. The commonest side effects, occurring in more than 1%, include skin redness, flushing, burning sensation and sensitivity reactions. Other side effects include headache, nasal congestion and dry mouth.
See manufacturer's patient information leaflet for full details.
Who should NOT use Mirvaso gel
Checks are carried out during the Dr Fox online consultation to ensure Mirvaso is suitable.
Mirvaso is for use by adults over 18, including over 65s, and NOT children.
Most people can use Mirvaso without significant side effects. Only a small amount of the active ingredient, brimonidine, is absorbed through the skin. Not suitable for people prone to low blood pressure or people with serious heart conditions. Some prescribed medicines can interact with Mirvaso, most notably medicines which lower blood pressure, and some types of antidepressants.
Although there is no evidence of harm, Mirvaso is best avoided in pregnant and breast-feeding women.
How to use
Apply thinly and evenly over the affected areas of the face, avoiding the lips and eyes. A pea sized amount of gel should be used for each of the reddened areas of the cheeks, forehead, nose and chin. Gel should not be applied to open sores.
Wash hands thoroughly after use
Keep out of the reach of children
Apply once daily
It may be useful to take a photograph before and after applying Mirvaso to gauge effectiveness. Makeup can be applied once the gel has dried.
Consult a doctor face-to-face if symptoms are getting worse.
Other treatments for rosacea
Mirvaso can be used with other treatments and with other medicines for rosacea. A GP or skin specialist will be able to advise.
Avoid factors which can cause flushing, such as spicy food, sun exposure, hot showers, and in some cases alcohol. Don't use oily skin preparations and particularly not topical steroids.
Prescribed medicines for rosacea include long-term antibiotics, particularly tetracyclines and metronidazole, anti-inflammatory creams and lotions containing Azelaic acid and long-term low dose isotretinoin tablets. Other medicines such as clonidine may reduce facial flushing and oral anti-inflammatory tablets are sometimes recommended. Laser treatment can be used for persistent localised areas of redness (telangiectasia) and even surgery is sometimes used for the lumpy misshapen appearance of the nose (rhinophyma) which occasionally occurs in severe cases of rosacea.
Buy treatment
Dr Fox supplies Mirvaso on prescription – you are required to answer a short medical questionnaire before your order can be completed.
questions
Choose
order
Answer medical questions to order
(rosacea treatment)
---
The order process
Answer short medical questionnaire
Choose treatment, register, and pay
Doctor issues prescription online
Medicine posted direct from pharmacy
---
Customer reviews
"I don't know why I have never heard of this website before It's absolutely incredible. My transaction process was very hassle-free, the communication was great and I've got my malarial tablets for a fraction of the price if I'd gone to the doctor directly. I won't hesitate buying from Doctor Fox again"01 December 2016 – Mariah S., London
"Superb service as always. Have been a customer for some time now and Dr Fox has maintained the quality of care throughout."22 November 2016 – Dr Keith W., Prudhoe
"Extremely satisfied with my whole dealing with Dr.Fox Fast efficient - problem free Thank you for being so easy to use"20 November 2016 – Mel E., Manchester
"Everything went absolutely smoothly Goods even arrived much earlier then could have been expected (Overseas). Fair price - and better then most competitors. Would recommed."15 November 2016 – Kristian M., Denmark
"Fantastic.... service, products all delivered and tracking numbers provided, paid and 3 days later goods arrived in a discreet envelop.... by Royal mail sign for... Very happy with the whole service and transactions... thank you"10 November 2016 – Jamie G., Cheshire
"I have used Dr Fox on several occasions and have never had any reason for complaint right through from delivery to packaging and quality of product. A completely first class service that I would, and without hesitation, recommend to others."04 November 2016 – Steve B., Dyfed
"First rate service no hassle to order, obtain the prescription and receive a next day delivery. Medical condition cleared quicker than had I had to wait to see my own GP."28 October 2016 – Mrs H., Worcestershire
"I'm completely satisfied with the whole process from start to finish. Great prices, superb communication and rapid delivery....highly recommended"08 October 2016 – Davey W., London
"I've used Dr Fox a couple of times now for malaria tablets. On both occasions I received a fast and reliable service. The prices are very good too. No need to pay your GP for a private prescription or pay High Street Chemist prices. Highly recommended."04 October 2016 – Pete M., Corsham
"My experience is of top customer service with fast deliveries of genuine products sold at the lowest price around. I haven't dealt with better and believe they are unmatched so unrivalled."02 October 2016 – Jason J., Colchester
"Answered questionnaire, ordered product. Product is competitively priced and delivered speedily - absolutely no criticism of any kind from me - product works every time."08 September 2016 – Lionel E., Wigan
"I have used Dr Fox three times now and I find the service easy to use, with good products and delivery usually by return. I also feel confident about using the site and believe that they would only market products that were of reputable origin and safe to use."22 August 2016 – Robin S., London
"very cautious about buying medicines online but Dr Fox seemed a credible retailer with a good reputation. Thankfully that turned about to be true. Ordering is relatively quick (even quicker to do a repeat order) and simple. The service has been good and I've had no reason to contact them even after many orders."21 August 2016 – Andy B., Reading
"Impressively fast service to Malta. Also very helpful when I needed to ask a question. Very highly recommended."17 August 2016 – Anonymous
"As this was the first time i had bought online, i was wary. So i checked the batch number with the manufacturer to make sure my medicine was legitimate and it was. I will definitely use again."17 April 2016 – Anonymous