Cialis Together
Cialis Together (10mg tadalafil) tablets to treat erectile dysfunction available to buy online from Dr Fox.
Start order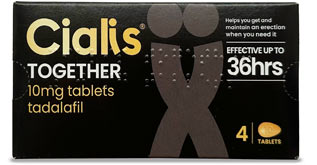 Buy Cialis Together online in UK
How to order Cialis Together online for UK delivery:
Read medical information about erectile dysfunction
Answer medical questions to check for eligibility
Reviewed by doctors - posted from UK pharmacy (tracked 24hr service)
Cialis Together (10mg tadalafil)
Cialis Together is a new brand of Cialis, which is available from pharmacies without a prescription. It is the same medicine as tadalafil, or generic Cialis, which Dr Fox also supplies. Generic Cialis (tadalafil) is medically identical to its branded equivalent - see generic medicine FAQs.
Generic tadalafil is available at much lower cost, from 50p per tablet.
Prices
Prices of Cialis Together and generic tadalafil from Dr Fox pharmacy (in stock)

| Tablet type | 4 tablets | 8 tablets |
| --- | --- | --- |
| Cialis Together (10mg tadalafil) | £16.50 | £28.00 |
| Generic 10mg tadalafil* | £7.95 | £12.80 |
Prices of Cialis Together medication from UK online clinics (13 September 2023) - qualifying notes
*Dr Fox adds a small prescription fee not included in table above.

The prices shown are listed by the online clinics named after a customer first enters consultation information and is offered prescriptions. It is possible these clinics may have special offers or lower prices for repeat supplies.
Prices may change and are, to the best of our knowledge, accurate on the date stated. All products in stock and new condition.
Dr Fox does NOT claim to provide a superior service to any of the online clinics listed. All the clinics listed, as far as we can tell, comply with all regulation and, as far as we can tell, operate to high ethical standards.
Dr Fox adds a small prescription fee not included in the table (between £1 and £4 depending on value of the order).
To amend the information in this table please contact us
The prices listed in the table do not identify the cost of prescription medicine as online clinics charge a single fee to cover services which includes advice, consultations, prescriptions, and dispensing and supply of treatments.
Where services include free delivery this is using the slowest delivery option available. Dr Fox uses Royal Mail Tracked 24.

| Tablet type, dosage, quantity | Dr Fox* | Pharmica | Oxford Online Pharmacy | Cloud Pharmacy | Superdrug | Boots |
| --- | --- | --- | --- | --- | --- | --- |
| Cialis Together 10mg x 4 | £16.50 | £19.99 | £22.00 | £18.99 | £21.99 | £21.99 |
| Cialis Together 10mg x 8 | £28.00 | £29.99 | £35.99 | £33.99 | £37.99 | £37.99 |
| UK delivery | £2.90 | £3.95 | £4.99 | included | included | £3.75 |
Delivery charges
UK delivery only: £2.90 per consultation via Royal Mail Tracked 24 Signed For (1-2 working days with tracking).
Parcel forwarding services are not permitted. Use only UK home or work delivery address.
Returns and refunds - unwanted items can be returned within 14 working days for a full refund.
Start order
---
About Cialis Together
Cialis Together is an oral tablet used to treat erectile dysfunction (ED) in men.
'Cialis Together' is a brand name, the active ingredient is 'tadalafil'.
Take one 10mg tablet at least 30 minutes before sexual activity, effective for up to 36 hours.
Read the patient leaflet for a full list of side effects, cautions, and interactions with other drugs.
Cialis Together is actually the same as ordinary Cialis, but branded and supplied in a different way. It is presented in a pack which can be supplied by pharmacies over the counter without a prescription. The active ingredient is tadalafil. Tadalafil is also available as a generic tablet at a significantly lower price than both Cialis Together or Cialis. Tadalafil and Cialis both require a prescription, which can be an electronic or online prescription.
Cialis Together is the same strength as tadalafil 10mg or Cialis 10mg. Cialis Together is only available as 10mg tablets, in packs of 4 or 8. Cialis and tadalafil are available in many strengths, either as daily 2.5mg and 5mg tablets, or as, 'when needed' 10mg and 20mg tablets.
Erectile dysfunction (ED) assessment
An assessment by a pharmacist must be carried out before buying Cialis Together. This assessment can be carried out online, or by a pharmacist in-store. The in-store assessment may require an appointment.
Dr Fox pharmacy provides an online assessment for Cialis Together and other ED treatment, which includes medical information about erectile dysfunction and its treatment. At the end of the online assessment a range of ED medicines can be requested, including Cialis Together. Alternative ED treatments such as Cialis, Viagra, and Spedra, and generic tadalafil, sildenafil, and vardenafil are also available. All available strengths and various quantities and combinations can be requested.
It is important that men with erectile dysfunction are properly assessed and advised about treatment. This should include consulting a doctor prior to obtaining treatment online, particularly if erectile dysfunction has started recently or is worsening.
Causes of erectile dysfunction
ED is common, affecting up to 40% of men by the age of 50. Most men with ED are in reasonable health. Despite a widespread belief, low testosterone levels are not a common cause. However, ED can sometimes be a symptom of underlying health problems such as diabetes, high cholesterol, high blood pressure, reduced blood circulation, heart disease, and stroke.
ED can also be caused by stress, performance anxiety, psychosexual problems, and lifestyle choices such as smoking, heavy drinking, obesity, and lack of exercise can make it worse. Symptoms may well improve if these issues are addressed. Occasional treatment with medication such as Cialis Together can be effective in breaking a cycle of anxiety and failure.
Other causes include spinal injury or operations on the prostate or bowel. Regular cycling for 3 or more hours a day may also contribute to ED.
Who can use Cialis Together?
Cialis Together is suitable for adult men diagnosed with ED - the inability to get or maintain an erection firm enough for sex. The active ingredient, tadalafil, has been shown to significantly improve the ability to obtain a hard erect penis suitable for sexual activity.
ED medication should not be used by women, or under 18s.
Cautions
Sexual activity carries a possible risk to patients with heart disease because it puts an extra strain on the heart. Do not take Cialis Together if you have serious heart disease or had a heart attack within the last 90 days.
Do not take Cialis Together if you:

Had a stroke within the last 6 months.
Have low blood pressure or uncontrolled high blood pressure.
Ever had loss of vision because of non-arteritic anterior ischemic optic neuropathy (NAION), a condition often described as 'stroke of the eye'.

Grapefruit juice and alcohol are both likely to reduce the effectiveness of Cialis Together.
A reduction in sperm has been noted in some men. These effects are unlikely to lead to a lack of fertility.
Some men taking tadalafil (the active ingredient in Cialis Together) in clinical studies reported dizziness. Check carefully how you react to the tablets before driving or using machines.
Cialis Together should not be taken at the same time or within 24 hours of taking Cialis/tadalafil, Viagra/sildenafil, Levitra/vardenafil, or Spedra/avanafil.
If you have any of the following conditions you should discuss with your regular doctor before taking Cialis Together:
Sickle cell anaemia (an abnormality of red blood cells).
Multiple myeloma (cancer of the bone marrow).
Leukaemia (cancer of the blood cells).
Any deformity of your penis.
A serious liver or kidney problem.
How do erectile dysfunction medicines work?
Both Cialis and Cialis Together are brand names for a medicine with the medical name of tadalafil. Tadalafil works by helping the blood vessels in the penis to relax, allowing an increased flow of blood into the penis during sexual stimulation. It does this by blocking the action of an enzyme called phosphodiesterase 5 (PDE5). It belongs to the class of PDE5 inhibitor medications.
Other tablet treatments for erectile dysfunction are all PDE5 inhibitors. These include Viagra (sildenafil), Levitra (vardenafil), and Spedra (avanafil). The main difference between these treatments is the duration of action. They stay active for different lengths of time: 1 tablet of Cialis or Cialis Together (tadalafil) will last up to 36 hours; Spedra (avanafil) and Viagra (sildenafil) last about 4 hours; Levitra (vardenafil) lasts between 4 and 5 hours. This does not mean that an erection will last for 4 or 36 hours, but that the tablet will augment and support sexual performance during that time.
Compare erectile dysfunction tablets
Effectiveness of Cialis Together
Clinical studies show tadalafil (the active ingredient in Cialis Together) significantly improves erectile dysfunction and the ability to have successful sexual intercourse.
| | | | |
| --- | --- | --- | --- |
| Erectile dysfunction category | Mild | Moderate | Severe |
| Improved erections with tadalafil | 86% | 83% | 72% |
It is not known if tadalafil is effective in patients who have had pelvic surgery or removal of all or part of the prostate gland.
How to take Cialis Together
Take one 10mg tablet as needed, at least 30 minutes before sexual activity. Tablets should be swallowed whole with water and can be taken with or without food. Do not take more than 1 tablet a day.
Sexual stimulation is required for Cialis Together to be effective.
Cialis Together should not be taken at the same time as, or within 24 hours of, taking other oral erectile dysfunction treatments, e.g. Viagra/sildenafil, Levitra/vardenafil, or Spedra/avanafil.
Other medicines and Cialis Together
Cialis Together should not be taken if also taking any of the following medications:
HIV and cancer chemotherapy medications.
Antifungal treatments like itraconazole or ketoconazole.
Alpha-blocker blood pressure medications, also sometimes used to treat prostate enlargement - includes doxazosin, prazosin, alfuzosin, terazosin, indoramin, and tamsulosin.
Antibiotics such as erythromycin, clarithromycin, or rifampicin.
Anticonvulsants such as phenobarbital, phenytoin, or carbamazepine.
Nitrates for angina or heart failure - including glyceryl trinitrate; isosorbide mononitrate; isosorbide dinitrate; GTN spray, tablet, patch or gel; nicorandil; or sodium nitroprusside - serious reaction possible.
Any recreational drugs, particularly amyl nitrate ('Poppers') - serious reaction possible.
Riociguat for high blood pressure in the lungs.
If in any doubt about other medication, please message our doctors or consult your regular doctor before ordering Cialis Together online.
Possible side effects of Cialis Together
Significant side effects are unusual and don't happen to everyone. The most common side effects of Cialis Together (tadalafil) include headache, dizziness, back pain, muscle aches, pain in the arms or legs, nasal congestion, flushing, indigestion, and a visual colour distortion with a bluish or yellowish tinge to vision. This is not dangerous and fades after a few hours and is a recognised side effect of all ED drugs.
In the rare event of serious side effects men should seek immediate medical advice. This applies particularly to chest pains (possibly heart), loss of vision, and prolonged and painful erections (priapism). Priapism can lead to permanent damage to the penis and is a medical emergency requiring urgent medical attention through a hospital A&E department.
For a full list of possible side effects see the patient information leaflet for Cialis Together.
Other options for treating ED
Other treatments for ED include topical applications (creams and gels applied direct to the penis), injections into the penis, and various surgical devices. These are available from specialist ED/urology services. Counselling may help if psychological causes are causing ED. Improved diet and lifestyle choices can also help.
Tadalafil can also be prescribed to treat symptoms of an enlarged prostate (benign prostatic hyperplasia), and in higher doses for the rare condition, pulmonary hypertension. Dr Fox supplies tadalafil, Cialis and Cialis Together to treat erectile dysfunction only.
Patient Information Leaflet

The Patient Information Leaflet (PIL) is the leaflet included in the pack with a medicine and must be read before taking the medicine. It is written for patients and gives information about taking or using a medicine.
Cialis Together FAQs
Why can Cialis Together be supplied without a prescription?
In March 2023, Sanofi, the pharmaceutical company which markets Cialis Together, successfully applied to the UK medicines licensing authority, the MHRA, to supply tadalafil 10mg direct from pharmacies over the counter. Sanofi argued that tadalafil could be supplied safely without the need for a doctor's prescription, but instead with a check from an in-store pharmacist. Sildenafil 50mg has been available as Viagra Connect under similar conditions since 2018. Tadalafil is safe and is usually an effective medicine.
Does Cialis Together work every time?
Response to treatment is usually predictable and consistent. On most occasions, if Cialis Together or other preparations of tadalafil 10mg have worked before, they will work again.
If Cialis Together is only partially effective or loses its reliability, 20mg Cialis and 20mg tadalafil tablets are available on prescription, including from Dr Fox.
Satisfactory erections require an adequate blood supply, a healthy nervous system, and sexual arousal. Cialis Together improves the blood supply, but some causes of erectile dysfunction, such as physical injuries or nerve damage, are more resistant to tablet treatments and may require other therapies, such as injections or penile implants.
Are other ED tablets available without prescription?
Yes. Viagra Connect is a brand of the ED drug, sildenafil 50mg, which has been available without prescription since 2018. Like Cialis Together it is classified as a 'Pharmacy medicine'.
Can I get Cialis Together on the NHS?
Probably not! GPs are limited in their NHS prescribing for erectile dysfunction and will usually only offer sildenafil and only one tablet per week. If sildenafil is not effective, generic tadalafil may occasionally be prescribed on the NHS, but only in a very limited range of conditions. NHS guidelines prevent prescribing ED medication by brand name.
Can I split a Cialis Together tablet and only take half a tablet?
Officially no but in practice many men split ED tablets! The official advice is that Cialis Together tablets are not suitable to be split, and patients should only take whole tablets. Cialis Together contains a 10mg dose which is a usual dose of 'as required' tadalafil treatment for ED. 5mg tadalafil can be used as a regular daily dosing regime, if having sex more than 2 or 3 times per week. Some men may find that 5mg is actually enough for an 'as required' treatment. Cialis Together tablets are not 'scored' with an indented line in the middle of the tablet, so ensuring an even break is difficult and also the 'halves' may crumble. Purchasing a pill-splitter may help the process.
Does Cialis Together really last 36 hours?
Yes. Cialis Together can last for 36 hours and sometimes longer, which is why it is sometimes known as 'the weekend pill'. It has the longest duration of action of all ED medication. This compares for example to sildenafil (Viagra) which lasts for around 4 hours.
Cialis Together requires sexual stimulation to work - i.e. you only get an erection when you are sexually aroused, during the 36 hours.
See also erectile dysfunction FAQs page.
Start order

Authored 12 September 2023 by Dr A. Wood
MB ChB Manchester University 1984. NHS GP in Bristol. GMC no. 2855422
10/11/2023 07:35
Anonymous Verified
Excellent product, lasts over 3 day with 1 dose
08/10/2023 11:32
Anonymous Verified
I find them very good better than anything else I've tried before
07/10/2023 20:01
Anonymous Verified
Just perfect for men over 55 a nice balance
23/09/2023 09:33
D. Parish Verified
19/09/2023 11:16
Anonymous Verified
Read more reviews
---
The order process
Choose medication, register, and pay
Dr Fox issues prescription online
Pharmacy team post medication direct