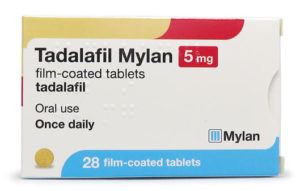 Tadalafil is the medical – or generic – name for the Cialis brand of erectile dysfunction medicine. Tadalafil works in a similar way to sildenafil (Viagra), however whereas sildenafil lasts for around 4 hours, tadalafil remains active for up to 36 hours, hence why it is sometime called the weekend pill. This does not mean you will have an erection for 36 hours, only when required, eg: when sexually aroused.
Most men take tadalafil as and when they need it 30 minutes or more before sexual activity. The usual starting dose is tadalafil 10mg, which – depending on effectiveness – may be increased to 20mg or decreased to 5mg.
---
Can I take tadalafil every day?
Men who anticipate sexual activity twice a week or more may find that a low-dose (2.5mg or 5mg) tadalafil tablet taken every day, at the same time of day, more suited to their needs.
Tadalafil has a 36-hour duration of action after which the amount of the drug left in the body is no longer considered effective. A low daily dose taken every 24 hours will build-up to a continuous effective concentration in the blood.
The benefit of this is sexual activity can be more spontaneous, requiring less forward planning.
According to this study in 2009:
Once-daily 2.5 mg or 5 mg tadalafil provides a new therapeutic alternative for men, who may be looking for a dosing option that avoids scheduling sexual activity, and for couples, who may prefer more convenience and spontaneity in their sexual lives. Taking once daily tadalafil at a lower dose may be as effective as taking higher on-demand doses, and appears to be safe.

Tadalafil once daily in the management of erectile dysfunction: patient and partner perspectives
Notes for daily tadalafil dosing
Take with water at the same time each day.
Start with 5mg tadalafil, adjust to 2.5mg if necessary.
Allow 2-4 days for the drug concentration to build-up in your body to an effective dose.
2.5mg or 5mg tadalafil only are suitable for a daily regime – do not take 10mg or 20mg tadalafil on a daily basis.
May be taken with or without food.
Avoid grapefruit juice and excessive alcohol.
Cautions
Full details of contraindications, drug/medicine interactions, and side effects are listed in the manufacturer's patient leaflet included in medicine packs which must be read before taking the tablets.
Side effects
As with all medicines, tadalafil has the potential for side effects.
The most common are: headache (14.5%), back pain (6.5%), muscle aches and pain in arms and legs (5.7%), facial flushing (10.4%), nasal congestion (1.1%), and indigestion (4.6%).
Precautions and drug interactions
Tadalafil is contraindicated for men with certain health conditions and not advised without discussing with your GP first, most significantly: sickle cell anaemia, multiple myeloma, leukaemia, deformation of the penis, and serious liver or kidney problems.
Notes
Once daily tadalafil is not usually available on the NHS, and is paid for privately.
Dr Fox provides once daily tadalafil from 50p each following an online erectile dysfunction consultation, with licenced medicine posted from a UK pharmacy.
The drug company that developed Cialis held an exclusive patent on the drug until November 2017. After the exclusive licence ended other pharmaceutical companies were able to legally supply tadalafil and the prices have dropped. These other brands of generic Cialis are usually marketed as 'tadalafil'. Dr Fox may supply any UK licenced brand (Accord, Aspire, Cipla, Kosei, Medreich, Milpharm, Mylan, Strides Pharma, Sovereign, Sun, Tevandoz, Sovereign, Teva).