Keeping it simple, tadalafil lasts for up to 36 hours and sometimes longer, and has the longest duration of action of all the PDE5 inhibitors. This compares to sildenafil (Viagra) which lasts for around 4 hours.
In addition, absorption of tadalafil is not affected by food, so it can be taken at any time before, during, or after a meal.
Tadalafil is a drug used to treat erectile dysfunction. It is a type of PDE5 inhibitor. Tadalafil is a generic or drug name – 'Cialis' is a branded form of tadalafil.
---
36 hours – really?
Yes, although this does not mean a continuous erection for 36 hours. Like all PDE5 inhibitors, tadalafil requires sexual stimulation to work – ie: you only get an erection when you want to.
The following timeline has been collated from several studies. After taking tadalafil:
First responders: 16 minutes
Some men report having an erection as quickly as 16 minutes.
Average responders: 30 minutes
Most men feel the benefit of tadalafil after 30 minutes. 52% of patients can have successful sexual intercourse within 30 minutes of taking tadalafil.
Maximum effect: 2 hours
After 2 hours, the maximum concentration of the drug is in the bloodstream.
Half mast: 17.5 hours
Tadalafil has a 17.5-hour 'half-life', meaning it takes 17.5 hours for half the drug to have left the blood stream. This long half-life is the reason tadalafil is effective over such a long time period.
Still effective?: 36–48 hours
Some men can get good erections for up to 48 hours. This is why tadalafil is sometimes known as 'the weekend pill' – you can take it on a Friday night and still make use of it on a Sunday morning!
All gone: 96 hours
After 96 hours tadalafil has virtually disappeared from the blood stream.
Bioavailability of tadalafil
The graph below demonstrates the study data of the bioavailability over 96 hours of a single dose of tadalafil 20mg. Tadalafil levels are still around 100 µg/l (100 micrograms per litre) even 36 hours post dose.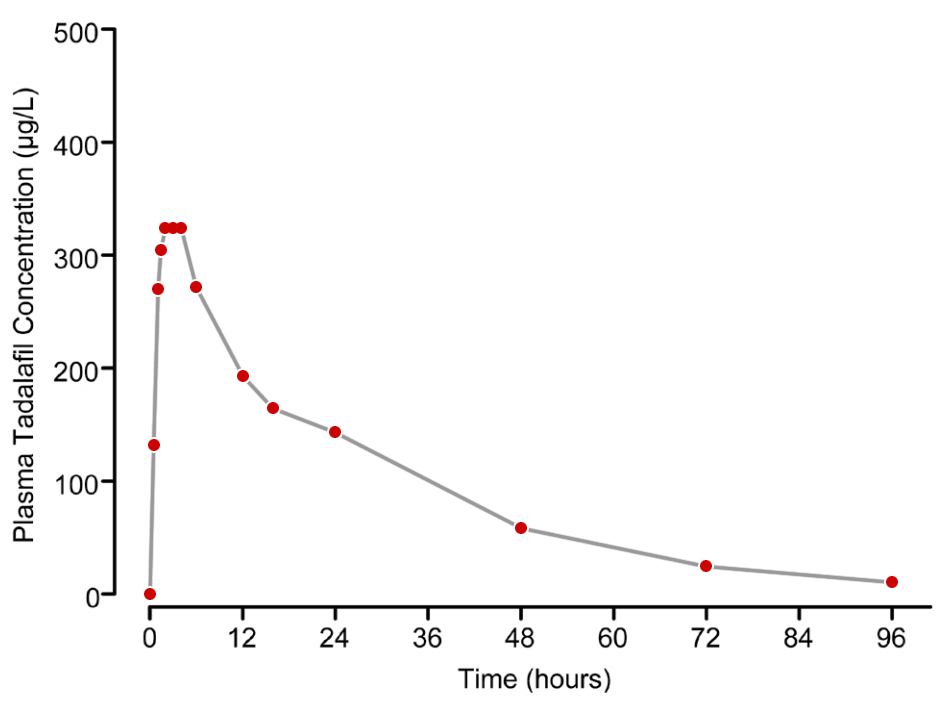 Do not take 10mg or 20mg tadalafil more than once a day. Tadalafil 10mg and 20mg is intended for use 'as required' prior to anticipated sexual activity and is not recommended for continuous daily use.
Continuous daily dosing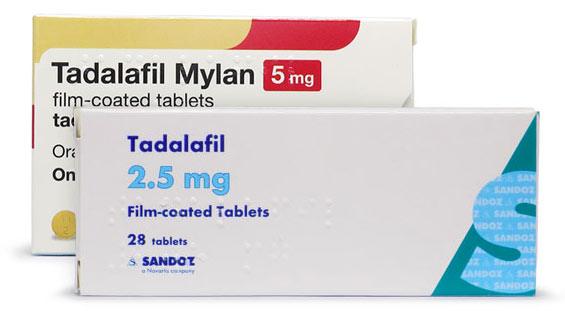 Tadalafil is also available in continuous daily doses, where a low-dose tablet (2.5mg or 5mg) is taken every day at the same time of day, as a form of regular medication. The low dose builds-up in your system to reach a "steady-state plasma concentration" within 5 days.
Daily 2.5mg or 5mg is the recommended regime for men who have sex more than twice a week, or for those that prefer the spontaneity this allows where no forward planning is required for intercourse.
5mg can also be sufficient to work on an 'as required' basis as well for some men.
Key facts
Prescription only: a thorough medical consultation must be undertaken before being prescribed tadalafil. Checks must be made for contraindications and drug interactions.
Starting dose: 10mg 30 minutes before sexual intercourse – depending on results, adjust to 20mg or 5mg as required.
Consider daily low-dosing (2.5mg or 5mg) if you have sex more than twice per week. Tadalafil is the only PDE5 inhibitor that can be taken as a low dose every day.
Sexual stimulation is required for the drug to be effective.
Can be taken with or without food.
Possible side effects are listed in manufacturer's patient information leaflets.
Tadalafil was first marketed as the brand name Cialis in 2003, by the pharmaceutical company Lilly.
The patent for Cialis expired in the UK and elsewhere in 2017, allowing generic drug makers to also supply tadalafil. Prices have since dropped considerably.
Frequently asked questions
Is tadalafil a safe drug?
A 2017 review of 16 studies involving 5189 patients, which directly compared the safety and efficacy of sildenafil and tadalafil, revealed both drugs had a similar excellent safety profile. They both also showed similar efficacy in treating erectile dysfunction, and patients showed equal degrees of satisfaction with treatment. Psychological outcomes were very much better with tadalafil, most likely because of the long acting nature of the drug, and hence the reduced time pressure they were then under to get on and have sexual intercourse.
Do men prefer tadalafil?
One 2003 study concluded that men preferred taking tadalafil to sildenafil. In this study, 215 men with ED, were randomly selected to take either sildenafil or tadalafil as required for a 4 week period. After a 1–2 week wash out period, they then switched to taking the other drug (a crossover study). Neither the men themselves, nor the study investigators knew which drug they were taking (double blinded). These men had either never taken sildenafil before, or had failed to respond in the past. The results showed that 66.3 % preferred tadalafil, compared to 33.7% for sildenafil, and these results were highly statistically significant. In addition, both sildenafil and tadalafil were well tolerated, with similar side effect profiles in both groups.
Do female partners prefer tadalafil?
In one 2008 study, 79% of female partners preferred tadalafil to sildenafil because of the more relaxed approach to having sexual intercourse with tadalafil, as it is so long acting.
Would men who already regularly use sildenafil swap to tadalafil?
Interestingly there is research to show this is often the case. In a 2003 study, 147 men with ED who were regular sildenafil users, were assessed using sildenafil, over a 6 week initiation and a 3 week assessment phase. They then did the same for 6 and 3 weeks, with tadalafil. After this, they were offered the choice of either sildenafil or tadalafil to use during the following 6 month period. An impressive 90.5% preferred to stick with tadalafil, and 9.5% with sildenafil. This was irrespective of age, severity of ED or any underlying cause. Both drugs were well tolerated and had a similar side effect profile.
Can I get tadalafil on an NHS prescription?
There is limited NHS provision of drugs for erectile dysfunction. Generic sildenafil is the only currently permitted PDE5 inhibitor available to GPs to prescribe on the NHS as a standard treatment for erectile dysfunction. Tadalafil is only available for erectile dysfunction if you have a specific condition such as multiple sclerosis or a spinal cord injury. Prescriptions for alternatives such as tadalafil usually require a private prescription. A fully regulated online doctor is a safe and convenient way to obtain your choice of medication for erectile dysfunction.
---