Salbutamol inhalers
Ventolin and Salamol salbutamol inhalers for asthma available to buy online from Dr Fox.
Read medical information and answer medical questions to buy treatment online.
Asthma inhalers
All medicine supplied is UK licensed.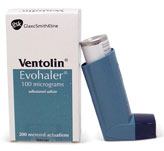 1 inhaler £8.50
Buy treatment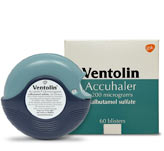 1 inhaler £8.95
Buy treatment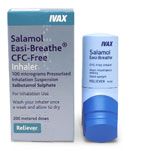 1 inhaler £15.80
Buy treatment
Prices
Prices of asthma inhalers from Dr Fox

| Salbutamol inhaler | Quantity | Cost |
| --- | --- | --- |
| Ventolin Evohaler 100mcg | 1 metered aerosol inhaler | £8.50 |
| Ventolin Accuhaler 200mcg | 1 dry powder inhaler | £8.95 |
| Salamol Easi-Breathe 100mcg | 1 breath actuated inhaler | £15.80 |
Prescription fees
Dr Fox supplies medicine on prescription and charges a small prescription fee based on the order value of each prescription.
Prescriptions are issued by our doctors online and sent electronically to our pharmacy.
| Order value | Prescription fee |
| --- | --- |
| up to £10 | £1.00 |
| up to £20 | £2.00 |
| up to £40 | £3.00 |
| over £40 | £4.00 |
If you have your own private or NHS paper prescription please post to our pharmacy (details).
Dr Fox prices are 25%–50% lower than other UK online clinics.
Delivery charges
UK delivery only: £2.90 per consultation via Royal Mail Tracked 24 Signed For (1-2 working days with tracking).
Parcel forwarding services are not permitted. Use only UK home or work delivery address.
Returns and refunds - unwanted items can be returned within 14 working days for a full refund.
Medical information
Written and reviewed by a team of doctors. Dr Fox is regulated by the CQC & GPhC.
About salbutamol
Salbutamol usually comes in an inhaler which is used to treat asthma and other breathing conditions. Inhaled salbutamol works as a 'reliever' by relaxing the muscles of the air passages into the lungs which relieves chest tightness. The effects start within minutes and last up to 6 hours. Salbutamol can be used on its own or in combination with other inhalers and tablets. If asthma is well controlled, salbutamol is usually only needed occasionally as a rescue treatment to deal with a flare-up of symptoms or used before activities known to cause the symptoms.
The salbutamol inhalers supplied by Dr Fox are Ventolin and Salamol. They both contain salbutamol but come in different types of inhaler:
Who can use salbutamol
If you already use a salbutamol inhaler (blue inhaler), Dr Fox may be able to supply you with a repeat inhaler online. You should select the inhaler you are usually prescribed.
Salbutamol can be used by adults and children of all ages but Dr Fox only supplies medication to adults. If you are pregnant or trying to conceive please inform your GP and obtain your medication directly from them as we are unable to prescribe in these circumstances. It is important to maintain good control of your asthma when pregnant and inhalers can usually be taken as normal when breastfeeding.
Further information: Best use of medicines in pregnancy - Salbutamol.
Salbutamol is not suitable for people with a previous allergic reaction to salbutamol.
This service does not replace your doctor's surgery. Regular asthma clinic check-ups with a doctor or nurse are required every year, or sometimes more frequently.
Dr Fox does NOT supply steroid inhalers or other asthma medicines, only salbutamol inhalers.
How to use salbutamol
Salbutamol is effective only if it is inhaled into the lungs where it is active. Inhaler technique (how to use an inhaler) is usually explained in asthma clinics. See also demonstration videos for metered aerosol, dry powder, and breath actuated inhalers, and the 'patient information leaflets' (links below) supplied with the inhalers. Metered aerosol inhalers can also be used more easily with a spacer device. This is a tube, usually made of plastic, that your inhaler inserts into and the medication can be breathed in over several breaths from the other end. This enables the medication to be breathed into the lungs correctly which is useful if there are issues with the technique of using the inhaler or during an asthma attack.
Ventolin Evohaler
Ventolin Evohaler is a 'metered aerosol' and delivers 100mcg of salbutamol per puff when the end of the inhaler is pushed down. You can use 1 or 2 puffs when needed up to 4 times a day.
Ventolin Evohaler Patient Leaflet
Ventolin Accuhaler
Ventolin Accuhaler is a 'dry powder' inhaler. Breathing in through the mouthpiece of the device causes release of salbutamol from a preloaded blister inside the inhaler. Each blister contains 200mcg of salbutamol mixed with lactose particles. You can use 1 dose up to 4 times a day when needed. Accuhaler's do not use aerosol and have a much lower carbon footprint than Evohalers.
Ventolin Accuhaler Patient Leaflet
Salamol Easi-Breathe
Salamol Easi-Breathe is a 'breath actuated' inhaler which releases 100mcg salbutamol per puff triggered by a sucking action on the mouth piece of the inhaler. As for the Ventolin Evohaler, you can use 1 or 2 puffs when needed up to 4 times a day.
Salamol Easi-breathe Patient Leaflet
In an emergency both can be used more than 4 times a day but medical attention must be sought in these circumstances.
Alternative treatments
There are many alternative brands of salbutamol available. Inhalers containing ipratropium bromide are also used to treat acute asthma symptoms.
Cautions
Asthma should be taken seriously - if it is not managed correctly, or if there is a flare-up, then it can be life threatening. If inhalers alone are not working, you should speak to your GP or asthma nurse as there are other treatments available.
You should seek urgent medical help if:
You need to use your salbutamol more than 4 times daily.
Your inhaler relieves symptoms for less than 4 hours.
Your breathing is getting worse, despite using treatment.
You get chest pains or increasing tightness in the chest after using your inhaler.
You are advised to have an early check-up with a nurse or doctor if:
You need to use your salbutamol inhaler more than 3 times a week.
You are waking once or more at night with asthma symptoms.
You are having ongoing breathing symptoms such as coughing, wheezing, shortness of breath, or chest tightness that is restricting your normal activity.
Possible side effects
Most people taking salbutamol at the prescribed dose do not have side effects. A few hours after an inhaler is used very little salbutamol remains in the circulation so side effects are usually short lived.
Common side effects (affects less than 1 in 10 people): Feeling shaky, your heart beating faster, headache.
Uncommon side effects (affects less than 1 in 100 people): Mouth and throat irritation, muscle cramps.
The higher the dose the more likely you are to experience side effects. Common side effects are not dangerous and should gradually improve as you get used to taking salbutamol. If the side effects bother you then contact your doctor or asthma nurse to discuss.
Allergic reactions to salbutamol are rare (affects less than 1 in 10,000 people). If wheezing or breathing gets worse straight after taking salbutamol stop using it immediately, and tell your doctor as soon as possible.
More information on less common side effects of salbutamol can be found in the manufacturer's Patient Information Leaflet supplied with the medication.
Eligibility for online supply
We supply salbutamol inhalers only if patients:
Have used salbutamol inhalers before
Have had an asthma/breathing check with a doctor or nurse within past 12 months
Have no recent worsening in breathing symptoms
Salbutamol inhalers are prescription only medicine - our doctors will issue the prescription online direct to our pharmacy.
Limits on supply
Our doctors usually allow only an average of one inhaler to be ordered per 2 months. If you order more frequently you will need to provide extra information to our doctors. Full refunds are given if doctors decline a request for an inhaler.
If you require more than 3 inhalers per year, this suggests that your asthma is not well controlled and you may need alternative or additional treatments, possibly inhaled steroids or other medicines, including tablets, which Dr Fox does not supply. Please see your GP or asthma nurse for a review if this is the case.
Patients are required to provide their GP details. Dr Fox will inform the GP practice of supply of treatment.
If we cannot supply your inhaler, it does NOT mean you do not need one.
Buy treatment
Dr Fox supplies salbutamol inhalers on prescription – you are required to answer a short medical questionnaire before your order can be completed.

Authored 18 April 2013 by Dr Tony Steele
MB ChB Sheffield University 1983. Former hospital doctor and GP. GMC no. 2825328
---
The order process
Choose medication, register, and pay
Dr Fox issues prescription online
Pharmacy team post medication direct
Recent reviews
"Excellent, prompt service."12 October 2023 – Alistair S.
"Fantastic service. Quick, efficient & ethical. But best of all, accessible & affordable. No room for improvement!"12 October 2023 – Anonymous
"Easy to use, good price Always easy to order from, re-order facility easy (& saves time)! Super quick delivery, great prices, also do feel if you have any q's they are there to help."12 October 2023 – Anonymous
"Excellent prompt service"12 October 2023 – Anonymous
"A good and efficient service"12 October 2023 – Anonymous
"Very good service as usual"12 October 2023 – Anonymous
"Quick delivery, queries answered"12 October 2023 – Anonymous
"Excellent service, reasonable prices and good choice of products"12 October 2023 – Barry S.
"So easy to use. And safe. Sadly online services like this are the way forward. If you can't get an appointment. Would use this again."12 October 2023 – Anonymous
"Very fast delivery upon request. Much appreciated."12 October 2023 – Anonymous
"Absolutely fantastic service very fast delivery&dquo;12 October 2023 – Anonymous
"Fast and impressed with service"11 October 2023 – Andrea B.