Metronidazole Tablets
Metronidazole 400mg tablets used to treat bacterial vaginosis in women, available to buy online from Dr Fox.
Start order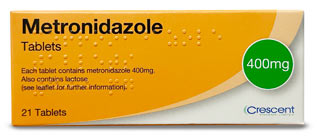 Buy metronidazole tablets online in UK
How to order metronidazole tablets online for UK delivery:
Read medical information about bacterial vaginosis
Answer medical questions to check for eligibility
Reviewed by doctors - posted from UK pharmacy (tracked 24hr service)
Prices
| | | |
| --- | --- | --- |
| Metronidazole 400mg | 14 tablets | £9.80 |
Prescription fees
Dr Fox supplies medicine on prescription and charges a small prescription fee based on the order value of each prescription.
Prescriptions are issued by our doctors online and sent electronically to our pharmacy.
| Order value | Prescription fee |
| --- | --- |
| up to £10 | £1.00 |
| up to £20 | £2.00 |
| up to £40 | £3.00 |
| over £40 | £4.00 |
If you have your own private paper prescription please post to our pharmacy (details).
Dr Fox prices are 25%–50% lower than other UK online clinics.
Comparative costs of metronidazole 400mg antibiotic tablets from UK online clinics (22 May 2023) - qualifying notes
*Dr Fox adds a small prescription fee not included in table above.

The prices shown are listed by the online clinics named after a customer first enters consultation information and is offered prescriptions. It is possible these clinics may have special offers or lower prices for repeat supplies.
Prices may change and are, to the best of our knowledge, accurate on the date stated. All products in stock and new condition.
Dr Fox does NOT claim to provide a superior service to any of the online clinics listed. All the clinics listed, as far as we can tell, comply with all regulation and, as far as we can tell, operate to high ethical standards.
Dr Fox adds a small prescription fee not included in the table (between £1 and £4 depending on value of the order).
To amend the information in this table please contact us
The prices listed in the table do not identify the cost of prescription medicine as online clinics charge a single fee to cover services which includes advice, consultations, prescriptions and dispensing and supply of treatments.
Where services include free delivery this is using the slowest delivery option available. Dr Fox uses Royal Mail Tracked 24.

| Items | Dr Fox | Simple Online Pharmacy | Superdrug | The Independent Pharmacy | ASDA Online Doctor | Health Express |
| --- | --- | --- | --- | --- | --- | --- |
| Metronidazole 400mg x 14 | £9.80 | £17.50 | £19.00 | £17.99 | £14.00 | £17.99 |
| UK delivery | £2.90 | £3.20 | included | £4.45 | included | included |
Delivery charges
UK delivery only: £2.90 per consultation via Royal Mail Tracked 24 Signed For (1-2 working days with tracking).
Parcel forwarding services are not permitted. Use only UK home or work delivery address.
Returns and refunds - unwanted items can be returned within 14 working days for a full refund.
Start order
---
About metronidazole tablets
Metronidazole 400mg antibiotic tablets are a prescription-only treatment for bacterial vaginosis in women.
Take twice daily 12 hours apart for 7 days.
Has a cure rate of 70%-80%.
Do not drink alcohol whilst using or for 48 hours afterwards. Read the patient leaflet for a full list of side effects, cautions, and interactions with other drugs.
How do metronidazole tablets work?
Metronidazole is an antibiotic which works most effectively against anaerobic bacteria. Anaerobic bacteria do not require oxygen to live. When a woman has bacterial vaginosis (BV), anaerobic bacteria replace the lactobacilli which usually maintain a healthy vaginal environment. Metronidazole kills the anaerobic bacteria allowing the lactobacilli to take over again and restore the natural balance in the vagina.
Dosage regime for metronidazole 400mg tablets
There are many different regimes for taking metronidazole tablets, depending on the infection being treated. For BV, there are also a few possible regimes. Dr Fox supplies 14 x 400mg tablets to be taken twice daily 12 hours apart for 7 days - swallow whole with water, with a meal.
Note: metronidazole 400mg is supplied from the manufacturers in boxes of 21 tablets. You will receive an opened or blank box with 14 tablets only.
Alternative treatments for bacterial vaginosis
There are several alternative prescription treatments for BV. Always use medication according to the regime actually prescribed for you.
Metronidazole tablets
400mg tablets twice a day for 5-7 days.
500mg tablets twice a day for 5-7 days.
One dose of 2 grams (5 x 400mg tablets or 4 x 500mg tablets) all at once.
Clindamycin tablets
300mg tablets twice a day for 7 days.
Usually reserved for pregnancy.
Metronidazole 0.75% vaginal gel (Zidoval)
Every night for 5 nights.
Clindamycin 2% vaginal cream (Dalacin)
Every night for 7 nights.
Most treatments have been shown to be equally effective with 70-80% cure rates. However the large one-off dose of 2 grams of oral metronidazole was slightly less effective in trials and is more likely to cause side effects.
Cautions when taking metronidazole 400mg tablets
Metronidazole should not be used in severe liver failure.
Metronidazole may aggravate neurological diseases.
Kidney disease or dialysis may require altered dosing - specialist advice required.
Manufacturers advise not to drink alcohol whilst taking metronidazole 400mg tablets and for the 48 hours afterwards. Taking alcohol with metronidazole may cause a 'disulfiram reaction'. Disulfiram is given to people with alcoholism, to help them to stop drinking alcohol. It causes a bad reaction when alcohol is taken. The disulfiram reaction includes nausea, vomiting, dizziness, chest, head and abdominal pains. See also FAQs.
Metronidazole may interact with these other medications:
Busulphan.
Cancer chemotherapy.
Ciclosporin.
Disulfiram.
Fluorouracil.
Lithium.
Phenobarbital.
Phenytoin.
Warfarin type anticoagulants (requiring regular blood tests).
Checks for suitability are carried out in the online consultation and full details are in the manufacturer's patient information leaflet supplied with your medication.
Metronidazole tablets and pregnancy
Metronidazole has been used extensively in pregnancy and has not been shown to cause birth defects, stillbirth, low birth weight, or preterm delivery. Some studies have linked metronidazole use with increased miscarriage. However the increase may have been caused by the infection being treated, not the metronidazole.
The single high dose of metronidazole 2 grams is not recommended in pregnancy. Dr Fox does not prescribe for pregnant women. Please consult your GP or midwife.
See also BUMPS - Metronidazole.
Metronidazole tablets and breastfeeding
It is not usually recommended to take metronidazole tablets whilst breastfeeding. Metronidazole passes into breast milk and will also affect its taste. Dr Fox does not prescribe for women who are breastfeeding. Please consult your GP.
Possible side effects
As with all medications, there is a risk of side effects but not everyone gets them and they are less likely when taking a short course of a few days treatment.
Very rarely, drowsiness, dizziness and visual disorders may occur whilst taking metronidazole. If affected do not drive, cycle or operate other machinery.
Mild side effects of metronidazole can include nausea, vomiting, diarrhoea, loss of appetite, numbness or tingling, metallic or unpleasant taste in mouth, skin dryness, discomfort, or itch.
Metronidazole may make urine appear darker.
Rare conditions, when you should stop metronidazole immediately and contact a doctor:
Acute allergy - signs include: swelling of the hands, feet, ankles, face, lips or throat, which may cause difficulty in swallowing or breathing, with an associated itchy, lumpy, nettle rash (hives/urticaria).
Other severe skin rashes with a high temperature - possible Stevens-Johnson Syndrome.
Fever, stiff neck, headache, hallucinations, confusion, difficulty using arms or legs or speaking - possible encephalopathy (brain inflammation).
More information on side effects can be found in the manufacturer's patient information leaflet supplied with your medication.
General advice to relieve symptoms and reduce risk of getting bacterial vaginosis
Take a shower instead of a bath.
Use only water and a plain soap or aqueous cream to wash genital area.
Do not use vaginal douching, vaginal washes, vaginal deodorants.
Do not use antiseptic, perfumed soap, bubble baths, shampoo, or shower gel in the bath.
Do not use strong detergent to wash underwear.
Do not smoke.
Patient Information Leaflet

The Patient Information Leaflet (PIL) is the leaflet included in the pack with a medicine and must be read before taking the medicine. It is written for patients and gives information about taking or using a medicine.
Metronidazole tablets FAQs
Can I take 5 of my metronidazole 400mg tablets together, instead of taking 1 twice a day for 7 days?
This regime of taking 2 grams of metronidazole all at once, is sometimes suggested to treat BV, but it has 2 disadvantages:
Clinical trials have shown it to be slightly less effective at clearing BV, than a 5-day or 7-day course.
It is a very high dose of metronidazole and is more likely to make you feel quite unwell with side effects.
Do I have to take metronidazole 400mg tablets exactly 12 hours apart?
Metronidazole takes longer than many antibiotics to be metabolised and to leave the body. Its half life, meaning half the medication has left the body, is 8 hours. To keep the metronidazole levels high enough to be active, another tablet should be taken around 12 hours after the previous dose.
Does metronidazole cause cancer?
In laboratory trials, long-term use of metronidazole has caused cancers in mice and rats but not in hamsters. Despite many years of use in humans no link with causing cancer in humans has been found. It is recommended that metronidazole is not taken long term.
Can I have blood tests whilst taking metronidazole?
Metronidazole can interfere with the results of some blood tests, so make sure your doctor knows you are taking it, before you have the test.
Start order

Authored 22 May 2023 by Dr A. Wood
MB ChB Manchester University 1984. NHS GP in Bristol. GMC no. 2855422
---
The order process
Choose medication, register, and pay
Dr Fox issues prescription online
Pharmacy team post medication direct
Top