13 Nov 2017: Dr Fox has temporarily suspended the supply of trimethoprim for cystitis. Trimethoprim cannot currently be ordered. This is because of increasing antibiotic resistance to trimethoprim. We are looking at supplying a more effective antibiotic, nitrofurantoin, and hope to have this available within a few weeks.
Trimethoprim
Trimethoprim 200mg treatment for cystitis – for recurring infection. Be prepared with a standby antibiotic to keep for when needed.
Start order
Prices
Start order
---
About Trimethoprim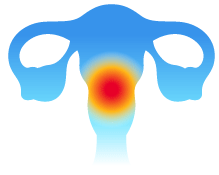 Cystitis symptoms
Urine is usually free from bacteria. In cystitis bacterial infection in the urine causes irritation in the bladder, leading to burning when passing water and, usually, a need to run to the toilet frequently. There may also be an offensive smell to the urine which may be cloudy and blood stained.
Complications
Cystitis is not normally a serious condition, however, occasionally infection can travel up into the kidneys leading to a serious infection known as pyelonephritis.
Pyelonephritis is infection in the kidneys that can cause kidney damage. The symptoms of pyelonephritis are: high fever, back ache, shivering, headache, nausea and vomiting. Pyelonephritis requires urgent medical attention and sometimes hospital treatment.
Recurring infection
Doctors often can not find out why a woman is getting repeated episodes of cystitis. When a woman first starts having these infections tests are sometimes carried out. The tests are usually normal.
In some women cystitis is associated with recent intercourse or can be associated with stress. However, most water infections seem to start for no particular reason. If a woman has repeated episodes of cystitis, and the pattern of infection and symptoms are not changing, doctors usually just treat each infection as it arises with antibiotic.
Treatment of cystitis
Short courses of antibiotic will normally cure cystitis. Trimethoprim 200mg taken twice a day for 3 days is the most widely used antibiotic for the treatment of cystitis. It will usually cure 60% to 85% of urine infections, although cure rates vary over time and in different parts of the country.
Trimethoprim side effects
Trimethoprim is well-tolerated with no, or very mild, side effects. There may be stomach upsets, such as indigestion and loose stools. If a rash develops after taking trimethoprim, treatment should be stopped and medical advice sought.
Alternate treatment
When Trimethoprim is ineffective, or not suitable, other antibiotic can be tried. During infection it also helps to drink plenty, about 4 litres or 5-6 pints a day. Citrate sachets, available from chemists, that de-acidify the urine, can also help.
Other antibiotics commonly used to treat cystitis include ciprofloxacin, norfloxacin, ofloxacin, co-amoxiclav (Augmentin), and nitrofurantoin. These antibiotics are sometimes a first choice or are an alternative to trimethoprim. They are not available from Dr Fox.
Prevention
Sometime the frequency of cystitis infections can be reduced by wearing natural fibre rather than synthetics next to the skin. Drinking plenty each day also helps to keep the bladder flushed and can help to reduce infections. Passing water after intercourse can help for women who tend to get infections after intercourse. These simple measures maybe helpful in preventing infection, although often they are not.
Patient information leaflet
The 'Patient Information Leaflets' supplied with medication must be read before taking.
Trimethoprim Patient Information Leaflet
Start order
---
Authored 18 February 2010
by Dr Tony Steele, MB ChB
Reviewed 28 November 2016 by Dr B. Babor, MB ChB
Last updated 13 November 2017
10/11/2017 11:48
Anonymous Verified
It really acts quickly reducing the pain.
07/11/2017 12:28
Anonymous Verified
05/11/2017 15:21
E. Kruczkiewicz Verified
24/10/2017 16:23
Anonymous Verified
Worked quickly and felt so much better
13/10/2017 13:16
Anonymous Verified
thank you so much it saved me from suffering an extra six days before my results came back from hospital I knew it was positive as I tested my own pee twice
11/10/2017 14:59
I. Thorpe Verified
See more product reviews
---
The order process
Answer short medical questionnaire
Choose treatment, register, and pay
Doctor issues prescription online
Medicine posted direct from pharmacy
---