Tadalafil
Tadalafil (generic Cialis) tablets to treat erectile dysfunction available to order online in daily 2.5mg & 5mg strength, or as required 10mg and 20mg strengths.
Lasts up to 36 hours
From 67p per tablet
Start order
Buy Tadalafil online in UK
How to order Tadalafil online for UK delivery:
Read medical information about erectile dysfunction
Answer medical questions to check for eligibility
Reviewed by doctors - posted from UK pharmacy (tracked 24hr service)
Prices
Start order
---
About tadalafil
Generic Cialis versus branded Cialis
Generic Cialis became legally available in the UK on 14 November 2017, after the exclusive license of the pharmaceutical company Lilly for branded Cialis ended. Cialis is the brand name used by Lilly for its brand of the medicine tadalafil. Tadalafil is the medical name. Cialis is the brand name. They are the same medicine.
Up until its exclusive license ended only Lilly, which developed Cialis in the first place, was permitted sell tadalafil legally in the UK. After the exclusive license ended other pharmaceutical companies are now able to legally supply tadalafil and the prices have dropped. These other brands of generic Cialis are usually marketed as 'tadalafil'.
Dr Fox may supply any UK licensed brand (Accord, Aspire, Cipla, Kosei, Medreich, Milpharm, Mylan, Strides Pharma, Sovereign, Sun, Teva). Patients can request a preferred brand after making an order.

The active ingredient and medical effects of original branded Cialis and generic tadalafil are the same because the active ingredient, tadalafil, is the same. Strict regulation and quality control apply to the manufacture and supply of both.
Generic medicines are medically identical to branded originals and are usually cheaper.
Daily versus occasional tadalafil tablets
Most men take tadalafil as and when they need it.
A single tablet of tadalafil 10mg or 20mg remains active for up to 36 hours. Men usually take a tablet 'as required' when they expect to be sexually active in the following 36 hours. Men who require treatment twice weekly or more on a regular basis may prefer to take a 2.5mg or 5mg low dose tablet daily tablet. The low dose daily tablets provide treatment on a continuous basis but do not lead to a build-up in the body. Men who do not respond to a 2.5mg tablet may do better with the 5mg daily tablet. Men should consult their regular doctors before starting on regular daily treatment.
Sexual stimulation is required for erections to occur. Without it the treatment remains inactive.
How it works
Tadalafil, like other erectile dysfunction tablet treatments such as Viagra and Levitra, works by changing the way blood flows in the penis during sexual stimulation. The changes in blood flow improves erections. These medicines achieve this effect by blocking an enzyme called PDE5. They are PDE5 inhibitors. These medicines have very little effect in other parts of the body. Tablet treatments for erectile dysfunction augment and support sexual performance and relationships.
The weekend pill
Tadalafil is sometime known as the weekend pill. This reflects its prolonged duration of action, up to 36 hours. A tablet taken on Saturday morning, will still be active on Sunday.
This long duration of action, compared with 4 hours for Viagra and 4-5 hours for Levitra, has led to tadalafil becoming increasingly popular. This is a trend likely to continue as prices reduce.
Cialis is also sometimes prescribed to treat benign prostatic hyperplasia (enlarged prostate) symptoms.
What causes erectile dysfunction?
Erectile dysfunction is common, effecting up to 40% of men by the age of fifty. Most men with erectile dysfunction are in reasonable health, although it may be a sign of poor circulation and narrowing of the arteries.
It is important to have a face-to-face consultation with a doctor, particularly if erectile dysfunction has started recently or is worsening. Diabetes, high cholesterol, low testosterone, low or high thyroid hormone, obesity and reducing circulation can all contribute to erectile dysfunction. Erectile dysfunction can be associated with heart disease and stroke. Treatment of the underlying causes may improve symptoms and prevent associated disease.
Erectile dysfunction can be caused by stress, psychosexual problems, and lifestyle choices such as smoking, heavy drinking, and lack of exercise. Symptoms may well improve when these issues are addressed. Other causes may include spinal injury or operations on the prostate or bowel. Regular cycling for 3 or more hours a day may contribute.
Men suffering from erectile dysfunction should first consult their regular doctor who will undertake an assessment, possibly perform tests, and provide advice.
Alternative treatment
Not all men need a tablet that works for up to 36 hours. Viagra (sildenafil), Levitra (vardenafil), and Spedra (avanafil) are alternatives and are available in various strengths and pack sizes after completing the same medical consultation.
Taking tadalafil for the first time
Tadalafil tablets come in four strengths - 2.5mg, 5mg, 10mg, and 20mg. Most men take a 10mg or 20mg tablet when they need it. The lower doses of 2.5mg and 5mg are usually for daily use, although some men may find a single 5mg tablet taken on an occasional basis is all they need.
The normal starting dose is a single 10mg tablet taken 30 minutes before sexual activity. Repeated trials of treatment at one dose are recommended before changing to higher or lower strength tablets. There is no benefit in taking a higher dose than is needed. Tadalafil should not be taken at the same time or within 36 hours of other erectile dysfunction treatments.
Tadalafil/generic Cialis strengths
---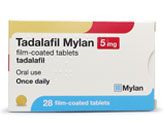 Daily Tadalafil
2.5mg & 5mg daily tablets for continuous erectile dysfunction treatment.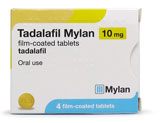 Tadalafil 10mg
Recommended starting dose for most men taking Tadalafil for first time.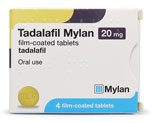 Tadalafil 20mg
High strength dose as required for when 10mg is insufficient.
Side effects of tadalafil/generic Cialis
Significant side effects are unusual. The manufacturer's patient leaflet (links below) included in packs contains a full list of side effects.
The most frequent side effect is a bluish or yellowish tinge to vision. This is not dangerous and fades as the tablets wear off. A similar visual discolouration is common with other erectile dysfunction treatments.
Other common side effects (affecting 1%-10%) include headache, back pain, muscle aches, pain in the arms or legs, nasal congestion, facial flushing, and indigestion.
A very rare but serious side effect is continuous painful erections over a period of hours - priapism. Priapism can lead to permanent damage to the penis and is a medical emergency requiring urgent medical attention through a hospital A&E department.
When not to take tadalafil/generic Cialis
All men with erectile dysfunction should consult a doctor face-to-face before obtaining supplies online. Dr Fox consultations check for contraindications and interactions with other medicines, but do not replace a consultation with your regular doctor where physical examination and tests can be carried out.
Tadalafil should not be taken where the following apply. If in doubt please message our doctors or consult your regular doctor before requesting supplies online.
Taking Viagra/sildenafil, Levitra/vardenafil, or Spedra/avanafil at the same time as tadalafil
Taking Indinavir and Ritonavir for the treatment of HIV
Taking Itraconazole or Ketoconazole anti-fungals
Taking nitrates for angina, including isosorbide mononitrate, isosorbide dinitrate, nicorandil, and glyceryl trinitrate - serious reactions possible
Using recreational drugs such as amyl nitrate (poppers) - serious reactions possible
Taking blood pressure tablets known as alpha-blockers, also sometimes used to treat prostate enlargement, includes Doxazosin, Prazosin, Alfuzosin, Terazosin, Indoramin, and Tamsulosin
Patient Information Leaflet

The Patient Information Leaflet (PIL) is the leaflet included in the pack with a medicine and must be read before taking the medicine. It is written for patients and gives information about taking or using a medicine.
Tadalafil 20mg Patient Leaflet
Tadalafil 10mg Patient Leaflet
Tadalafil 5mg Patient Leaflet
Tadalafil 2.5mg Patient Leaflet
Start order
Generic Cialis FAQs
Does tadalafil really last 36 hours?
Yes. Keeping it simple, tadalafil lasts for 36 hours and sometimes longer, and has the longest duration of action of all the PDE5 inhibitors. This compares for example to sildenafil (Viagra) which lasts for around 4 hours.
Like all PDE5 inhibitors, tadalafil requires sexual stimulation to work - ie: you only get an erection when you want to.
The graph below demonstrates the study data of the bioavailability over 96 hours of a single dose of tadalafil 20mg. Tadalafil levels are still around 100µg/l even 36 hours post dose.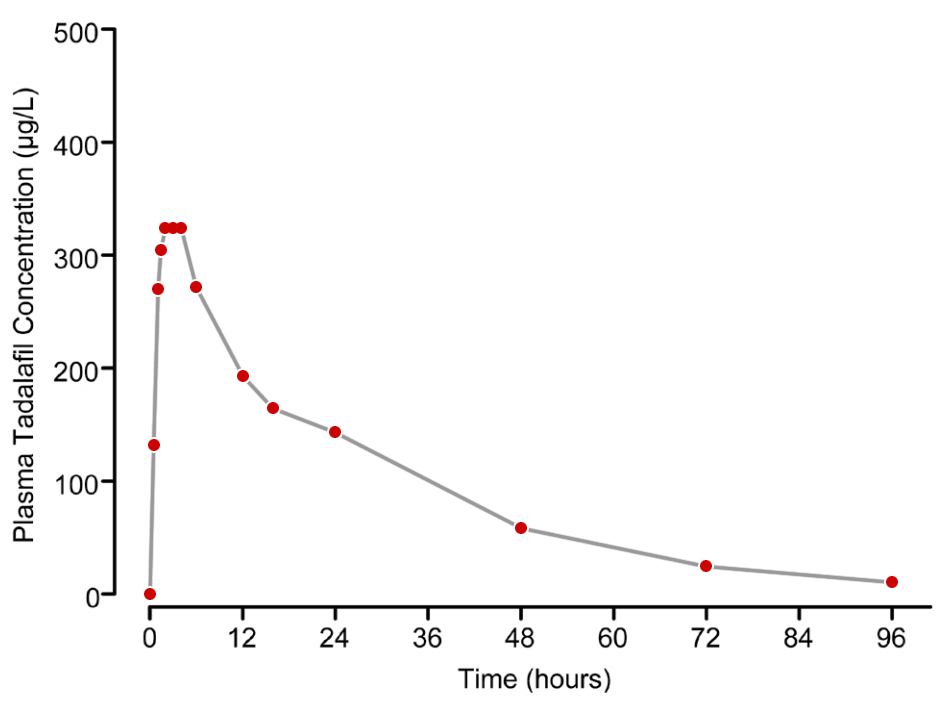 For further details see How long does tadalafil last?
How do generic medicines differ from branded ones?
The appearance of tablets may be different, but the key medical ingredient is the same. For example a 10mg tablet of branded Cialis contains 10mg of tadalafil, the same as a 10mg tablet of generic Cialis. Medically they are identical.
Why are branded medicines more expensive?
When a pharmaceutical company develops a medicine it incurs research, testing, and licensing costs. In return an exclusive marketing license is given, which usually lasts in the region of 15 years. During this period no competitors can legally supply the same medicine and the original developer is free to set the price as it sees fit. This price is usually much higher than the production cost.
Why are generic medicines cheaper?
Pharmaceutical companies which produce copies of existing medicines do not incur high research and development costs. Their medicines still need to be licensed in the countries where they are supplied, but this is not such an expensive process if the same medicine has already been licensed by another drug company. Most medicines cost a lot less to produce and market than they sell for, but the margins on generic medicines are usually much lower. Generic suppliers can undercut the more expensive brands, but their profit margins tend to be lower.
Is cheaper generic Cialis any good?
Branded and generic Cialis contain the same active ingredient, tadalafil, and the medical effects should be the same. Some patients prefer one brand over another, but this is usually because they get used to one brand and have confidence in it. Once a person gets used to their new tablets they usually get on with them well.
Is generic Cialis available in the right strengths and pack sizes?
Yes it is. When a generic medicine is made available it usually comes in exactly the same strengths and pack sizes as the original brand.
Why is there a low strength daily tadalafil tablet?
Most men take erectile dysfunction treatment as and when they expect to be sexually active. Some men who are taking treatment regularly up to two or more times weekly may prefer a regular low dose daily tablet (either 2.5mg or 5mg), which gives a constant level of treatment. Only tadalafil, and not other erectile dysfunction tablets, are available as low dose daily tablets.
Will generic Cialis tablets look the same as branded tablets?
No, similar in size but not identical. The size, shape, and colour of a tablet forms part of its protected brand. When a generic is produced it may have a similar appearance, but will not be identical. Some patients are put-off when tablets look a little different, but they should not be.
Can tadalafil tablets be split?
The official advice is that tadalafil and Cialis tablets are not suitable to be split, and patients should use the minimum effective dose as a whole tablet. However, they do not have an extended or delayed release coating, so should be safe to split - and should contain an even amount of active ingredient. Cialis or tadalafil tablets are not 'scored' (an indented line in the middle of the tablet) so ensuring an even split is difficult. Purchasing a pill-splitter will help the process.
Are generic medicines dangerous?
No, not if the generic is licensed in the UK. Unregulated overseas websites already claim to supply generic Cialis, but what they sell are unregulated fakes which could be ineffective or even dangerous. There is no guarantee of quality unless the supplier is a UK regulated pharmacy.
Are generic medicines suitable for everyone?
Yes, as long as there has been a proper medical assessment at the start of treatment and the strength and frequency of treatment is the same. Properly licensed generics are medically the same as the originals.
Does tadalafil always work?
In the same way as there is variation in the effectiveness of any treatment from person to person and from one time of use to another, there can be variation when tadalafil is taken. The same applies to branded Cialis and the other tablets commonly used to treat erectile dysfunction. In general all these treatments are effective and well liked. If a tablet seems not to be working it should be tried again on a few occasions, and if still not effective, consult a doctor.
Does the body build up resistance to erectile dysfunction treatment?
Fortunately erectile dysfunction treatments tend to be effective at the same dose over prolonged periods. Men who take a particular tablet at a particular strength often find the same effectiveness over many years. The body does not become immune to the medicine. This applies equally to tadalafil as the other commonly used tablets.
See also erectile dysfunction FAQs.

Authored 14 November 2017 by Dr Tony Steele
MB ChB Sheffield University 1983. Former hospital doctor and GP.
21/07/2021 12:28
Anonymous Verified
21/07/2021 09:53
Anonymous Verified
Excellent no adverse effects
21/07/2021 01:51
Anonymous Verified
Not as effective this time. Different brands seem to vary in quality
Dr Fox response:
Thank you for your review. Several generic brands of tadalafil are available on request if patients have a preference. All medicine supplied is UK approved and licensed.
19/07/2021 15:36
Anonymous Verified
These tabs are not cheap. But they are well worth the money!!????. Service and delivery, fast and efficient. Highly recommend????????
19/07/2021 01:17
M. Miller Verified
Read more reviews
---
The order process
Choose medication, register, and pay
Doctor issues prescription online
Pharmacy team post medication direct