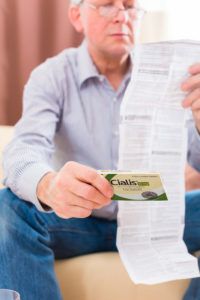 Cialis is a treatment for erectile dysfunction. It works in a similar way to Viagra (sildenafil), Levitra, and Spedra, and has similar side effects.
The proper medical name for Cialis is tadalafil. Tadalafil, like the other commonly used erectile dysfunction tablets, is a PDE5 inhibitor, which means it works by inhibiting an enzyme called phosphodiesterase. This in turn changes the blood flow in the penis and improves erections.
A single Cialis tablet will usually remain active for 36 hours, which is longer than Viagra/sildenafil, Levitra, or Spedra. Cialis is sometimes called the 'weekend pill' because it works for longer than other treatments. Like other erectile dysfunction tablets, Cialis only works if there is sexual stimulation. If there is no stimulation, Cialis remains inactive. After 36 hours the effects wear-off.
The patent for Cialis expired November 2017 and lower cost generic Tadalafil is now available.
Cialis is usually taken as a single dose tablet. There are two strengths of single dose tablets, 10mg and 20mg. Most men start with the lower 10mg strength tablet and then adjust the strength of subsequent tablets depending on the response to treatment. See more information about starting Cialis. There are low strength 2.5mg and 5mg Cialis tablets for daily use. Low strength daily tablets are an alternative for men who regularly need erectile dysfunction treatment more than twice weekly and in whom continuous low dose treatment is preferred to repeated higher strength single dose tablets.
Medical emergencies
Cialis is well tolerated by most men. Most men experience few or no side effects and serious side effects are rare. Men who experience mild side effects should stop Cialis and consult a doctor.
Allergic reactions, with rashes, rapid onset of swelling of the lips and face, breathing difficulties and agitation and distress are very rare and are a medical emergency.
If there is chest pain, shortness of breath, marked dizziness or fainting, these are all medical emergencies, but again are rare. Nitrates should not be used to treat chest pains if Cialis has been taken in the preceding 36 hours.
Sudden loss of vision has been reported, although very rarely, and usually only where there is pre-existing eye disease. Men who have a history of previous visual disturbance or loss of vision should not take Cialis without specialist advice. Partial, temporary, or permanent decrease or loss of vision in one or both eyes has been rarely reported.
Priapism – Cialis, like other erectile dysfunction treatments can produce prolonged painful erections. Painful erections of more than a few hours require emergency treatment. Untreated priapism can lead to permanent damage to the penis. The risk of priapism is increased if Cialis is taken with recreational drugs, such as cocaine.
Frequency of side effects
The incidence of side effects increases with the higher strength 20mg tablets. Some side effects will also be more common in men with pre-existing medical conditions. For example, if a man has symptoms from low blood pressure, then low blood pressure side effects from Cialis are more likely. Similarly, men who take interacting medicines are more likely to experience some Cialis side effects. For example, men who take nitrate medicines for angina or heart failure are more likely to experience low blood pressure side effects. In practice, men who have low blood pressure or who are taking nitrate medicines would not normally be prescribed Cialis, or should only take it under specialist supervision.
Pre-existing medical conditions
Caution is required with some pre-existing medical conditions. Men with the following histories should not take Cialis without consulting a doctor who knows their history and can monitor their treatment: sickle cell anaemia (an abnormality of red blood cells); multiple myeloma (cancer of the bone marrow); leukaemia (cancer of the blood cells); any deformation of your penis; a serious liver problem; a severe kidney problem.
Heart attack and stroke have been reported rarely in men taking Cialis. Most of these men had known heart problems before taking this medicine.
Dizziness is more likely in men over 75, and diarrhoea has be reported more in men over 65 years.
List of common side effects
Common (seen in 1 to 10 in every 100 patients): headache,

facial flushing,

nasal congestion,

back pain, muscle aches, pain in arms and legs, and indigestion.
Uncommon (seen in 1 to 10 in every 1,000 patients) – dizziness, stomach ache, nausea, reflux, blurred vision, eye pain, difficulty in breathing, presence of blood in urine, pounding heartbeat sensation, a fast heart rate, high blood pressure, low blood pressure, nose bleeds, ringing in the ears, swelling of the hands, feet, or ankles, and feeling tired.
Rare (seen in 1 to 10 in every 10,000 patients): fainting, seizures and passing memory loss, swelling of the eyelids, red eyes, sudden decrease or loss of hearing, hives (itchy red welts on the surface of the skin), penile bleeding, presence of blood in semen and increased sweating.
Other rare side effects which have been reported include: migraine, swelling of the face, serious allergic reaction which causes swelling of the face or throat, serious skin rashes, some disorders affecting blood flow to the eyes, irregular heartbeats, angina, and sudden cardiac death.
Cialis side effects and interacting medicines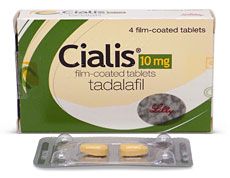 Cialis may be ineffective or the incidence of side effects may be increased with interacting medicines. Men who take the following medicine should consult a doctor before taking Cialis: an alpha blocker (used to treat high blood pressure or urinary symptoms associated with benign prostatic hyperplasia); other medicines to treat high blood pressure; riociguat; a 5- alpha reductase inhibitor (used to treat benign prostatic hyperplasia); medicines such as ketoconazole tablets (to treat fungal infections) and protease inhibitors for treatment of AIDS or HIV infection; phenobarbital; phenytoin and carbamazepine (anticonvulsant medicines); rifampicin; erythromycin; clarithromycin or itraconazole; and other erectile dysfunction treatments.
Further information can be found in the patient information leaflet supplied with Cialis.