Rozex
Rozex gel or cream (0.75% metronidazole) to treat mild inflammation in rosacea. Available to buy online from Dr Fox.
Start order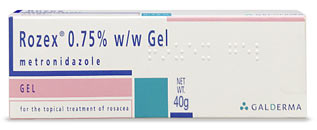 Buy Rozex online in UK
How to order Rozex online for UK delivery:
Read medical information about rosacea treatment
Answer medical questions to check for eligibility
Reviewed by doctors - posted from UK pharmacy (tracked 24hr service)
Prices
Start order
---
About Rozex
Rozex is a prescription-only treatment of mild to moderate inflammatory pimples, papules, redness, and pustules (spots) of rosacea.
Rozex contains the antibiotic metronidazole and is available as a gel or cream.
Use twice daily for 2-3 months to assess effect.
Read the patient leaflet for a full list of side effects, cautions, and interactions with other drugs.
Twice daily Rozex gel or cream
Rozex gel or cream is available from Dr Fox on prescription to treat mild to moderate inflammatory pimples, papules, redness, and pustules (spots) of rosacea. Rosacea is a skin condition which affects the face, causing flushing and redness, as well as papules, pimples, and pustules. The skin is hot and red due to increased blood flow. Flushing and redness can be reduced by Mirvaso gel which can be used at the same time as Rozex.
Rozex contains metronidazole, an antibiotic, which also has anti-inflammatory actions. It is unclear exactly how it works in rosacea.
Rozex should only be used by adults (over 18 years) and only on the face.
How to apply Rozex
Use a mild cleanser to wash the face before applying Rozex gel or cream.
Apply a thin layer of Rozex to the areas affected by rosacea only.
Keep out of the eyes and mouth (if it gets in the eyes, rinse well with large amounts of water).
If applied too close to the eyes it can cause eye watering.
Wash hands after applying.
If also using Mirvaso gel, first apply the Mirvaso gel and once dried, apply the Rozex gel/cream.
Other cosmetic products can be applied after Rozex has dried.
Rozex gel should be used twice a day on the face, initially for 2-3 months, to assess the effect. If rosacea has not improved after 3 months, stop using Rozex gel. If improving, continue use until rosacea has cleared completely. Always use the least amount of Rozex gel or cream and for the shortest time required (to help prevent antibiotic resistance).
If necessary it can be continued long term, but take at least a six month break and use an alternative treatment after using for a year.
Rosacea is a recurrent condition so repeated courses of treatment may be necessary.
Who should not use Rozex
Do not use Rozex if:
Under 18.
You suffer from any type of blood disorder (blood dyscrasia).
Taking warfarin or other coumarin type blood thinning tablets (anticoagulants where you need regular blood tests).
Pregnancy and breastfeeding
Rozex should not be used in pregnancy or if breastfeeding.
Sunlight and sunbeds
Keep out of strong sunlight and avoid exposure to ultra-violet light (e.g. sunbeds) as this can make Rozex less effective. They will also worsen rosacea.
Side effects
When using Rozex, very little active metronidazole is absorbed into the system. In fact studies have shown that the level measured in the blood after applying Rozex to the face is 100 times less than the level when taking a standard metronidazole tablet (250mg).
Most side effects are therefore limited to the skin.
Up to 10% of people may develop skin dryness, redness, itching, burning, or stinging feelings, or worsening of rosacea.
If the skin is irritated, it should settle by using Rozex less frequently, or stopping it for a while.
Full list of possible side effects can be found in the patient information leaflet.
Alcohol
Metronidazole taken by mouth can react with alcohol, causing an Antabuse/disulfiram reaction. This is very unlikely with Rozex because it is only applied to the skin. However, it is still advised not to drink alcohol whilst using Rozex as the Antabuse reaction has occasionally been reported. Antabuse reaction includes nausea, vomiting, flushing, dizziness, throbbing headache, chest and abdominal discomfort. If affected seek medical advice.
Patient Information Leaflet

The Patient Information Leaflet (PIL) is the leaflet included in the pack with a medicine and must be read before taking the medicine. It is written for patients and gives information about taking or using a medicine.

Authored 19 May 2021 by Dr A. Wood
MB ChB Manchester University 1984. NHS GP in Bristol. GMC no. 2855422
The Rozex is the best gel for rosacea
09/06/2022 22:06
C. Richmond Verified
Read more reviews
---
The order process
Choose medication, register, and pay
Dr Fox issues prescription online
Pharmacy team post medication direct