Nitrofurantoin 100mg
Nitrofurantoin MR 100mg (Macrobid) antibiotic for recurring cystitis treatment. Available to buy online from Dr Fox.
Start order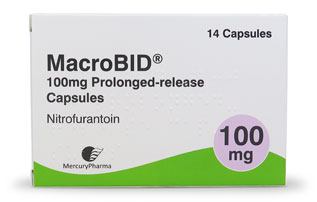 Buy nitrofurantoin 100mg online in UK
How to order nitrofurantoin online for UK delivery:
Read medical information about cystitis treatment
Answer medical questions to check for eligibility
Reviewed by doctors - posted from UK pharmacy (tracked 24hr service)
Prices
| | | |
| --- | --- | --- |
| Nitrofurantoin MR 100mg | 6 capsules (1 course - in stock) | £10.90 |
Prescription fees
Dr Fox supplies medicine on prescription and charges a small prescription fee based on the order value of each prescription.
Prescriptions are issued by our doctors online and sent electronically to our pharmacy.
| Order value | Prescription fee |
| --- | --- |
| up to £10 | £1.00 |
| up to £20 | £2.00 |
| up to £40 | £3.00 |
| over £40 | £4.00 |
If you have your own private paper prescription please post to our pharmacy (details).
Dr Fox prices are 25%–50% lower than other UK online clinics.
Comparative costs of nitrofurantoin 100mg (Macrobid) antibiotic from UK online clinics (08 January 2023) - qualifying notes
*Dr Fox adds a small prescription fee not included in table above.

The prices shown are listed by the online clinics named after a customer first enters consultation information and is offered prescriptions. It is possible these clinics may have special offers or lower prices for repeat supplies.
Prices may change and are, to the best of our knowledge, accurate on the date stated. All products in stock and new condition.
Dr Fox does NOT claim to provide a superior service to any of the online clinics listed. All the clinics listed, as far as we can tell, comply with all regulation and, as far as we can tell, operate to high ethical standards.
Dr Fox adds a small prescription fee not included in the table (between £1 and £4 depending on value of the order).
To amend the information in this table please contact us
The prices listed in the table do not identify the cost of prescription medicine as online clinics charge a single fee to cover services which includes advice, consultations, prescriptions and dispensing and supply of treatments.
Where services include free delivery this is using the slowest delivery option available. Dr Fox uses Royal Mail Tracked 24.

| Items | Dr Fox | Simple Online Pharmacy | Superdrug | My Pharmacy | Lloyds Pharmacy |
| --- | --- | --- | --- | --- | --- |
| Nitrofurantoin 100mg x 6 | £10.90 | £11.99 | £21.99 | £21.49 | £23.99 |
| UK delivery | £2.90 | £3.20 | included | £4.99 | included |
Delivery charges
UK delivery only: £2.90 per consultation via Royal Mail Tracked 24 Signed For (1-2 working days with tracking).
Parcel forwarding services are not permitted. Use only UK home or work delivery address.
Returns and refunds - unwanted items can be returned within 14 working days for a full refund.
Start order
---
About nitrofurantoin
Nitrofurantoin is a prescription-only antibiotic capsule used to treat cystitis in women, and other infections.
Take 100mg twice daily for 3 days with 12 hours between doses.
Order in advance as a standby treatment for repeated episodes.
Read the patient leaflet for a full list of side effects, cautions, and interactions with other drugs.
Choosing the right antibiotic for cystitis
The information below is about nitrofurantoin capsules. There is a separate page about trimethoprim tablets, the alternative antibiotic available from Dr Fox for cystitis in women. General information about cystitis and standby treatment, and selecting the right antibiotic, can be found at the cystitis medical information page. Please also read the manufacturer's patient information leaflet supplied with nitrofurantoin capsules.
Nitrofurantoin is an antibiotic commonly used to treat uncomplicated cystitis in women. In the past few years nitrofurantoin has generally replaced trimethoprim as the first line treatment for cystitis. More of the bacteria which cause cystitis are becoming resistant to trimethoprim and currently (2021) nitrofurantoin is usually a more effective antibiotic. Approximately 30% of infections are resistant to trimethoprim compared with 3% resistance to nitrofurantoin. Trimethoprim is still widely prescribed for cystitis and many women find it works for them and prefer it. Similarly many women now prefer nitrofurantoin. Choosing between the two is discussed in the cystitis medical information which forms part of the online consultation for cystitis.
For further information see NHS - nitrofurantoin.
Taking nitrofurantoin
For simple uncomplicated cystitis: take nitrofurantoin 100mg capsule twice daily for 3 days (12 hours between doses) with food or a milky drink. Please note that the manufacturer's patient information leaflet states 7 days - a standard course of cystitis treatment has now been reduced to 3 days. Improvement is usually seen within 24 hours and symptoms are usually completely resolved after 3 days. If symptoms are not improving, or are worsening, consult a doctor.
Please note that while taking nitrofurantoin, urine will usually become dark yellow or brown. This is a normal effect and you should not stop the treatment.
Dr Fox supplies nitrofurantoin 100mg capsules from a range of different pharmaceutical companies, but always UK licensed medicines. Please note you may receive a plain box with 6 capsules if a larger pack must be split (e.g. the brand Macrobid is supplied by manufacturers in packs of 14 capsules).
Cautions and contraindications
Nitrofurantoin is not suitable for everyone. Patients with some medical conditions or who are taking interacting medicines cannot take it. Checks for suitability are carried out in the online consultation which is part of the ordering process.
DO NOT take nitrofurantoin capsules if the following apply:
You are allergic to nitrofurantoin.
Your kidneys do not work very well, if in doubt check first with your doctor.
You are pregnant and about to deliver your baby.
You have porphyria G6PD (glucose-6-phosphate dehydrogenase) deficiency.
You are breastfeeding and your baby has G6PD deficiency.
Discuss with your regular doctor before taking nitrofurantoin, if you are suffering from any chronic illness including:
Diabetes.
Lung disease, including asthma.
Liver disease.
Ongoing anaemia.
Persistent low vitamin B, or folate.
In some instances, a short 3 day course to treat cystitis may be prescribed, or an alternative antibiotic may be preferred.
Interactions
Nitrofurantoin may affect or be affected by some other medications. Nitrofurantoin should not usually be taken at the same time as:
Antacid indigestion remedies.
Probenecid and sulfinpyrazone (rarely used long-term gout treatments).
Acetazolamide (glaucoma, altitude sickness).
Citrate or bicarbonate to neutralise urine acidity.
Other antibiotics of the quinolone (floxacin) type.
Oral typhoid vaccine (not usually used).
If you are in doubt about any of these medicines ask your doctor or pharmacist.
Side effects and severe reactions
Most medicines can cause side effects in some people. With nitrofurantoin the frequency of side effects is not known, but they are generally mild, and settle when the medication is stopped. With a short 3 day course to treat cystitis, it is very unlikely that more serious side effects would occur.
Allergic reactions
All medicines can cause allergic reactions although serious allergic reactions to medications are rare. Nitrofurantoin has on rare occasions been linked to all the types of allergy reactions from skin rashes, angioedema to anaphylaxis.
Very rarely, there is a serious reaction in the lungs to nitrofurantoin. The reaction can occur within the first week but more often is a slow development (if continuing to take nitrofurantoin long term), with increasing breathing difficulty and other symptoms.
If you think you are having an allergic reaction to nitrofurantoin, stop the medication and contact your GP, out-of-hours service, or telephone 111 or see 111.nhs.uk online. In an emergency telephone 999.
Other side effects
Mild – usually settle quickly
Feeling sick (nausea) and headache.
Loose stools, diarrhoea.
Loss of appetite, stomach ache, and being sick (vomiting).
Dizziness, drowsiness.
More serious – stop medication and consult a doctor
Jaundice (yellow skin and whites of eyes) from an inflamed liver.
Bruising, sore throats, fever, anaemia, from damaged blood cells.
Changes in skin sensation or muscle function, from nerve damage.
Severe headaches, sometimes with increased pressure inside the skull.
Mood changes, confusion.
Blurred vision.
Inflamed salivary glands.
Severe stomach aches and vomiting from an inflamed pancreas.
Short-term hair loss.
Altered sense of feeling, or pins and needles, muscle weakness, or other changes in the nervous system.
Pregnancy and breastfeeding
If pregnant or breastfeeding it is best to ask your doctor or pharmacist for advice before taking any medicine.
As far as it is known nitrofurantoin may be used in pregnancy. However it should not be used during labour or delivery because there is a possibility that use at this stage may affect the baby.
Very small amounts of nitrofurantoin are found in breast milk, so it is usually recommended to avoid breastfeeding when taking nitrofurantoin.
Dr Fox does not supply cystitis treatment for women who are pregnant or breastfeeding.
Other measures which can help cystitis
Increase the amount of water you are drinking each day to 2-3 litres (4-5 pints, or 10-12 glasses or mugs).
Avoid alcohol, caffeine, and fizzy drinks which can irritate the bladder.
Take paracetamol or ibuprofen for pain if necessary.
Sometimes cystitis will go away by itself in a few days without antibiotic treatment. If symptoms are mild, self-treatment and 'wait-and-see' for a few days may be the best approach. If symptoms are severe, or worsening, antibiotics are usually preferred. Women who have repeated infections will usually know if their symptoms are likely to stop on their own.
Patient Information Leaflet

The Patient Information Leaflet (PIL) is the leaflet included in the pack with a medicine and must be read before taking the medicine. It is written for patients and gives information about taking or using a medicine.
Nitrofurantoin FAQs
Do nitrofurantoin capsules contain lactose?
Yes. Nitrofurantoin capsules contain lactose and may not be suitable for lactose intolerant people.
Why does the patient leaflet say the course is 7 days and Dr Fox only supplies for 3 days?
The leaflet gives the schedule related to the original antibiotic licence. However in recent years it has been shown that simple cystitis infection can be effectively treated with a shorter 3 day course with much less risk of side effects from the antibiotic.
Why can't I take nitrofurantoin just before giving birth?
There is a risk that nitrofurantoin can cause red blood cell damage leading to anaemia in the newborn infant.
How can I reduce the chance of having antibiotic resistant cystitis?
Antibiotic resistant bacteria are becoming more common. There is more resistance to trimethoprim than nitrofurantoin. For this reason, nitrofurantoin is usually doctors first choice antibiotic to treat cystitis.
Start order

Authored 27 November 2017 by Dr Tony Steele
MB ChB Sheffield University 1983. Former hospital doctor and GP. GMC no. 2825328
Recent Nitrofurantoin reviews
I was very grateful for the quick & efficient process to obtain these Meds. They resolved my condition well & without the hassle & unwelcome delays of going through my GP practice. Thank You!
24/11/2023 11:17
C. Richardson Verified
Good service. Product works quickly. no side effects
20/11/2023 08:49
J. Dutson Verified
16/11/2023 15:16
Anonymous Verified
13/10/2023 23:52
K. Kelly Verified
Much appreciated service. Convenient and helpful
09/09/2023 19:03
Anonymous Verified
Read more reviews
---
The order process
Choose medication, register, and pay
Dr Fox issues prescription online
Pharmacy team post medication direct
Top