Nitrofurantoin
Nitrofurantoin MR 100mg (Macrobid) antibiotic for recurring cystitis treatment. Available to buy online from Dr Fox.
Start order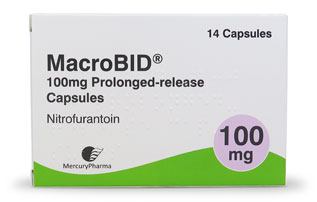 Buy Nitrofurantoin online in UK
How to order Nitrofurantoin online for UK delivery:
Read medical information about cystitis treatment
Answer medical questions to check for eligibility
Reviewed by doctors - posted from UK pharmacy (tracked 24hr service)
Prices
| | | |
| --- | --- | --- |
| Nitrofurantoin MR 100mg | 6 capsules (1 course - in stock) | £11.50 |

Price match guarantee
Prescription issued online - small prescription fee per order.
Compare prices: Dr Fox prices are 25%-50% lower cost than other online clinics.
Prescription fees
Dr Fox supplies medicine on prescription and charges a small prescription fee based on the order value of each prescription.
Prescriptions are issued by our doctors online and sent electronically to our pharmacy.
| Order value | Prescription fee |
| --- | --- |
| up to £10 | £1.00 |
| up to £20 | £2.00 |
| up to £40 | £3.00 |
| over £40 | £4.00 |
If you have your own private paper prescription please post to our pharmacy (details).
Dr Fox prices are 25%–50% lower than other UK online clinics.
Comparative costs of Nitrofurantoin (Macrobid) antibiotic from UK online clinics (04 October 2021) - qualifying notes
*Dr Fox adds a small prescription fee not included in table above.

The prices shown are listed by the online clinics named after a customer first enters consultation information and is offered prescriptions. It is possible these clinics may have special offers or lower prices for repeat supplies.
Prices may change and are, to the best of our knowledge, accurate on the date stated. All products in stock and new condition.
Dr Fox does NOT claim to provide a superior service to any of the online clinics listed. All the clinics listed, as far as we can tell, comply with all regulation and, as far as we can tell, operate to high ethical standards.
Dr Fox adds a small prescription fee not included in the table (between £1 and £4 depending on value of the order).
To amend the information in this table please contact us
The prices listed in the table do not identify the cost of prescription medicine as online clinics charge a single fee to cover services which includes advice, consultations, prescriptions and dispensing and supply of treatments.
Where services include free delivery this is using the slowest delivery option available. Dr Fox uses Royal Mail Tracked 24.

| Items | Dr Fox | UK Meds | Superdrug | Oxford Online Pharmacy | Lloyds | My Pharmacy |
| --- | --- | --- | --- | --- | --- | --- |
| Nitrofurantoin 100mg x 6 | £11.50 | £18.99 | £25.00 | £24.99 | £23.99 | £18.99 |
| UK delivery | £2.90 | £3.45 | included | £2.95 | included | £2.99 |
Delivery charges
UK delivery only: £2.90 per consultation via Royal Mail 24 Signed For (1-3 working days with tracking).
Parcel forwarding services are not permitted. Use only UK home or work delivery address.
Returns and refunds - unwanted items can be returned within 14 working days for a full refund.
Start order
---
About Nitrofurantoin
General information about cystitis and standby treatment, and selecting the right antibiotic, can be found at the cystitis medical information page. The information below is about nitrofurantoin. There is a separate page about trimethoprim, which is the alternative antibiotic Dr Fox supplies for cystitis. Please also read the manufacturer's patient leaflet supplied with nitrofurantoin capsules.
Nitrofurantoin is an antibiotic commonly used to treat uncomplicated cystitis. In the past few years nitrofurantoin has replaced trimethoprim as the first line treatment for cystitis. More of the bacteria which cause cystitis are becoming resistant to trimethoprim and currently (2017) nitrofurantoin is usually a more effective antibiotic. Approximately 30% of infections are resistant to trimethoprim compared with 3% resistance to nitrofurantoin. Trimethoprim is still widely prescribed for cystitis and many women find it works for them and prefer it. Similarly many women prefer nitrofurantoin. Choosing between the two is discussed in the 'must-read' medical information which forms part of the online consultation for cystitis.
For further information see Nitrofurantoin.
Taking nitrofurantoin
For simple uncomplicated cystitis - take nitrofurantoin 100mg twice daily for 3 days. Please note that the manufacturer's Patient Information Leaflet states 7 days - a standard course of cystitis treatment has now been reduced to 3 days. Take with food or a milky drink. Improvement is usually seen within 24 hours and symptoms are usually completely resolved after 3 days. If symptoms are not improving or are worsening consult a doctor.
Please note that while taking nitrofurantoin your urine may become coloured dark yellow or brown. This is quite normal and not a reason to stop taking the medicine.
Dr Fox supplies nitrofurantoin 100mg capsules from a range of different pharmaceutical companies, but always UK licensed medicines. Please note you may receive a plain box with 6 capsules if a larger pack must be split (Macrobid comes in packs of 14).
Cautions and contraindications
Nitrofurantoin is not suitable for everyone. Patients with some medical conditions or who are taking interacting medicines cannot take it. Checks for suitability are carried out in the online consultation which is part of the ordering process.
DO NOT take nitrofurantoin tablets unless discussed with your regular doctor beforehand if the following apply:
You are allergic to nitrofurantoin.
You have a disease of the kidneys which is severely affecting the way they work (ask your doctor if you are not sure).
You are in the final stages of pregnancy (labour or delivery) as there is a risk that it might affect the baby.
You have porphyria (blood disorder).
You are breast feeding a baby with suspected or known deficiency in an enzyme called G6PD (glucose-6-phosphate dehydrogenase).
You have diabetes.
You are suffering from any illness causing severe weakness.
You have anaemia (a decrease in red blood cells causing pale skin, weakness and breathlessness); a lack of vitamin B or abnormal levels of salts in your blood (your doctor will be able to advise you).
The above conditions may increase the chance of developing a side effect which causes damage to the nerves, altered sense of feeling, like pins and needles.
You lack an enzyme (body chemical) called glucose-6-phosphate dehydrogenase, which causes your red blood cells to be more easily damaged (this is more common in black people and people of Mediterranean, Middle Eastern, or Asian origin). Your doctor will know.
You have any disease of the lungs, liver, or nervous system.
Tell your doctor if you are not sure about any of the above.
Interactions
Nitrofurantoin should not be taken with the following medicines without the advice of a doctor who knows you.
Antacids for indigestion (e.g. magnesium trisilicate).
Medicines for gout (e.g. probenecid or sulfinpyrazone).
Medicines for raised pressure in the eye (glaucoma), such as carbonic anhydrase inhibitors (e.g. acetazolamide).
Medicines which make the urine less acidic (e.g. potassium citrate mixture).
Medicines for infections, known as quinolones.
Typhoid vaccine, which is given for the prevention of typhoid. Vaccination should be delayed.
If you are in doubt about any of these medicines ask your doctor or pharmacist.
Side effects and severe reactions
Allergic reactions
All medicines can cause allergic reactions although serious allergic reactions are rare. If you notice any sudden wheeziness, difficulty in breathing, swelling of the eyelids, face or lips, rash, or itching (especially affecting your whole body) STOP TAKING your medicine and go to a doctor immediately.
If you notice any of the following side effects consult your doctor immediately. The symptoms below are very unlikely to occur when nitrofurantoin is being taken only for 3 days.
Your lungs may react to nitrofurantoin. This may develop quickly, within a week of starting treatment, or very slowly, especially in elderly patients. This may produce fever, chills, cough, and shortness of breath.
Nitrofurantoin may cause the liver to become inflamed, producing jaundice (yellowing of the skin or whites of the eyes).
Side effects (non-emergency)
As with any medicine side effects may occur although most patients do not experience them, or they may be mild and treatment does not always need to be stopped. The side effects listed below are not medical emergencies, but may require medical advice.
Feeling sick (nausea) and headache.
Loose stools.
Loss of appetite, stomach ache, and being sick (vomiting).
Dizziness, drowsiness.
Blood cells have been affected in some patients. This may result in bruising, delayed clotting of the blood, sore throat, fever, anaemia, and a susceptibility to colds or persistent cold.
The nerves outside the spinal cord may be affected causing changes to the sense of feeling and the use of muscles. In addition headache, extreme changes of mood or mental state, confusion, weakness, blurred vision may occur. These effects may be severe and in some instances permanent.
A variety of skin rashes or reactions have occurred in some patients. These may appear as flaking skin, a red rash or fever accompanied by rapid heart rate and severe rash with blistering. Other reactions may include inflammation of salivary glands (causing facial pains), inflammation of the pancreas gland (causing severe abdominal pain), and joint pains.
Short-term hair loss.
Raised pressure in the skull (causing severe headaches).
Pregnancy and breastfeeding
Ask your doctor or pharmacist for advice before taking any medicine. As far as it is known nitrofurantoin may be used in pregnancy. However it should not be used during labour or delivery because there is a possibility that use at this stage may affect the baby. If you want to breastfeed, please consult with your doctor first.
Dr Fox does not supply cystitis treatment for women who are pregnant or breastfeeding.
Patient Information Leaflet

The Patient Information Leaflet (PIL) is the leaflet included in the pack with a medicine and must be read before taking the medicine. It is written for patients and gives information about taking or using a medicine.
Start order

Authored 27 November 2017 by Dr Tony Steele
MB ChB Sheffield University 1983. Former hospital doctor and GP.
Seem to start working in couple of hours So handy to keep a pack in reserve especially as it's now so difficult to see a Doctor
28/08/2021 15:17
S. Sherman Verified
29/05/2021 10:09
Anonymous Verified
Very happy with medication.
23/05/2021 17:13
S. Mcilhone Verified
07/05/2021 06:00
Anonymous Verified
Brilliant for a urine infection
27/02/2021 15:29
Anonymous Verified
Read more reviews
---
The order process
Choose medication, register, and pay
Doctor issues prescription online
Pharmacy team post medication direct
Top