Loperamide
Loperamide 2mg relieves disabling diarrhoea in IBS - available to buy online from Dr Fox.
Start order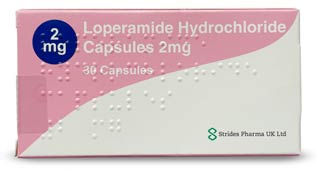 Buy loperamide online in UK
How to order loperamide 2mg online for UK delivery:
Read medical information about irritable bowel syndrome
Answer medical questions to check for eligibility
Reviewed by doctors - posted from UK pharmacy (tracked 24hr service)
Prices
| Loperamide (Imodium) | Quantity | Cost |
| --- | --- | --- |
| Loperamide 2mg | 30 capsules | £5.50 |
| Loperamide 2mg | 60 capsules | £7.25 |
Delivery charges
UK delivery only: £2.90 per consultation via Royal Mail Tracked 24 Signed For (1-2 working days with tracking).
Parcel forwarding services are not permitted. Use only UK home or work delivery address.
Returns and refunds - unwanted items can be returned within 14 working days for a full refund.
Start order
---
About loperamide
Loperamide 2mg (Imodium) hard gelatine capsules are an antispasmodic used to treat IBS bowel spasms and diarrhoea.
Take 2 capsules initially, then 1 capsule after each episode of diarrhoea.
Read the patient leaflet for a full list of side effects, cautions, and interactions with other drugs.
Available from pharmacies without prescription.
How does loperamide work?
Loperamide slows the movement of contents through the bowel and reduces the frequency of diarrhoea. During diarrhoea, fluid is lost from the body. Fluids should be replaced by drinking regularly throughout the day.
Cautions
Checks before using loperamide for diarrhoea in IBS
It is important to be sure that your symptoms are caused by IBS and not something more serious. You must have a previous confirmed diagnosis of IBS.
Check with your GP before using loperamide if any of the following applies:
Over 40 years old with first time IBS symptoms, changed symptoms including a new change in bowel habit lasting over 2 weeks.
New symptoms especially bloating in women.
New symptoms of blood in your stool or motions.
Feeling nauseous or vomiting or loss of appetite.
Losing weight without dieting.
Pale and tired.
Running a high temperature (fever).
Travelled abroad recently.
Loperamide should not be taken:
If you have liver disease.
Where there has been prolonged constipation before diarrhoea starts.
Where the diarrhoea contains blood and there is a high fever.
Do not take loperamide if pregnant or breastfeeding.
Other medications
Some other medications may slightly increase the dose of loperamide in your system:
Ritonavir (for HIV).
Itraconazole or ketoconazole (for fungal infections).
Gemfibrozil (for high cholesterol).
Also see the manufacturer's patient information leaflet.
Side effects of loperamide
There may be no side effects.
Possible side effects include feeling sick (nausea), constipation, and headache.
Loperamide occasionally causes drowsiness or dizziness. If affected you should not drive, cycle, or operate machinery.
Further information on possible side effects can be found in the manufacturer's patient information leaflet.
How to take loperamide 2mg for IBS
Take 2 capsules straight away.
Then take one capsule after each episode of diarrhoea for up to 48 hours.
The maximum number of capsules in a day is 6 tablets (total 12mg). The usual amount is 3-4 capsules (6-8mg) daily.
The aim is to adjust to the amount of loperamide which allows a regular, soft but well formed, comfortable stool.
If there is no improvement after 48 hours, it should be stopped and a doctor consulted. Loperamide can be used for up to 2 weeks for repeated attacks.
Other measures to help symptoms of IBS
Diarrhoea and bloating - reduce insoluble fibre like bran, wholegrain bread, and brown rice. Reduce caffeine, alcohol, fizzy drinks, and gas-producing foods like beans and cabbage.
Constipation - try adding more soluble fibre like oats and linseed, or soluble fibre supplements like Fybogel (ispaghula). Increase the soluble fibre gradually or bloating and wind may get worse. It may take several weeks for optimal benefits.
Make sure that you drink plenty of fluids.
Regular physical activity is also helpful for the bowels. Aim for 30 minutes of moderate activity at least 5 days per week.
For further information see NHS - IBS - Diet, lifestyle and medicines.
Patient Information Leaflet

The Patient Information Leaflet (PIL) is the leaflet included in the pack with a medicine and must be read before taking the medicine. It is written for patients and gives information about taking or using a medicine.

Authored 28 January 2022 by Dr Amanda Wood
MB ChB Manchester University 1984. NHS GP in Bristol. GMC no. 2855422
Recent Loperamide (Imodium) reviews
Ordered Loperamide 2mg Capsules as I was getting these on a repeat prescription from the doctor but allows the reorder to lapse as I used only when required. So ordered from Dr. Fox and they arrived very quickly and no problem to order.
26/06/2023 12:50
Anonymous Verified
20/06/2023 23:24
A. Lowe Verified
Excellent Quality, worked well thanks.
06/04/2020 16:24
P. Daly Verified
A superb standby when travelling
06/11/2019 15:21
Anonymous Verified
Excellent at stopping a runny tummy dead in its tracks.
15/01/2018 18:22
B. Potter Verified
Read more reviews
---
The order process
Choose medication, register, and pay
Dr Fox issues prescription online
Pharmacy team post medication direct