Aciclovir tablets
Aciclovir antiviral tablets to treat cold sores available to buy online. Aciclovir stops herpes viruses multiplying and spreading.
Start order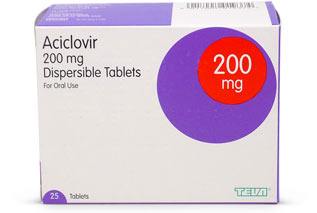 Buy aciclovir tablets online in UK
How to order aciclovir tablets online for UK delivery:
Read medical information about cold sore treatment
Answer medical questions to check for eligibility
Reviewed by doctors - posted from UK pharmacy (tracked 24hr service)
Prices
| Tablet type/strength | Quantity | Cost |
| --- | --- | --- |
| Aciclovir 200mg tablets | 25 tablets (one treatment) | £8.95 |
| Aciclovir 200mg tablets | 50 tablets (two treatments) | £13.95 |
| Aciclovir 400mg | 168 tablets (3 months suppressive treatment) | £29.20 |
| Aciclovir 400mg | 336 tablets (6 months suppressive treatment) | £49.40 |
Prescription fees
Dr Fox supplies medicine on prescription and charges a small prescription fee based on the order value of each prescription.
Prescriptions are issued by our doctors online and sent electronically to our pharmacy.
| Order value | Prescription fee |
| --- | --- |
| up to £10 | £1.00 |
| up to £20 | £2.00 |
| up to £40 | £3.00 |
| over £40 | £4.00 |
If you have your own private paper prescription please post to our pharmacy (details).
Dr Fox prices are 25%–50% lower than other UK online clinics.
Delivery charges
UK delivery only: £2.90 per consultation via Royal Mail Tracked 24 Signed For (1-2 working days with tracking).
Parcel forwarding services are not permitted. Use only UK home or work delivery address.
Returns and refunds - unwanted items can be returned within 14 working days for a full refund.
---
About aciclovir tablets
Aciclovir tablets are a prescription-only herpes antiviral medication used to treat cold sore outbreaks.
5-day course of aciclovir 200mg tablets is a recommended treatment for cold sores.
Aciclovir 400mg tablets may be used for suppressive treatment.
Read the patient leaflet for a full list of side effects, cautions, and interactions with other drugs.
Aciclovir is the medical name for the active ingredient of the tablets. Aciclovir is an antiviral medicine which stops herpes viruses multiplying and spreading. For essential information about cold sores and their treatment read our medical information page.
Aciclovir tablets come in various strengths, 200mg, 400mg, and 800mg. Different strengths and different lengths of courses are recommended to treat different types of herpes virus infections. Cold sores are generally caused by herpes simplex virus type 1 (HSV1). A 5-day course of 200mg strength tablets taken 5 times a day is the recommended course of treatment of a cold sore outbreak. Various manufacturers/brands of tablets are available, produced by different drug companies, including Boots, GSK (Zovirax brand), Aurobindo, Actavis, Milpharm, Ranbaxy, Wockhardt, Teva. All have the same active ingredient. The shelf life of the medication is up to 3 years, which means that people who are prone to cold sores can keep a stand-by supply at home for use when needed.
If you get repeated cold sore outbreaks (more than 6 a year) you may want to consider taking treatment to try and suppress these outbreaks by taking a 400mg tablet twice daily for 6-12 months.
How to take aciclovir tablets for outbreaks
Take one aciclovir 200mg tablet 5 times a day at 4 hourly intervals for 5 days (miss out a 4 hourly dose in the middle of the night), swallowed whole, with or without food. Alternatively dissolve the tablet in a glass of water and stir before drinking. Start tablets as soon as possible after the first signs of a cold sore. It is best to start at the stage when there is tingling and burning, even before the sore is visible. Tablets will still have an effect if started later, but results are best with early treatment. Continue for the full 5-day course. If a tablet is missed, take the next as soon as remembered. Do not take extra tablets to make up for missed doses. Avoid dehydration and drink plenty of water during treatment.
How to take aciclovir tablets for cold sore suppression
Take one aciclovir 400mg tablet twice a day for 6-12 months, swallowed whole or dissolved in water. Remember to drink plenty of water to avoid dehydration. After 12 months, stop taking the suppressive dose of aciclovir and reassess how often the cold sore outbreaks occur. If outbreaks continue again frequently, the suppression can be re-started for another few months, before trying another break.
When to consult a doctor
Most people who suffer from repeated cold sores are familiar with their symptoms and can safely self-treat. People who have not previously had sores on the lips or have sores that have not healed after 10 days should consult a doctor. Cold sores are often painful and are sometimes associated with mild symptoms of unwellness. They do not spread out across the face or cause fever and other symptoms of infections.
Cautions taking aciclovir tablets
Most people can take aciclovir tablets, even with other prescribed medication. Suitability checks are carried out during the online consultation.
Do not use aciclovir if you have a known hypersensitivity/allergy to aciclovir or valaciclovir. Consult your regular doctor before using aciclovir if you have a known hypersensitivity/allergy to other antiviral drugs of the same class e.g. cidofovir, entecavir, famciclovir, ganciclovir, ribavirin, valganciclovir.
Consult your regular doctor before using aciclovir if also taking any of the following medications:
Mycophenolate mofetil (prevents transplant rejection).
Theophylline or aminophylline (used in asthma).
Any medication which mentions urine or kidney problems as a side effect in the patient information leaflet.
Discuss using aciclovir with your regular doctor if you have any of the following conditions:
Reduced immunity e.g after a bone marrow transplant, low white blood cell count, HIV.
Neurological illness.
Long-standing low oxygen levels.
Abnormal liver blood tests.
Blood chemistry abnormalities.
People with significantly reduced kidney function may require reduced doses of aciclovir tablets.
Whilst taking aciclovir tablets, it is important to drink plenty of water to prevent dehydration.
Aciclovir tablets side effects
Not everybody gets side effects. The most common, occurring in less than 1 in 10, are dizziness, headache, irritation, rash, itching skin, tiredness, nausea and sickness, diarrhoea, stomach pain, and fever and skin reaction after exposure to light (photosensitivity). See the manufacturer's leaflet for a full list of side effects. If there is a very rare allergic type reaction with swelling of the lips, face, or eyelids, or shortness of breath with wheeze, stop taking tablets and seek immediate medical assistance.
Pregnancy and breastfeeding
The manufacturers of aciclovir cream and tablets advise caution with use in pregnancy and breastfeeding. This is precautionary advice, and there is no evidence of harm from aciclovir to developing pregnancies or breastfed infants. Aciclovir has been shown to pass into breast milk.
Active cold sores can pass the herpes virus to newborn infants so consult your GP or midwife if you develop cold sores in late pregnancy or whilst breastfeeding.
See BUMPS - Aciclovir factsheet.
What else can I do to prevent outbreaks?
Sunlight is often a trigger for cold sores. Wearing a sun hat and using a strong sunscreen and a sunblock lip balm (SPF >15) will help to reduce outbreaks. A healthy diet, plenty of sleep, and not getting run down also helps. Do not use sun beds.
If you are getting more than 6 outbreaks a year, then aciclovir 400mg tablets can be taken twice daily to reduce the frequency of outbreaks. This is called suppression treatment.
Other measures to help with cold sores
Pain can be helped by paracetamol or ibuprofen.
Mouthwash, and anaesthetic gels may help with pain from lesions inside the mouth.
Lip barrier gels may be soothing.
Cold sore patches may help with healing, disguise the sore and also provide a barrier to reduce risk of spread.
Drink plenty of water to prevent dehydration.
If cold sores are not improving after 5-7 days or you are seriously unwell with them, consult your regular doctor.
There are devices on the market which offer heat or near-infra-red light therapy for cold sores. Both types of product have been shown in their manufacturers' trials to be effective at reducing symptoms and overall healing times.
Delay dental treatment until lesions have healed.
Other cold sore treatments
Cold sores can also be treated by taking valaciclovir tablets. Valaciclovir is converted into aciclovir in the body. Some other antiviral medications may also be prescribed by specialist doctors, in certain specific situations.
Aciclovir cold sore cream is also available. The cream is applied to the cold sore 5 times a day. It is probably slightly less effective than aciclovir tablets at treating cold sores.
There are many other cold sore creams available without prescription. Most contain ingredients which soothe cold sores but do not contain an active antiviral. Some cold sore creams contain docosanol, which may have a small direct effect on the herpes virus, but is not as effective as aciclovir.
Further information
Patient Information Leaflet

The Patient Information Leaflet (PIL) is the leaflet included in the pack with a medicine and must be read before taking the medicine. It is written for patients and gives information about taking or using a medicine.
Aciclovir 200mg Tablets Patient Leaflet
Aciclovir 400mg Tablets Patient Leaflet
Aciclovir tablets FAQs
Which is best - aciclovir tablets or cream?
The British Association of Dermatologists suggest that the tablets are more effective than the cream.
When should I start to take the tablets to treat a cold sore?
Aciclovir tablets are most effective at reducing the development of a cold sore if started as soon as the tingling/itching is felt. This is a sign that the virus is activating and beginning to irritate the nerve. Starting the treatment then should reduce how much the virus activates and how big the cold sore gets.
Is it too late to start the tablets if the cold sore has started to blister?
It is best to start the course of tablets as soon as the tingling/itching begins. However, the cold sore may still heal more quickly even if they are started later than this. Once the cold sore is several days old, the aciclovir tablets are unlikely to help. If you get frequent cold sores it is best to keep some tablets at home, on standby, ready to start when you first feel the tingling.
Should I take suppressive cold sore medication?
Suppressive medication is recommended if you are getting more than 6 significant outbreaks a year. Of course you can choose not to, and continue to treat each outbreak as it happens. Unfortunately the virus can never be cleared from the body, but suppressive treatment may lead to an ongoing reduction in frequency of outbreaks even after it's been stopped.
See also cold sore FAQs page.
Start order

Authored 13 August 2016 by Dr Tony Steele
MB ChB Sheffield University 1983. Former hospital doctor and GP. GMC no. 2825328
---
The order process
Choose medication, register, and pay
Dr Fox issues prescription online
Pharmacy team post medication direct
Recent Aciclovir 200mg/400mg tablets reviews
Taken before semi-permanent lip colouring and no sign of cold sores afterwards. Had same colouring done several years ago and the cold sores on my lips then were extensive. This really worked
23/06/2023 07:43
Anonymous Verified
Fab! Had to take antiviral meds when getting a cosmetic lip procedure. Worked perfect, prevented a cold sore outbreak!
06/01/2023 10:15
Anonymous Verified
Small tablets easy to swallow did the job of healing cold sores quickly and preventing them spreading
12/10/2022 20:21
Anonymous Verified
As soon as my lips start to tingle i take these and 9 times out of 10 the sore doesn't even appear
26/01/2022 17:23
Anonymous Verified
Helps greatly to reduce the length and severity of cold sore outbreaks. Would not be without them in my medicine cabinet.
15/08/2021 10:14
S. Moule Verified
Read more reviews