Aciclovir tablets
Aciclovir anti-viral tablets to treat cold sores available to buy online. Aciclovir (Zovirax) stops viruses multiplying and spreading.
Start order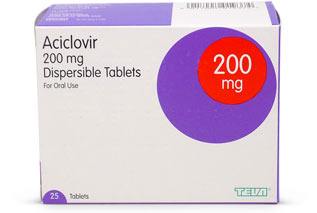 About us | Approved to sell medicine online


Prices
| Treatment type | Quantity | Cost |
| --- | --- | --- |
| Aciclovir 200mg tablets | 25 tablets (one treatment) | £10.50 |
| Aciclovir 200mg tablets | 50 tablets (two treatments) | £15.00 |

Price match guarantee
Prescription issued online - small prescription fee per order.
Prescription fees
Dr Fox supplies medicine on prescription and charges a small prescription fee based on the order value of each prescription.
Prescriptions are issued by our doctors online and sent electronically to our pharmacy.
If you have your own private paper prescription please post to our pharmacy (details).
Dr Fox prices are 25%–50% lower than other UK online clinics.
| Order value | Prescription fee |
| --- | --- |
| up to £10 | £1.00 |
| up to £20 | £2.00 |
| up to £40 | £3.00 |
| over £40 | £4.00 |
Delivery charges
UK delivery only: £2.90 per consultation via Royal Mail 24 Signed For (1-3 working days with tracking).
Parcel forwarding services are not permitted. Use only UK home or work delivery address.
Returns and refunds - unwanted items can be returned within 14 working days for a full refund.
---
About Aciclovir tablets
Introduction
Aciclovir is the medical name for the active ingredient of the tablets. Aciclovir is an anti-viral medicine which stops viruses multiplying and spreading. Dr Fox supplies aciclovir to treat cold sores on the lips. We do not recommend obtaining medicine online for the treatment of genital herpes and genital sores, as a full STI assessment is first required. Obtaining an online test kit and self-treating may leave you vulnerable to undiagnosed infections. For essential information about cold sores and their treatment read our medical information page.
Aciclovir tablets come in various strengths, 200mg, 400mg, and 800mg. We supply a 5 day course of the 200mg strength tablets, which is the recommended course for cold sore treatment. Various brands of tablets are available produced by different drug companies, including Boots and GSK (Zovirax brand) and Actavis. All have the same active ingredients. The shelf life of the tablets is four years, which means that people who are prone to cold sores could keep a stand-by supply at home for use as needed.
How to take
Take one 200mg tablet 5 times a day at 4 hourly intervals for 5 days, swallowed whole, with or without food. Start tablets as soon as possible after the first signs of a cold sore. It is best to start at the stage when there is tingling and burning, even before the sore is visible. Tablets will still have an effect if started later, but results are best with early treatment. Continue for the full 5-day course. If a tablet is missed, take the next as soon as remembered. Do not take extra tablets to make up for missed doses. Avoid dehydration and drink plenty during treatment.
When to consult a doctor
Most people who suffer from repeated cold sores are familiar with their symptoms and can safely self-treat. People who have not previously had sores on the lips or have sores that have not healed after 10 days should consult a doctor. Cold sores are often painful and are sometimes associated with mild symptoms of unwellness. They do not spread out across the face or cause fever and other symptoms of infections.
Aciclovir may not be suitable for people with a history of seizures or kidney disease. Aciclovir can interact with some prescribed medicines such as probenecid used to treat gout and cimetidine for acid indigestion. Other interactions with mycophenolate, ciclosporin, theophylline, and zidovudine are unlikely to be significant at the dose used to treat cold sores. Checks are carried out during the online consultation.
Aciclovir tablets side effects
Not everybody gets side effects. The most common, occurring in less than 1 in 10, are dizziness, headache, irritation, itching skin, tiredness, nausea and sickness, stomach pain, and sensitivity to strong light. See the manufacturer's leaflet for a full list of side effects. If there is a very rare allergic type reaction with swelling of the lips face and eyelids, stop taking tablets and seek immediate medical assistance.
Pregnancy and breast feeding
The risks are unknown, therefore, do NOT take aciclovir whilst pregnant or breast feeding without first consulting a doctor.
Patient Information Leaflet

The Patient Information Leaflet (PIL) is the leaflet included in the pack with a medicine and must be read before taking the medicine. It is written for patients and gives information about taking or using a medicine.

Authored 13 August 2016 by Dr Tony Steele
Last updated 21 January 2020
---
The order process
Answer short medical questionnaire
Choose medication, register, and pay
Doctor issues prescription online
Pharmacy team post medication direct
---
the best coldsore tablets, i swear by these, they make my life so much easier!!!Thanks DR Fox.
22/01/2020 08:24
Anonymous Verified
Excellent product. I suffer from cold sores on a regular basis and taking these for 4 days in a row really makes it go away
05/01/2020 20:21
Anonymous Verified
Really works - reduces infection time massively if taken early
10/12/2019 08:20
Anonymous Verified
13/11/2019 18:16
A. Lister Verified
Easy to take and helped straight away.
30/10/2019 12:35
Anonymous Verified
Read more reviews