Mirvaso
Mirvaso gel to treat persistent facial redness (rosacea). Lasts 12 hours. Available to buy online from Dr Fox.
Start order
Buy Mirvaso online
Read medical information about rosacea treatment
Answer medical questions to check for eligibility
Reviewed by doctors - posted from UK pharmacy (tracked 24hr service)
Prices
---
About Mirvaso Gel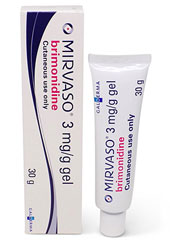 Mirvaso gel is a prescription only medicine containing the active ingredient brimonidine and is a treatment for rosacea. Rosacea is a condition affecting mainly the face, in which there is increased skin blood flow and redness. Brimonidine is an alpha blocker, and when applied to reddened areas of skin, it causes narrowing of blood vessels and reduced surface blood flow. The effects start within a few minutes and last up to 12 hours.
In studies 7 out of 10 subjects reported reduced rosacea symptoms 3 hours after an application of Mirvaso. This compares with 4 out 10 subjects reporting improvement when a non-active (dummy) gel was applied.
Mirvaso worsens symptoms in up to 16% of people and care must be taken when starting treatment - see details below. Worsening of redness can occur soon after Mirvaso is applied or later when the effects are wearing off (after 8 to 12 hrs). Most people recovered on stopping treatment.
Mirvaso is for adult use, and should not be used by under 18s as it is untested in this lower age group. It should be kept away from young children, who are at risk of serious adverse effects if they ingest the gel. In studies, older subjects (65 years and above) responded to treatment in the same way as younger subjects (18-64 years).
Cost of Mirvaso and sources of supply

Mirvaso is a relatively expensive treatment. It is a newly licensed medicine, and is under patent, and available in the UK from only one manufacturer, Galderma. NHS doctors may be reluctant to prescribe Mirvaso, in part because it is relatively new and partly because of cost. The gel is available in the UK from a number of regulated online clinic services at varying prices. Online clinics will carry out safety checks and provide information and advice before doctors prescribe and pharmacies dispense and post Mirvaso. The gel is currently (Sept 2014) available only in 30 gram tubes, no more than 3 of which are likely to be supplied at one time.
How to apply Mirvaso
Start treatment with a small amount of gel (less than the maximum dose) for at least 1 week and increase the dose gradually, based on tolerability and response to treatment. It is important not to exceed the maximum daily dose (which is 1gm of gel in total weight, approximately 5 pea-sized amounts).
Mirvaso is applied once daily in pea sized amounts to each of the reddened areas of the face; the chin, each cheek, forehead and nose. Gel should be spread smoothly and evenly. Application should be applied to dry, rather than wet skin, to reduce the chance of Mirvaso running into the eyes and mouth. Gel which comes into contact with the eyelids, eyes, lips or mouth should be washed off with water straight away. Other topical medicines and makeup can be applied once the gel has dried. Wash hands after use to avoid transfer to eyes and mouth and reduce unwanted constriction of circulation to the hands and fingers. If symptoms worsen, Mirvaso should be stopped and a doctor consulted.
See video below from the manufacturer Galderma:
Mirvaso side-effects
Mirvaso worsens rosacea in up to 16% of people. Very little of the active ingredient, brimonidine, is absorbed into the circulation. Most significant side effects are localised to the skin to which the gel is applied. The most frequent localised side effects include redness and a feeling of burning and itching. Various skin sensations, acne, swelling of the eyelids and a cold feeling in the hands and feet, effects up to 1 in 100 people. Mirvaso should not be applied to broken skin, particularly after laser therapy, as this could cause low blood pressure and dizziness. Side effects should be reported to a doctor. For full list of side effects see link to patient information leaflet below.
Who should NOT use Mirvaso
Mirvaso constricts blood vessels and is not suitable for people with poor circulation to the hands and feet. There is also a potential for blood pressure to drop and use should be avoided in people with very low blood pressure or a tendency for blood pressure to fall, particularly in people with significant uncontrolled heart disease. Caution is also required in people who have been diagnosed with liver or kidney disease, currently or in the past, and people diagnosed with the uncommon dry skin condition, Sjogren's syndrome, and in people with poor circulation to the brain or heart.
Mirvaso with other medicines
Mirvaso has the potential, in theory at least, to interact with a few other prescription medicines, most notably selegiline, moclobemide, imipramine and maprotiline used to treat depression or Parkinson's disease. People taking these medicines should not use Mirvaso.
Also, a doctor should be informed when any of the following medicines are being taken: medicines used for the treatment of psychiatric disorders (chlorpromazine) or used for hyperactivity (methylphenidate) or used for high blood pressure (reserpine); medicines which act on the same body mechanism as Mirvaso (other alpha agonists, e.g. clonidine; so-called alpha blockers or alpha antagonists, e.g. prazosin; isoprenaline which is most often used for treatment of high blood pressure, slow heart rate, or asthma), cardiac glycosides (e.g. digoxin), used to treat heart problems; blood pressure lowering medicine such as beta-blockers, or calcium channel blockers (e.g. propranolol, amlodipine).
Pregnancy and breast-feeding
Mirvaso is untested in pregnant and breast-feeding women, and although there is no known risk, these women should avoid use of Mirvaso.
Alcohol and driving
Regular alcohol use is likely to worsen rosacea and is best avoided. Mirvaso is not known to affect the ability to drive or operate machinery.
Storage and disposal
There are no special storage requirements for Mirvaso, although it should not be frozen, and unwanted medicine should be taken to a pharmacy for disposal.
Patient Information Leaflet

The Patient Information Leaflet (PIL) is the leaflet included in the pack with a medicine and must be read before taking the medicine. It is written for patients and gives information about taking or using a medicine.

Authored 02 October 2015 by Dr Tony Steele
Last updated 20 October 2020
Good product, important to read the instructions in packaging
05/03/2020 13:40
Anonymous Verified
Great redness in cheeks soon disapeared
21/01/2020 22:06
Anonymous Verified
Great and does what it says. I'm very happy with it.
04/12/2019 15:33
K. Mackinnon Verified
Very effective on daily use.Does not prevent triggered flushes.
15/05/2019 21:58
Anonymous Verified
Easy to use and no side affects experienced. Prefer this to the antibiotic cream.
15/03/2019 16:43
Anonymous Verified
Read more reviews
---
The order process
Answer short medical questionnaire
Choose medication, register, and pay
Doctor issues prescription online
Pharmacy team post medication direct
---