Hair loss
Hair loss prevention and reversal for men using Propecia (finasteride 1mg) tablets and Regaine extra strength available from Dr Fox Pharmacy by completing a short health assessment online.
Read medical information and answer medical questions to buy treatment online.
Selecting treatment
All medication supplied is UK licensed.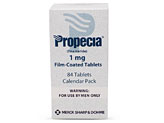 Propecia
(finasteride 1mg)
from £1.28 per day
Buy treatment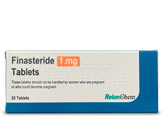 Finasteride
(1mg, generic Propecia)
from 35p per day
Buy treatment
Foam or solution
Buy treatment
Prices
Medical information
Written and reviewed by a team of doctors. Dr Fox is regulated by the CQC, GPhC, & MHRA.
Hereditary hair loss
Hair loss is a natural process. About 50% of men have significant hair loss by the age of 40. Most men with hair loss are entirely healthy. Early male pattern hair loss often runs in families. Hair loss is not often caused by a hormone imbalance or lack of testosterone.
Rapid hair loss
Rapid hair loss over a period of less than a year should be investigated. A doctor may want to carry out thyroid and other tests. Hair loss in patches, or associated with irritation and soreness of the scalp, also needs to be investigated.
A good general overview about male pattern hair loss can be found at DermNet New Zealand, and links to further information about male and female hair loss can be found at the bottom of this page.
Hair loss treatments
Dr Fox can prescribe 2 treatments for hair loss to men only:
Men can use both Propecia/finasteride 1mg tablets and Regaine topical at the same time.
---
Propecia/finasteride 1mg
New lower cost generic Propecia called finasteride 1mg now available - medically identical to branded Propecia.
Propecia/finasteride 1mg are daily tablets, only available on prescription.
Propecia/finasteride 1mg tablets are for men only.
Response to Propecia/finasteride 1mg
Hair growth usually starts to improve after about three months, and is usually noticeable after 4-6 months. Two thirds of men who take Propecia will benefit from renewed hair growth. Maximum benefit is seen after one to two years (see study details).
How does Propecia/finasteride 1mg work
Propecia/finasteride 1mg tablets reduce the levels of the hormone DHT (Dihydrotestosterone) and this in turn stimulates new hair growth.
Who benefits
Men at any stage of male pattern hair loss are likely to benefit.
Propecia/finasteride 1mg is most effective for hair loss over the top of the scalp (vertex).
Propecia/finasteride 1mg has NOT been proven to:
Reverse a receding frontal hairline.
Reverse hair loss which is ONLY in the temple regions (the area at sides of the forehead).
Restore hair to entirely bald areas.
Clinical studies were conducted on men aged 18 to 41 with mild to moderate hair loss, but not complete hair loss.
The best results of Propecia/finasteride 1mg treatment are seen after one to two years, at which time hair growth is likely to be at its thickest.
Propecia/finasteride 1mg side effects and cautions
If hair loss has been rapid and recent (less than a year), or where there are symptoms of serious illness, such as unexplained weight loss, fevers, persistent diarrhoea, or excessive fatigue, a doctor should be consulted.
Where hair loss is patchy or irregular, or hair comes out in clumps, or there is scalp inflammation the scalp should be examined.
Blood tests carried out to detect prostate cancer (PSA) can give misleading results when Propecia/finasteride 1mg is being taken.
If treatment is stopped, the beneficial effects begin to reverse by six months and return to baseline by 9 to 12 months.
There have been reports of depression and, in rare cases, suicidal thoughts in men taking finasteride 1mg.
If low mood or depression develops, stop treatment and consult your doctor straight away.
Propecia/finasteride 1mg side effects are usually mild. Reduced libido and erectile dysfunction are possible. See patient leaflet for full list of side effects.
---
Minoxidil 5% (Regaine extra strength)
Regaine topical is applied to the scalp twice daily.
Regaine Extra Strength is available as a foam or scalp solution and is for for men only.
Regaine foam is not licensed for use in men over 49 years, but Regaine solution is licensed for men up to 65 years. In practice men up to 65 years and even beyond this age can use either one.
Response to treatment
With Regaine, hair becomes fuller and thicker. Around 60% of men using Regaine twice daily experienced an increased scalp coverage after 48 weeks. In user surveys 9 in 10 men said they kept or regrew their hair after 16 weeks.
Read more information on the Pharmacological Properties of Regaine and Minoxidil, Regaine's active ingredient.
How Regaine works
Regaine contains the active ingredient Minoxidil. The exact way in which Minoxidil works is not fully understood. It increases blood flow to hair follicles, reducing hair loss and stimulating new growth. This produces thicker, longer, more visible hair. Very little of the active ingredient is absorbed into the body.
Timescales
There is no hard and fast answer. With Regaine Extra Strength results may be seen after 8 weeks. Clinical studies have shown that for Regaine Regular Strength or Regaine Gel for men regrowth can occur as early as 16 weeks. But remember that everyone is different so you need to be patient. Studies suggest that Regaine should be tried for 6-12 months before deciding whether to continue.
The extra strength is for use only by men. Men can use Propecia (finasteride) tablets at the same time.
Regaine Extra Strength preparations
Regaine Extra Strength Solution and Foam Extra Strength for men, contains 5% minoxidil, one pack of either being enough for one month's use.
Regaine side effects and cautions
You may notice a temporary increase in hair loss in the first 2-6 weeks. This is entirely normal and is good news - it shows that your hair is shifting from a dormant phase to an active growing phase.
Regaine occasionally causes skin irritation that usually resolves when the treatment is stopped.
Very little of the active ingredient, minoxidil, is absorbed into the circulation and therefore general side effects are not expected. You should stop using Regaine and see a doctor if hypotension (low blood pressure) is detected or if you experience chest pain, rapid heartbeat, faintness or dizziness, sudden unexplained weight gain, swollen hands or feet, or persistent redness.
People with known heart disease should contact their regular doctor before using Regaine Extra Strength for men.
Very occasionally Regaine may cause unwanted hair growth in areas where it is applied regularly by accident. Follow instructions about use.
Regaine cannot be posted outside mainland UK. Both solution and foam are restricted postal items. Please do not order if you are outside mainland UK.
Buy treatment
Dr Fox supplies medication for hair loss on prescription - you are required to answer a short medical questionnaire before your order can be completed.

Authored 18 February 2010 by Dr Tony Steele
MB ChB Sheffield University 1983. Former hospital doctor and GP.
questions
Choose
order
NOTE: Propecia is 'restricted supply' - expect 3 days delivery delay. Finasteride 1mg (generic Propecia) available.
Answer medical questions to order
(hair loss)
Men only
---
The order process
Answer short medical questionnaire
Choose medication, register, and pay
Doctor issues prescription online
Pharmacy team post medication direct
---
Recent reviews
"existing customer 10/10"30 November 2020 – Eddie E., Wigan
"Brilliant service. THANK YOU. :)"30 November 2020 – Anonymous
"Fast delivery"30 November 2020 – Anonymous
"Good service. Thank you."30 November 2020 – Anonymous
"Competitive price. Easy to order. Quick delivery. Great service."30 November 2020 – Anonymous
"very commited people who provide a great service.thank you"30 November 2020 – Andrew B., Ammanford
"Thanks arrived after a week,many thanks"30 November 2020 – Anonymous
"Everything is first class, communication, prices and service. Many Thanks."30 November 2020 – Anonymous
"Excellent, prompt and efficient service"30 November 2020 – Anonymous
"Good customer service and very competitive prices."30 November 2020 – Anonymous
"I've been ordering from dr fox for some time and the service is first class. I did have a little problem with the delivery of my last order and when I contacted dr fox I could not believe how quickl they sorted it out I could not complain at all"30 November 2020 – David F., Birmingham