Acetazolamide
Acetazolamide 250mg (formerly known as Diamox) for the prevention and treatment of high altitude sickness available to buy online from Dr Fox.
Start order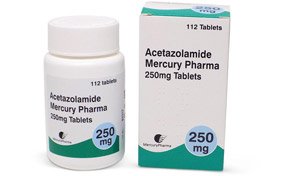 Buy Acetazolamide tablets online in UK
How to order Acetazolamide (Diamox) online for UK delivery:
Read medical information about altitude sickness
Answer medical questions to check for eligibility
Reviewed by doctors - posted from UK pharmacy
Diamox
Diamox is a brand name for acetazolamide 250mg tablets. The Diamox brand is no longer sold in the UK (since April 2015). We supply only UK licensed acetazolamide from a UK pharmacy.
Prices
Start order
---
About acetazolamide
Acetazolamide 250mg is a prescription-only tablet used to help with the effects of high altitude: altitude sleep disturbance, acute mountain sickness, and to assist acclimatisation in unavoidable rapid height gain.
Read the patient leaflet for a full list of side effects, cautions, and interactions with other drugs.
Acetazolamide is a carbonic anhydrase inhibitor diuretic which helps the body to deal with the effects of altitude. It increases the amount of urine produced and changes the acidity of the blood. The overall effect is to improve breathing.
Acetazolamide has been used by climbers and trekkers to high altitude for many years to assist the body to cope with the changes caused by lowered oxygen availability at altitude. Despite research into many other medications including ibuprofen, coca tea, and gingko biloba, it is still the only drug shown in trials to be effective.
Effects of altitude
Air pressure and available oxygen get lower the higher you are above sea level. The body doesn't really notice these changes until over 2,500 metres. It will then begin to adapt to the lower oxygen, initially by taking more and deeper breaths, also the heart speeds up, the body chemistry changes, and extra red blood cells are made to carry more oxygen. The kidneys make more urine (pee), to help rebalance the chemistry. Even more urine is produced if taking acetazolamide so it is especially important to keep well hydrated at altitude by drinking 3-4 litres of water per day. Adapting and acclimatising takes a few days varying from person to person. Your body has to keep reacclimatising if you keep going higher.
If your body struggles to acclimatise, you may initially develop symptoms of acute mountain sickness (AMS). This can become more severe and even life threatening, leading to either fluid on the lungs - high altitude pulmonary oedema (HAPE), or fluid on the brain - high altitude cerebral oedema (HACE).
Many people will have a few mild symptoms of AMS, as their body adjusts. Acetazolamide can be taken to help with symptoms of AMS. It is also used along with other medicines in treating HAPE and HACE.
Breathing during sleep is also often affected by altitude, causing irregular 'periodic breathing' - instead of regular slow shallow breaths when asleep, increasingly rapid deep breaths are followed by prolonged pauses. This is not dangerous, but can be worrying for sleep partners and sometimes also jerks the individual themselves awake, so disturbing their sleep. Acetazolamide can be taken to relieve irregular breathing during sleep at altitude.
Acclimatising
It is best to allow the body to acclimatise naturally by limiting the speed of ascent once above 2,500 metres (8,000 feet). If you have to go higher more quickly, then taking acetazolamide can help the body to acclimatise, however, taking acetazolamide can also give a false sense of security.
People planning to ascend to over 3,000 metres (10,000 feet) should spend at least one night at 3,000 metres before they start to go higher.
Above 3,000 metres each new sleep height should be between 300 metres and 500 metres (1,000-1,500 feet) higher than the previous night.
It is possible to go higher during the day but then descend to sleep no more than 500 metres higher than the previous night - climb high, sleep low.
For every 1,000 metres (3,000 feet) of ascent, sleep at that height for 2 nights before going any higher, preferably also taking a rest day.
Taking acetazolamide to help acclimatisation and to treat sleeping disorder of altitude
If unable to stick to a gradual ascent schedule, the dose of acetazolamide is 125mg (half a tablet) twice daily to help the body to acclimatise.
If significantly troubled by irregular breathing during sleep, a dose of acetazolamide of 125mg (half a tablet) can be taken two hours before sleep. This can be increased to 125mg twice daily if necessary. Acetazolamide is not a sedative.
Acute Mountain Sickness (AMS)
AMS can cause headache, nausea, and vomiting, fatigue, dizziness, and difficulty sleeping. It's severity can be assessed using the Lake Louise score. Acetazolamide may be used to help with the symptoms of mild AMS.
Treating mild AMS (Lake Louise score 3 to 5):
Stay at the height already reached or if possible go down by 300-1,000 metres.
Drink plenty of fluids (3-4 litres per day).
Avoid alcohol and sedatives.
Take ibuprofen for the headache.
Acetazolamide 250mg (one tablet) twice daily can be used, but there is still a need to wait for symptoms to settle before going any higher (24-72 hours).
If AMS symptoms are more severe (Lake Louise score over 6), in addition to the above treatments for mild AMS:
Descent by 300-1,000 metres is recommended.
A doctor may also prescribe anti-sickness medication or dexamethasone.
Severe AMS may progress to HAPE or HACE or they may develop with no previous symptoms. Both are life threatening and require immediate descent of at least 1,000 metres (3,000 feet).
High altitude pulmonary oedema (HAPE) and High altitude cerebral oedema (HACE)
Symptoms of HAPE
Trouble breathing, breathlessness at rest, breathing rate taking a long time to recover after physical exertion.
Coughing.
Frothy spit, becoming bloody.
Lips, tongue, nail beds become blue.
Fast pulse and fast breathing at rest.
Symptoms of HACE
Severe headache.
Becoming clumsy - unable to walk heel to toe in a straight line or to touch finger to nose with eyes closed.
Odd behaviour - unhelpful, violent, lazy, unable to think straight, or to do simple sums.
Non-stop vomiting.
Blurred or double vision.
Confusion.
Seeing haloes around objects, hearing or smelling odd things, hallucinations.
Reduced consciousness, coma.
If a person cannot get their breath when everybody else has regained theirs, or if a person is behaving strangely or cannot walk in a straight line, this is a medical emergency.
If any of the above symptoms develop, treat this as an emergency requiring immediate descent, even if this is during the night. The descent needs to be at least 500-1,000 metres (1,500-3,000 feet) and as soon as possible. Delay can be fatal.
Treatment of HAPE and HACE
Ideally any expedition/trek to high altitude will have a medically trained member, who will initiate other treatments alongside descent.
HAPE is usually treated with oxygen and immediate descent by at least 1,000 metres. A treatment regime for HAPE may include:
Nifedipine 10mg immediately, followed by 20mg three times a day for 3 days.
Sildenafil (Viagra) 50mg every 6 hours.
Salbutamol/salmeterol inhaler 2 puffs every 2 hours.
HACE is usually treated with oxygen, and immediate descent by at least 1,000 metres. A treatment regime for HACE can include acetazolamide 250mg (one tablet) twice daily, and dexamethasone 8mg immediately, followed by dexamethasone 4mg every 6 hours for at least 3 days.
In all cases of AMS, HAPE, and HACE, the patient should also be kept warm and given sugary drinks and food.
Acetazolamide dosage
Acetazolamide tablets should be swallowed without chewing, with a drink of water, before or after a meal.
Acetazolamide doses for effects of altitude

| Condition | Dose of acetazolamide | When to stop |
| --- | --- | --- |
| Acclimatisation | 125mg (half a tablet) twice daily | 2-3 days after highest altitude |
| Irregular breathing during sleep at altitude | 125mg (half a tablet) 2 hours before sleep increasing to 125mg twice daily if necessary | Once sleeping has improved, or once descended. |
| Mild Acute Mountain Sickness (AMS) | 250mg (one tablet) twice daily | Once symptoms have settled |
| Severe Acute Mountain Sickness (AMS) | 250mg (one tablet) twice daily | Until no longer at altitude |
| High altitude cerebral oedema (HACE) | 250mg (one tablet) twice daily | Until no longer at altitude |
| High altitude pulmonary oedema (HAPE) | No longer recommended for treatment of HAPE | |
Acetazolamide cautions and possible side effects
Acetazolamide is from the class of 'sulpha' medicines so should not be taken by anyone with a sulphonamide allergy. Do not take acetazolamide if you have severe kidney or liver disease, or abnormalities of blood chemistry.
Commonly reported side effects include: a 'tingling' feeling in the fingers, toes, and extremities, some loss of appetite and an odd taste in the mouth. Depression can occur if taken for long periods.
For a full list of possible side effects see the acetazolamide Patient Information Leaflet.
Other medicines and acetazolamide
Acetazolamide may interfere with the action of some other medication. It should not be taken at the same time as regular aspirin, lithium, sodium valproate, or zonisamide.
If you are taking any other routine medication then it is recommended to discuss a trip to altitude and use of acetazolamide with your regular GP prior to travel.
Extra caution is needed, if considering taking acetazolamide with:
Epilepsy medication.
Heart or blood pressure medication or water tablets (diuretics).
Blood thinning medication.
Diabetic medication.
Any medication known to affect folic acid, eg methotrexate, trimethoprim.
Steroids.
Glaucoma medication.
Amphetamines.
Ciclosporin.
Buying acetazolamide online from Dr Fox
Acetazolamide is a prescription only medication, available from many online pharmacies. However most pharmacies require their customers to provide their own prescription. Doctors usually charge a fee for private prescriptions. Many NHS GPs are not familiar enough with altitude medicine to prescribe acetazolamide, and travel medicines are not available on the NHS.
Specialist travel clinics charge more than Dr Fox to buy acetazolamide online.
Dr Fox supplies acetazolamide using an electronic prescription – you are required to answer a short medical questionnaire before your order can be completed.
Buying Diamox or acetazolamide overseas
It is safer to obtain acetazolamide online in the UK before travel, than to buy it or branded Diamox overseas. Dr Fox supplies genuine acetazolamide from a registered UK pharmacy. Overseas tablets could be fake, out of date, or substandard.
Acetazolamide UK licence
There is a UK licence for acetazolamide to treat glaucoma, epilepsy, and as a diuretic (water tablet). It is approved in the USA for altitude effects, and has been used worldwide for this for many years. Despite this, acetazolamide does not have a licence in the UK and Europe to prevent and treat altitude sickness. Prescription for altitude by Dr Fox is 'off label' and doctors take responsibility for the prescribing. There is no information about altitude in the manufacturer's patient information leaflet. Please print out the Dr Fox acetazolamide and altitude information leaflet and keep it with your medication.
Patient Information Leaflet

The Patient Information Leaflet (PIL) is the leaflet included in the pack with a medicine and must be read before taking the medicine. It is written for patients and gives information about taking or using a medicine.
Acetazolamide 250mg patient leaflet
Acetazolamide and altitude - Dr Fox leaflet
Acetazolamide FAQs
Should I take acetazolamide if I have no symptoms?
Ideally, time for acclimatisation to altitude should be accommodated in the trek/climb itinerary, and it is best to allow the body to acclimatise naturally. If it is unavoidable to ascend more quickly, then taking acetazolamide will reduce the risk of symptoms. Acetazolamide can be taken even if ascending slowly according to the guidelines, though that is not usually recommended.
If I have tingling extremities should I stop acetazolamide?
No. The tingling is a mild side effect which in most cases can be tolerated. It indicates that acetazolamide is having a positive effect on the blood chemistry.
What can I do if I'm unwell and can't descend as recommended for severe AMS, HAPE, or HACE?
In the rare situation where it is not possible to descend immediately, there is a portable pressurised chamber called a Gamow Bag, which can be used to simulate descent and buy a few hours of time to arrange evacuation.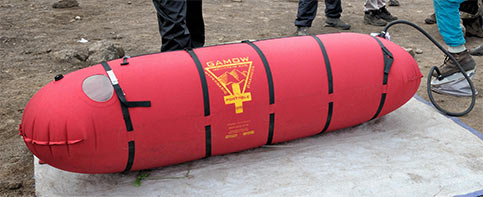 Does Dr Fox supply other medicines to treat HAPE and HACE?
No, If you are ill with severe AMS, HAPE, or HACE then you will need medical advice and assessment. The medical advisor will arrange any extra medicines for you.
See also altitude sickness FAQs page.

Authored 13 July 2010 by Dr Tony Steele
MB ChB Sheffield University 1983. Former hospital doctor and GP. GMC no. 2825328
---
The order process
Choose medication, register, and pay
Dr Fox issues prescription online
Pharmacy team post medication direct
Recent Acetazolamide reviews
Excellent for high altitude mountaineering.
20/09/2023 00:14
Anonymous Verified
Great product, helps remove excess fluid from having rebound intracranial hypertension.
12/11/2021 12:10
D. Green Verified
Really helped at high altitude adjustment. Occasional tingling in the fingers
10/07/2016 15:56
Anonymous Verified
I took only half a tablet after feeling very dizzy in the airport on arrival in Cusco (Peru) Symptoms disappeared after 30 mins and never re-appeared. Very happy!
14/11/2023 11:41
Anonymous Verified
Got me up Kilimanjaro to the top! Very quick delivery of items
20/08/2022 09:36
Anonymous Verified
Read more reviews