Acetazolamide (Diamox)
Acetazolamide 250mg (formerly known as Diamox) for the treatment of high altitude sickness available to buy online from Dr Fox.
Start order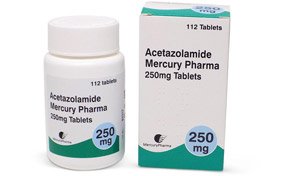 Buy Acetazolamide online in UK
How to order Acetazolamide (Diamox) online for UK delivery:
Read medical information about altitude sickness
Answer medical questions to check for eligibility
Reviewed by doctors - posted from UK pharmacy
Diamox
Diamox is a brand name for acetazolamide 250mg tablets. The Diamox brand is no longer sold in the UK (April 2015). Dr Fox continues to use the name 'Diamox' for acetazolamide tablets because this is the name people recognise. We supply only UK licensed acetazolamide from a UK pharmacy.
Prices
Start order
---
About Acetazolamide (Diamox)
Diamox was a brand name for acetazolamide 250mg tablets. The Diamox brand is no longer being sold in the UK (April 2015).
Diamox tablets for altitude sickness
Mild altitude sickness is unpleasant and should act as a warning. Headache, fatigue, loss of appetite and poor sleep above 10,000 feet (3,000 metres) are signs of early altitude sickness. Do not ascend further until these symptoms settle.
Diamox helps to settle the symptoms of early altitude sickness more quickly.
Serious altitude sickness where there is a build up of fluid in the brain and/or the lungs is dangerous. Symptoms of extreme shortness of breath and/or disturbed mental function can come on rapidly. Over a period of hours symptoms can progress to coma and even death. At the first sign of these symptoms rapid descent of at least 1,500 feet (500 metres) is the best treatment. Other treatments include oxygen, steroids and Diamox.
If a person can not get their breath when everybody else has regained theirs or if a person is behaving strangely or can not walk in a straight line this is a medical emergency.
Diamox to improve sleep
At altitude (above 3,000 metres) abnormal breathing often disturbs sleep. There can be prolonged pauses between breaths followed by brief periods of rapid breathing. This leads to restless sleep and day time fatigue.
Diamox can be taken to reduce the sleep disturbance of altitude.
Acclimatising to altitude
The symptoms of mountain sickness and the dangers can be reduced by proper acclimatisation. See guidelines acclimatising to altitude.
Taking Diamox reduces the chances of getting mountain sickness, although it does not replace proper acclimatisation. Altitude sickness can and does still occur.
Guide to altitude
| | | |
| --- | --- | --- |
| High | 2,500 to 4,000 metres | 8,000 to 13,000 feet |
| Very High | 4,000 to 5,500 metres | 13,000 to 18,000 feet |
| Extremely High | over 5,500 metres | over 18,000 feet |
Side effects of Diamox
Most people taking Diamox do not experience side effects. Diamox side effects include: passing extra urine, flushing, thirst, headache, dizziness, fatigue, irritability, depression, a 'tingling' feeling in the extremities; some loss of appetite, taste disturbance, reduced libido and occasional instances of drowsiness and confusion. For a full list of side effects see the Diamox Patient Information Leaflet.
People allergic to sulpha containing drugs should not take Diamox.
Diamox dose
Dr Fox supplies 250mg Diamox tablets on prescription at a dose of one twice daily for early symptoms of mountain sickness. Where forced ascent cannot be avoided the dose is half a tablet (125mg Diamox) twice daily.
The dose of 250mg Diamox tablets for sleep disturbance is half a tablet (125mg Diamox) twice daily.
Diamox online
Diamox is acetazolamide. It is available from online pharmacies. However pharmacies require their customers to provide their own prescriptions. Doctors usually charge £10 to £25.00 for private prescriptions. Most GPs would not be familiar enough with altitude medicine for them to prescribe Diamox.
Specialist travel clinics charge more than Dr Fox to buy Diamox online.
Diamox overseas
It is safer to obtain Diamox online in the UK than to buy it overseas. We supply genuine Diamox from a UK registered pharmacy. Overseas tablets could be fake, out of date, or substandard.
Patient Information Leaflet

The Patient Information Leaflet (PIL) is the leaflet included in the pack with a medicine and must be read before taking the medicine. It is written for patients and gives information about taking or using a medicine.

Authored 13 July 2010 by Dr Tony Steele
MB ChB Sheffield University 1983. Former hospital doctor and GP.
---
The order process
Choose medication, register, and pay
Dr Fox issues prescription online
Pharmacy team post medication direct
Great product, helps remove excess fluid from having rebound intracranial hypertension.
12/11/2021 12:10
D. Green Verified
Used for climbing Kilimanjaro. Slight discomfort but ok
28/07/2021 14:53
Anonymous Verified
Did exactly what they claimed
08/05/2021 01:00
S. Mckenzie Verified
02/03/2019 19:14
Anonymous Verified
02/10/2018 15:46
M. Solan Verified
Read more reviews