How to buy online
Read medical information about malaria tablets
Answer medical questions to check for eligibility
Reviewed by doctors - posted from UK pharmacy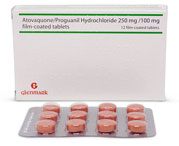 Generic malarone
A lower cost licensed generic version of Malarone became available in the UK from February 2013. This is non-branded atovaquone/proguanil, also known as 'generic malarone', and is medically identical to Malarone from GSK. Both available from Dr Fox.
Prices
Start order
---
About Malarone
Branded and generic Malarone

Manufactured by GlaxoSmithKline, Malarone was originally used solely as a treatment for P. falciparum malaria until it was licensed as an anti-malarial drug for preventative use in 2001. Recognised by the Malaria Reference Laboratory, responsible for setting down the UK anti-malarial recommendations, Malarone is included in the published guidelines used by NHS surgeries and travel clinics throughout the UK.
Malarone was under patent protection in the UK until January 2013 when the patent was invalidated by a court, meaning legal versions of generic Malarone have been made available.
What does it do?
Malarone is a combination drug, containing Atovaquone (250mg) and Proguanil (100mg), and each component stops the P.falciparum parasite from reproducing in the blood. It is used as a preventative method against malaria from bites from mosquitoes infected with this parasite.
Stronger doses of the drug are used to treat uncomplicated malaria from the same parasite.
Who is at risk of malaria?
Malaria is a tropical disease carried by mosquitoes in infected areas, and is common in areas such as Southern Asia, Africa and South America. Before travelling to these climates, it is important to check the malaria risk for the specific location and time of year you are visiting. Consult the NHS Fit for Travel website or consult a travel medicine professional for more advice.
People who previously built up immunity by living in malaria areas can lose that immunity over time. The recommended tablets for an area can change from time-to-time.
Children and women who are pregnant or breastfeeding are at increased risks, including severe and fatal malaria.
Why Malarone?
Malarone is one of a choice of anti-malarial drugs that can be prescribed but is particularly effective in high-risk areas that are seeing resistance to chloroquine, which targets the same P.falciparum parasite. Its simple dosage means it is suitable for last-minute holidays and trips of shorter duration.
The Fit for Travel website has details of recommended malaria tablets (and other travel health advice) for each destination.
Taking Malarone for the first time
After consultation with a doctor, detailing the specifics of your trip, your Malarone prescription needs to be started one to two days before entering an area with malaria risk. Take one tablet every day during your stay and for seven days after leaving the area.
Take the tablet at the same time once a day with food or a milky drink. For the medication to be effective, and to prevent resistance, the whole course of tablets must be completed.
How effective is it?
No anti-malarial medication is 100% effective and preventative measures should be taken to decrease the risk of being bitten in high-risk areas. Cover exposed skin, especially during and after dusk, use an insect repellent and mosquito nets at night.
Side effects of Malarone
All medication affects patients individually, with some possible side effects being more common than others. A full list of the most frequent side effects can be found in the manufacturer's patient information leaflet (PDF) supplied with Malarone tablets.
Common side effects (affecting more than 1 in 10 people) include headaches, nausea, vomiting, diarrhoea and abdominal pain. These side effects can often be alleviated by taking Malarone with food or a milky drink.
Less common side effects (affecting between 1 in 10 and 1 in 100) include loss of appetite, coughing, dizziness, fever, rash or itching, insomnia or abnormal dreams and anaemia.
When not to take to take malarone
During a Dr Fox online consultation, you will be required to complete an assessment questionnaire to determine your suitability for anti-malarial medication. You should not take Malarone without further consultation with your GP if you:
Are allergic to atovaquone or proguanil
Are pregnant or breastfeeding or intend to be during your trip or two months after
Have been diagnosed with liver disease
Have epilepsy or seizures
Are currently taking warfarin to thin the blood
Malarone Adult tablets are recommended for preventing malaria in people over 40kg. Malarone Paediatric tablets are available for children from 11kg on prescription from GPs, or from specially trained pharmacists.
Dr Fox can only prescribe medicine to adults (18 years or over). Further information about malaria tablets for children.
Patient information leaflet
The 'Patient Information Leaflet' supplied with medication must be read before taking tablets.
Malarone Patient Information Leaflet
Start order
---
Authored 11 July 2013
by Dr Tony Steele
Reviewed 14 August 2017 by Dr B. Babor, Dr A. Wood, Dr P. Hunt
Atovaquone 250mg/Proguanil 100mg
Very quick and efficient service, delivered to the door in a couple of days. First class
02/07/2018 17:12
Anonymous Verified
Atovaquone 250mg/Proguanil 100mg
No side effect except when not taken at regular times
06/01/2018 17:54
N. Goodson Verified
Atovaquone 250mg/Proguanil 100mg
Didn't had any side effects
06/01/2018 17:53
Anonymous Verified
Atovaquone 250mg/Proguanil 100mg
04/12/2017 11:00
M. Turner Cain Verified
Atovaquone 250mg/Proguanil 100mg
We have used these for a number of years with no side affects.
05/11/2017 08:54
Anonymous Verified
More Malarone reviews
---
The order process
Answer short medical questionnaire
Choose treatment, register, and pay
Doctor issues prescription online
Medicine posted direct from pharmacy
---