Nexium (esomeprazole)
Nexium Control (esomeprazole 20mg) can suppress the symptoms of acid reflux for around 12 to 24 hours. Available to buy online from Dr Fox.
Start order
Buy Nexium tablets online
How to order esomeprazole online for UK delivery:
Read medical information about acid reflux treatment
Answer medical questions to check for eligibility
Reviewed by doctors - posted from UK pharmacy (tracked 24hr service)
Prices
| Medication | Quantity | Cost |
| --- | --- | --- |
| Esomeprazole 20mg (generic) | 28 tablets | £11.50 |
| Esomeprazole 20mg (generic) | 56 tablets | £19.00 |
| Nexium (esomeprazole) 20mg | 7 tablets | £7.50 |
| Nexium (esomeprazole) 20mg | 14 tablets | £11.20 |
Prescription fees
Dr Fox supplies medicine on prescription and charges a small prescription fee based on the order value of each prescription.
Prescriptions are issued by our doctors online and sent electronically to our pharmacy.
| Order value | Prescription fee |
| --- | --- |
| up to £10 | £1.00 |
| up to £20 | £2.00 |
| up to £40 | £3.00 |
| over £40 | £4.00 |
If you have your own private paper prescription please post to our pharmacy (details).
Dr Fox prices are 25%–50% lower than other UK online clinics.
Delivery charges
UK delivery only: £2.90 per consultation via Royal Mail Tracked 24 Signed For (1-2 working days with tracking).
Parcel forwarding services are not permitted. Use only UK home or work delivery address.
Returns and refunds - unwanted items can be returned within 14 working days for a full refund.
Start order
---
About Nexium (esomeprazole)
Nexium/esomeprazole tablets are a type of medicine called proton pump inhibitors (PPI). PPIs were discovered in 1979 and have been in patient use for more than 30 years. They are safe and effective treatments for acid reflux/heartburn, and are also used for a range of other gastric and duodenal conditions. Nexium (esomeprazole) is a newer generation PPI developed as a mirror image chemical of the original PPI omeprazole.
Further information: NHS - Esomeprazole.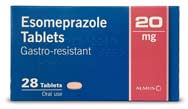 Generic esomeprazole
Nexium is the original brand name for the medication esomeprazole, the active ingredient.
Lower cost generic esomeprazole 20mg is also available. Generic medicines work in the same way and contain the same quantity of the active ingredient but are usually lower cost than brand-name medicines.
How does esomeprazole relieve acid reflux/heartburn?
The 'proton pump' is the process which is used by the cells lining the stomach to produce digestive acid. The pump is triggered in response to eating. Esomeprazole and other PPIs block the action of the proton pump and so reduce the level of acidity in the stomach contents. If there is less acid then symptoms of acid reflux and heartburn are reduced.
How to take Nexium/esomeprazole for GORD (acid reflux and heartburn)
Take one 20mg tablet once a day at the same time. They can be taken at any time.
Swallow your tablets whole with a drink of water.
Do not chew or crush the tablets. The tablets contain coated pellets which stop the medicine from being broken down by the acid in your stomach. It is important not to damage the pellets.
If you cannot swallow tablets, the tablets can be stirred into a glass of still (not fizzy) water (no other liquid). They will break up but not dissolve - the cloudy mixture should be drunk within 30 minutes. Stir again before drinking, and rinse the glass with more water and drink again to ensure none is left in the glass. Do not chew any solid pieces of tablet.
Use daily for up to 4 weeks. If symptoms have not settled after 2 weeks, see a GP to discuss further investigation.
If symptoms have settled, but come back, continue to use 20mg once a day, as needed.
If you continue to need them regularly, more than 4 times a week for over a month, see a GP.
Who might be suitable for Nexium/esomeprazole?
Dr Fox supplies Nexium/esomeprazole to treat gastro-oesophageal reflux disease (GORD), with symptoms of acid reflux, acid indigestion, and heartburn in adults over 18.
Nexium/esomeprazole can also be used to:
Treat erosive reflux oesophagitis.
Prevent relapse in healed oesophagitis
Prevent or aid healing of gastric and duodenal ulcers due to taking NSAID (non steroidal anti-inflammatory) therapy.
Treat Zollinger Ellison Syndrome (caused by a growth in the pancreas).
Helicobacter pylori (H. pylori)
H. pylori is a bacterium found in some people's stomachs. It is known to be linked with gastritis, gastric and duodenal ulcers, and gastric cancer. Nexium/esomeprazole can be used in combination with certain antibiotics, to clear H. pylori from the stomach. If there are persistent acid related symptoms a GP may test and treat for H. pylori.
Who should not take Nexium/esomeprazole?
There are checks in the online consultation to confirm if Nexium/esomeprazole is suitable or may affect other medications taken.
If taking phenytoin (for fits) or warfarin type anticoagulants (blood thinners requiring regular blood tests) speak to the GP about extra monitoring before taking Nexium/esomeprazole.
If taking medication to treat HIV/AIDS or cancer chemotherapy, including high dose methotrexate, do not take Nexium/esomeprazole without discussing with your specialist. Nexium/esomeprazole may make your treatment less effective.
Nexium/esomeprazole may not be suitable for people with severe liver or kidney problems - consult with a GP.
During treatment with Nexium/esomeprazole, if new symptoms develop such as unintended weight loss, vomiting, swallowing difficulties, blood in vomit, or dark and tarry stools, or new stomach pains you must seek urgent medical attention.
Inform the doctor or nurse if undergoing investigations or blood tests that you are taking Nexium/esomeprazole. You may be asked to stop taking Nexium/esomeprazole as it may affect the blood test results or hide problems that should be seen on an endoscopy.
How soon is Nexium/esomeprazole effective?
It may take a few days to notice an effect from Nexium/esomeprazole. For best results follow the instructions carefully on how to take it - see above and read the patient leaflet supplied in packs.
See a GP if symptoms have not significantly settled after 2 weeks.
Potential side effects of Nexium/esomeprazole
All medications can cause side effects but not everyone gets them.
The most common side effects reported with Nexium/esomeprazole (up to 1 in 10 users) include:
Headache.
Constipation or diarrhoea.
Flatulence (wind).
Nausea/vomiting.
Stomach pains.
Small harmless stomach polyps (only seen on endoscopy and disappear on stopping the medication).
Are there any drugs which might interact with Nexium/esomeprazole?
There are a few medicines which interact with Nexium/esomeprazole, making one or other less or more effective. Checks for these are carried out in the online consultation.
Do not take Nexium/esomeprazole if taking:
Nelfinavir, rilpivirine, atazanavir, saquinavir and ritonavir, tipranivir, or similar - for HIV
Discuss with your GP/specialist before taking Nexium/esomeprazole if taking:
Clopidogrel - antiplatelet drug.
Ketoconazole, posaconazole, voriconazole and itraconazole - antifungals.
Dasatinib, gefitinib, neratinib, erlotinib - cancer chemotherapy.
Tacrolimus - for organ transplant only.
Methotrexate - cancer chemotherapy.
Citalopram, escitalopram, imipramine, clomipramine - for depression.
Digoxin - heart disease.
Diazepam - anxiety, muscle relaxant or epilepsy.
Cilostazol - poor blood supply to legs.
Rifampicin - tuberculosis.
St John's Wort - herbal remedy for low mood.
Clarithromycin - antibiotic.
Phenytoin - fits.
Warfarin - blood thinning.
Any special warnings/precautions for use?
The following have been reported with long-term (over a year) regular use of Nexium/esomeprazole:
Slight increase in the risk of fractures at the hip, wrist, and spine, hence patients are recommended to follow national guidelines for prevention and treatment of osteoporosis, and to have an adequate intake of calcium and vitamin D.
Reduced absorption of vitamin B12 if taking regularly for more than 2-3 years. Risk is further increased if also taking regular steroid medication.
Low magnesium levels. Symptoms include fatigue, dizziness, delirium, convulsions and cardiac arrhythmias. More likely if taken with other drugs (e.g. digoxin) which can also lower magnesium levels. Periodic checks of blood magnesium levels may be recommended if taking for longer than 3 months continuously.
A rare condition 'subacute cutaneous lupus erythematosus' (SCLE). Consult your GP promptly if you develop a skin rash on sunlight exposed areas.
A slightly higher risk of gastroenteritis such as Campylobacter and Salmonella.
Very rare effects:
Dizziness, visual disturbances, and muscular weakness - if affected do not drive or operate heavy machinery.
Reduction in white blood cells leading to susceptibility to infection. If fever develops with signs of severe infection contact a GP urgently.
For further information on potential side effects see the manufacturer's patient leaflet.
Is Nexium/esomeprazole safe in pregnancy and/or breastfeeding?
There is no information about safety in pregnancy or breastfeeding so Nexium/esomeprazole should not be used.
Allergy to Nexium/esomeprazole
Very rarely Nexium/esomeprazole and other PPIs can trigger an allergic reaction.
The allergy is often shared with other PPIs so do not take Nexium/esomeprazole if you have experienced a previous allergic reaction to a PPI.
If you have any symptoms or signs suggestive of an acute allergic reaction (anaphylaxis), you must get medical help immediately (telephone 999 if in the UK).
Symptoms/signs of an acute allergic reaction include:
Difficulty breathing, tight chest, wheezing.
Swelling of the face, lips, or tongue.
Skin rash – urticaria/hives.
Confusion/collapse/unconsciousness.
For more information see NHS - Anaphylaxis.
Patient Information Leaflet

The Patient Information Leaflet (PIL) is the leaflet included in the pack with a medicine and must be read before taking the medicine. It is written for patients and gives information about taking or using a medicine.
Nexium Control Patient Leaflet
Esomeprazole 20mg Patient Leaflet
Start order

Authored 11 March 2021 by Dr A. Wood
MB ChB Manchester University 1984. NHS GP in Bristol. GMC no. 2855422
Recent Esomeprazole reviews
I found that this product relieved my acid reflux very quickly. Symptoms were gone the evening after 1st tablet - taken in the morning.
06/11/2023 14:36
D. Hall Verified
08/11/2023 21:22
C. Masson Verified
Brilliant, allows me to enjoy a curry again!
06/10/2023 17:56
Anonymous Verified
Superb service very quick to deliver and packaged well
12/04/2023 18:49
M. Sutcliffe Verified
Great product, just like Nexium, very effective
24/10/2022 10:41
Anonymous Verified
Read more reviews
---
The order process
Choose medication, register, and pay
Dr Fox issues prescription online
Pharmacy team post medication direct