Levonelle
Levonelle (levonorgestrel 1.5mg) morning after pill - standby emergency contraception available to buy online from Dr Fox Pharmacy.
Prevents pregnancy up to 72 hours (3 days) after intercourse
Start order
Buy Levonelle online in UK
How to order Levonelle (levonorgestrel 1.5mg) online for UK delivery:
Read medical information about emergency contraception
Answer medical questions to check for eligibility
Reviewed by doctors - posted from UK pharmacy (tracked 24hr delivery)
Prices
All products in stock

| Morning after pill | Quantity | Cost |
| --- | --- | --- |
| Levonorgestrel 1.5mg | 1 tablet (single dose) | £3.00 |
| Levonorgestrel 1.5mg | 2 tablets (2 single doses) | £6.00 |
| Levonelle | 1 tablet (single dose) | £9.00 |
| Levonelle | 2 tablets (2 single dose treatments) | £16.00 |
Comparative costs of emergency contraception from UK online clinics (22 November 2019) - qualifying notes

The prices shown are listed by the online clinics named after a customer first enters consultation information and is offered prescriptions. It is possible these clinics may have special offers or lower prices for repeat supplies.
Prices may change and are, to the best of our knowledge, accurate on the date stated. All products in stock and new condition.
Dr Fox does NOT claim to provide a superior service to any of the online clinics listed. All the clinics listed, as far as we can tell, comply with all regulation and, as far as we can tell, operate to high ethical standards.
To amend the information in this table please contact us
Where services include free delivery this is using the slowest delivery option available. Dr Fox uses Royal Mail Tracked 24.

| Morning after pill | Dr Fox | Lloyds | Superdrug | Boots |
| --- | --- | --- | --- | --- |
| Levonorgestrel 1.5mg | £3.00 | £24.00 | £13.49 | £15.99 |
| UK Delivery | £2.90 | £3.45 | included | £3.50 |
Delivery charges
UK delivery only: £2.90 per consultation via Royal Mail 24 Signed For (1-3 working days with tracking).
Parcel forwarding services are not permitted. Use only UK home or work delivery address.
Returns and refunds - unwanted items can be returned within 14 working days for a full refund.
About Levonelle
Levonelle (levonorgestrel 1.5mg) is an established 'morning after pill' which can be taken to prevent pregnancy up to 72 hours (3 days) after unprotected intercourse. A newer and more expensive morning after pill, ellaOne is effective when taken up to 120 hours (5 days) after intercourse. Both types are available from Dr Fox Pharmacy. If emergency contraception is needed in the first half of the menstrual cycle, Levonelle is more effective than ellaOne.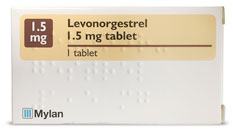 Generic Levonelle
A generic version of Levonelle is also available at a much reduced cost - £3. Select 'Levonorgestrel 1.5mg' when choosing treatment after completing your online assessment.
Generic medicines contain the same active ingredients as branded originals and are equally effective.
Requesting Levonelle
Women who would like to obtain a supply of Levonelle from Dr Fox Pharmacy, to keep as a standby for use at short notice, MUST first read important medical information and then complete short yes/no online questionnaire. At the end of the questionnaire women can request one or two Levonelle tablets, enter a delivery address and make a payment.
Doctors review each request and issue prescriptions for the Levonelle tablet(s). Medication is posted from a UK registered pharmacy. The shelf life (expiry date) is usually 2 years.
If intercourse has already taken place and a morning after pill is needed a pharmacist or doctor should be consulted straightaway.
An online delivery service should NOT be used when immediate treatment is required. There will be a delay of a day or more before tablets are delivered.
How effective is Levonelle?
Levonelle is licensed to be taken up to 72 hours (3 days) after intercourse. Studies show the rate of pregnancy after Levonelle is taken to be close to 2 in 100. EllaOne may be slightly more effective, with pregnancy rates of close to 1.5 in 100.
Recent studies suggest Levonelle is less reliable in women who are overweight. Women with a BMI (Body Mass Indicator) result of 30 or above should order ellaOne instead.
Levonelle is most effective if taken early, preferably in the first 12 to 24 hours. It is largely ineffective if taken more than 72 hours (3 days) after intercourse.
Taking Levonelle
Levonelle is a single dose tablet which should be taken as soon as possible after unprotected intercourse, no later than 72 hours (3 days) after.
If vomiting occurs within 3 hours a repeat dose should be taken.
As time of ovulation is unpredictable, even in women with regular cycles, emergency contraception should be taken regardless of the day of the cycle when a woman has unprotected sexual intercourse. Levonelle should not be used more than once in the same cycle without advice from a doctor or family planning clinic.
Levonelle should not be taken with or in the same cycle as ellaOne.
Side effects of Levonelle
Levonelle has the potential to cause side effects, although these are usually not severe and do not occur in most cases. The commonest side effects are dizziness, nausea, lower abdominal pain, bleeding not related to periods and fatigue.
A list of the side effects of Levonelle can be found in the manufacturer's Patient Information Leaflet supplied with medication.
Warnings
Levonelle can cause intermenstrual bleeding (spotting or bleeding between periods). Periods can arrive late or early and the next period may be shorter or longer than expected.
Period delay after taking Levonelle of more than 5 days requires investigation to exclude pregnancy. Unexplained bleeding or abdominal pain after taking a 'morning after pill' could be caused by an ectopic pregnancy (pregnancy outside the uterus/womb) and a doctor should be consulted as soon as possible. Ectopic pregnancy is not increased after Levonelle or ellaOne, however an ectopic pregnancy is potentially serious and requires urgent medical attention.
Some medications may reduce the effectiveness of Levonelle. These include primidone, phenytoin, carbamazepine, herbal medicines containing Hypericum perforatum (St. John's Wort), rifampicin, ritonavir, rifabutin, griseofulvin. Cyclosporin also interacts with Levonelle.
The active ingredient, levonorgestrel 1.5mg, is excreted in breast milk. Potential exposure of an infant can be reduced by taking Levonelle immediately after feeding.
Contraception and Levonelle
Levonelle is a 'morning after pill' for emergency use AFTER unprotected intercourse. It should be used only when other contraception has not been used or has failed, not to replace routine regular contraception, which is more reliable and effective.
Women taking a contraceptive pill, who need to take Levonelle after missing one or more pills in a cycle, should NOT stop taking their contraceptive pill after taking Levonelle.
Pregnancy and Levonelle
Studies have shown no evidence that Levonelle will cause harm to the foetus if it is taken by a woman who is already pregnant. It is recommended women who know or suspect they are pregnant should not take Levonelle. If Levonelle is taken inadvertently during pregnancy, a doctor should be consulted.
Patient Information Leaflet

The Patient Information Leaflet (PIL) is the leaflet included in the pack with a medicine and must be read before taking the medicine. It is written for patients and gives information about taking or using a medicine.

Authored 28 November 2012 by Dr Tony Steele
Last updated 15 October 2021
17/07/2021 08:42
Anonymous Verified
10/07/2021 17:16
Anonymous Verified
Delivered in good time and product as described on site.
25/05/2021 13:24
Anonymous Verified
Very happy that I can come here and buy this for a reasonable price and quick delivery. Not problems with it at all
07/04/2021 12:02
Anonymous Verified
Excellent service - great price. Best place!
08/02/2021 08:07
Anonymous Verified
Read more reviews
---
The order process
Choose medication, register, and pay
Doctor issues prescription online
Pharmacy team post medication direct