Regaine Extra Strength
Stop and reverse hair loss in men with Regaine Extra Strength (Minoxidil 5%) scalp application. Available to buy online from Dr Fox.
Restores hair growth
Foam or solution applied to scalp
In clinical trials, 3 out of 5 men regrew hair
Start order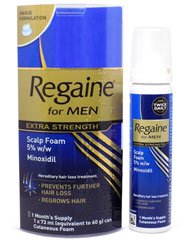 About us | Approved to sell medicine online


Regaine cannot be posted outside mainland UK. Both solution and foam are restricted postal items. Please do not order if you are outside mainland UK. UK mainland deliveries are sent using APC couriers.
Prices
| Regaine Extra Strength | Cost | Quantity |
| --- | --- | --- |
| Regaine Foam Extra strength 5% Minoxidil | 73mls (one months) | £29.50 |
| Regaine Foam Extra strength 5% Minoxidil | 73mls x 3 (three months) | £66.00 |
| Regaine Foam Extra strength 5% Minoxidil | 73mls x 6 (six months) | £122.00 |
| Regaine Extra strength solution for men 5% Minoxidil | 60mls (one months) | £29.00 |
| Regaine Extra strength solution for men 5% Minoxidil | 60mls x 3 (three months) | £64.00 |
| Regaine Extra strength solution for men 5% Minoxidil | 60mls x 6 (six months) | £118.00 |

Price match guarantee
Prescription issued online - small prescription fee per order.
Prescription fees
Dr Fox supplies medicine on prescription and charges a small prescription fee based on the order value of each prescription.
Prescriptions are issued by our doctors online and sent electronically to our pharmacy.
If you have your own private paper prescription please post to our pharmacy (details).
Dr Fox prices are 25%–50% lower than other UK online clinics.
| Order value | Prescription fee |
| --- | --- |
| up to £10 | £1.00 |
| up to £20 | £2.00 |
| up to £40 | £3.00 |
| over £40 | £4.00 |
Delivery charges
UK delivery only: £2.90 per consultation via Royal Mail 24 Signed For (1-3 working days with tracking).
Parcel forwarding services are not permitted. Use only UK home or work delivery address.
Returns and refunds - unwanted items can be returned within 14 working days for a full refund.
---
About Regaine Extra Strength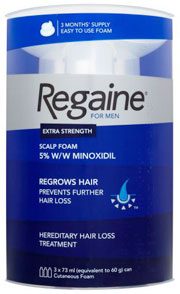 Regaine is a topical treatment applied to the scalp twice daily.
Regaine Extra Strength (5% minoxidil) is available as a foam or scalp solution and is for for men only.
Men can use both Propecia / finasteride 1mg tablets and Regaine topical at the same time.
How effective is Regaine?
Regaine topical works for 4 out of 5 men in preventing hair loss and has been shown to regrow hair in 3 out of 5 men. Results may become noticeable in just eight weeks. When Regaine is first started there may be a temporary increase in hair loss for the first 2-6 weeks. This is entirely normal and is good news – it shows hair is shifting from a dormant phase into an active growing phase.
How Regaine works
Regaine topical brings about hair regrowth by stimulating circulation to the scalp. Regaine needs to be applied regularly for at least three month for it to be effective. Regaine is safe for long term use. If Regaine is stopped hair growth which took place during treatment will be lost.
With Regaine, hair becomes fuller and thicker, with 2 out of 3 users showing regrowth of hair at 8 months. In user surveys 80% reported a slowing or stopping of hair loss.
Read more information on the Pharmacological Properties of Regaine and Minoxidil, Regaine's active ingredient.
Side effects and cautions
You may notice a temporary increase in hair loss in the first 2-6 weeks. This is entirely normal.
Regaine occasionally causes skin irritation that usually resolves when the treatment is stopped.
Very little of the active ingredient, minoxidil, is absorbed into the circulation and therefore general side effects are not expected. You should stop using Regaine and see a doctor if hypotension (low blood pressure) is detected or if you experience chest pain, rapid heartbeat, faintness or dizziness, sudden unexplained weight gain, swollen hands or feet or persistent redness.
People with known heart disease should contact their regular doctor before using Regaine Extra Strength for men.
Very occasionally Regaine may cause unwanted hair growth in areas where it is applied regularly by accident. Follow instructions about use.
Video: How Minoxidil helps reverse hair loss
Video from Johnson & Johnson Limited.
Alternative/complementary treatment
Propecia (finasteride 1mg) tablets are the only other proven effective hair loss treatment. Propecia is a daily tablet usually taken long term. Men can use Regaine and Propecia at the same time.
Patient Information Leaflet

The Patient Information Leaflet (PIL) is the leaflet included in the pack with a medicine and must be read before taking the medicine. It is written for patients and gives information about taking or using a medicine.
Regaine Extra Strength Solution Patient Leaflet
Regaine Extra Strength Foam Patient Leaflet

Authored 30 June 2016 by Dr Tony Steele
Former hospital doctor, GP, and medical director of UNHCR refugee camp.
Regaine Extra Strength Foam for Men
Started seeing significant improvement to my hair in just 6 weeks when used alongside Finasteride! I have recommended this to my friends and will certainly continue using it as it's now been almost 6 months and I have hardly any baldness remaining.
31/10/2019 00:41
Anonymous Verified
Regaine Extra Strength Foam for Men
Helps to improve hair loss
01/08/2019 12:10
Anonymous Verified
Regaine Extra Strength Foam for Men
Prefer the liquid to the foam but both work great
02/05/2019 22:49
Anonymous Verified
Regaine Extra strength solution for men Minoxidil
It really has worked for me particularly at the front
02/05/2019 22:48
Anonymous Verified
Regaine Extra Strength Foam for Men
17/11/2018 12:52
Anonymous Verified
Read more reviews
---
The order process
Answer short medical questionnaire
Choose treatment, register, and pay
Doctor issues prescription online
Medicine posted direct from pharmacy
---