Buscopan
Buscopan (hyoscine butylbromide 10mg) relieves abdominal pain, cramps, wind and diarrhoea in IBS - available to buy online from Dr Fox.
Start order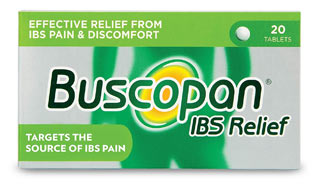 Buy Buscopan online in UK
How to order Buscopan online for UK delivery:
Read medical information about irritable bowel syndrome
Answer medical questions to check for eligibility
Reviewed by doctors - posted from UK pharmacy (tracked 24hr service)
Prices
| Medication | Quantity | Cost |
| --- | --- | --- |
| Buscopan (hyoscine butylbromide) 10mg | 20 sugar coated tablets | £3.95 |
| Buscopan (hyoscine butylbromide) 10mg | 40 sugar coated tablets | £7.75 |
| Buscopan (hyoscine butylbromide) 10mg | 100 sugar coated tablets | £11.95 |
| Buscopan (hyoscine butylbromide) 10mg | 200 sugar coated tablets | £17.50 |
Prescription fees
Dr Fox supplies medicine on prescription and charges a small prescription fee based on the order value of each prescription.
Prescriptions are issued by our doctors online and sent electronically to our pharmacy.
| Order value | Prescription fee |
| --- | --- |
| up to £10 | £1.00 |
| up to £20 | £2.00 |
| up to £40 | £3.00 |
| over £40 | £4.00 |
If you have your own private paper prescription please post to our pharmacy (details).
Dr Fox prices are 25%–50% lower than other UK online clinics.
Delivery charges
UK delivery only: £2.90 per consultation via Royal Mail Tracked 24 Signed For (1-2 working days with tracking).
Parcel forwarding services are not permitted. Use only UK home or work delivery address.
Returns and refunds - unwanted items can be returned within 14 working days for a full refund.
Start order
---
About Buscopan
Buscopan antispasmodic is used to relieve cramps in the muscles of your gut and relieves the symptoms of IBS.
Buscopan is a sugar coated tablet containing 10mg of hyoscine butylbromide.
Starting dose is 1 x 10mg tablet 3 times a day - this can be increased up to 2 tablets 4 times a day.
Read the patient leaflet for a full list of side effects, cautions, and interactions with other drugs.
How does Buscopan work?
Buscopan is an antimuscarinic, anticholinergic medication which has an antispasmodic effect. It relaxes muscle in the bowel wall, and is effective at treating colicky abdominal pain and cramps, excessive wind (flatulence), and can also help with loose stools/diarrhoea.
Is Buscopan suitable for anyone?
Buscopan should not be used if you have:
Myasthenia gravis (rare problem of muscle weakness).
Narrowing, stoppage, or blockage of the gut.
Glaucoma.
Allergy or previous bad reaction to hyoscine or other antispasmodics.
Buscopan is licensed to treat adults and children from 6 years of age, however Dr Fox can supply treatment to adults only.
Pregnancy and breastfeeding
Do not use Buscopan if you are pregnant, likely to become pregnant, or are breastfeeding.
In general, all medication should be avoided whilst trying for pregnancy, and when pregnant or breastfeeding.
Checks before using Buscopan for IBS symptoms
It is important to be sure that your symptoms are caused by IBS and not something more serious.
Check with your GP before using Buscopan if any of the following apply:
Over 40 years old with first time IBS symptoms, changed symptoms including a new change in bowel habit lasting over 2 weeks.
New symptoms especially bloating in women.
New symptoms of blood in your stool or motions.
Feeling nauseous or vomiting or loss of appetite.
Losing weight without dieting.
Pale and tired.
Running a high temperature (fever).
Travelled abroad recently.
Cautions about using Buscopan
Discuss with your regular doctor before taking Buscopan if:
You suffer from any serious gastrointestinal, kidney disease, palpitations, or heart disease.
You have thyroid problems.
You suffer from epilepsy.
You have a history of bladder or bowel obstruction (including prostate and unstable bladder problems).
You are constipated.
Have had treatment for severe sweating (hyperhidrosis).
You are over 60 years of age.
Buscopan and other medication
Do not take Buscopan at the same time as other antispasmodics. Buscopan should not be taken alongside other antimuscarinic, anticholinergic medication such as:
Tricyclic or tetracyclic antidepressants (older type antidepressants).
Antihistamines.
Antipsychotics (for severe mental illness) medication, e.g. haloperidol, fluphenazine.
Some medications/inhalers for asthma and COPD (chronic obstructive pulmonary disease), e.g. salbutamol (Ventolin), tiotropium, ipratropium, trospium.
Amantadine (Parkinson's disease, flu).
Metoclopramide and domperidone (for nausea and vomiting).
Disopyramide (to control the heart rhythm).
If unsure, check with your doctor before taking Buscopan.
Side effects of Buscopan
It is uncommon to develop side effects from Buscopan and they are mostly related to its anticholinergic effects.
Further information on possible side effects can be found in the manufacturer's patient information leaflet.
How to take Buscopan
Start with one 10mg tablet 3 times a day. If this isn't enough to control your symptoms then gradually increase, with a few days between each dose change, up to a maximum of 2 tablets 4 times a day.
Other measures to help symptoms of IBS
Diarrhoea and bloating - reduce insoluble fibre like bran, wholegrain bread, and brown rice. Reduce caffeine, alcohol, fizzy drinks, and gas-producing foods like beans and cabbage.
Constipation - try adding more soluble fibre like oats and linseed, or soluble fibre supplements like Fybogel (ispaghula). Increase the soluble fibre gradually or bloating and wind may get worse. It may take several weeks for optimal benefits.
Make sure that you drink plenty of fluids.
Regular physical activity is also helpful for the bowels. Aim for 30 minutes of moderate activity at least 5 days per week.
For further information see NHS - IBS - Diet, lifestyle and medicines and also NHS - Buscopan (hyoscine butylbromide).
Patient Information Leaflet

The Patient Information Leaflet (PIL) is the leaflet included in the pack with a medicine and must be read before taking the medicine. It is written for patients and gives information about taking or using a medicine.

Authored 28 January 2022 by Dr Amanda Wood
MB ChB Manchester University 1984. NHS GP in Bristol. GMC no. 2855422
A brilliant product. It eases my IBS symptoms within the hour. Highly recommended to anyone who suffers from this condition.
11/07/2023 22:30
Anonymous Verified
I have small bowel Crohn's so suffer with tummy ache quite a lot, within 15 minutes of taking Buscopan the discomfort has eased.
19/05/2023 06:50
H. Timms Verified
Does what it says. Definitely helps me, I take them before I eat and can eat now with confidence.
03/05/2023 19:52
L. Scott Verified
Nothing better for my IBS
27/04/2023 13:39
C. Hutson Verified
Buscopan Arrived safely and ontime. So much cheaper than buying on the high street (problems with supply everywhere other than Dr Fox). Excellent service will definitely use again. Thank you
23/02/2023 14:47
Anonymous Verified
Read more reviews
---
The order process
Choose medication, register, and pay
Dr Fox issues prescription online
Pharmacy team post medication direct