Cialis
Cialis (tadalafil) tablets to treat erectile dysfunction available to buy online in daily dose 2.5mg or 5mg strengths, and as required 10mg or 20mg strengths.
Start order
Buy Cialis online in UK
How to order Cialis online for UK delivery:
Read medical information about erectile dysfunction
Answer medical questions to check for eligibility
Reviewed by doctors - posted from UK pharmacy (tracked 24hr service)
Men should have an erectile dysfunction diagnosis from a GP before obtaining medication online.
Low cost generic Cialis
Cialis lost its exclusive patent in the UK in November 2017 and is now available legally in the UK under the name tadalafil. 'Cialis' is a brand name, 'tadalafil' is the medical name.
Generic tadalafil is available at much lower cost, from 50p per tablet.
Prices
Start order
---
About Cialis
Cialis is a prescription-only oral tablet used to treat erectile dysfunction (ED) in men.
'Cialis' is a brand name, the active ingredient is 'tadalafil'.
Take a 10mg or 20mg tablet at least 30 minutes before sexual activity, lasts for up to 36 hours.
Low dose daily Cialis (2.5mg and 5mg) recommended for men regularly requiring treatment more than twice per week.
Read the patient leaflet for a full list of side effects, cautions, and interactions with other drugs.
Patent expired 2017 in the UK - cheaper generic tadalafil available.
The weekend pill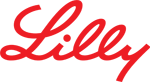 Cialis from Lilly pharmaceutical company is sometimes known as The Weekend Pill due to its 36-hour duration of action.
It has been licensed in the UK since 2003. It was the second erectile dysfunction (ED) prescription medication of its type to receive a UK license, after Viagra (sildenafil). Its prolonged effectiveness and the option to take a low dose daily tablet have led to Cialis becoming increasingly popular and being more widely prescribed.
Generic Cialis
The patent for Cialis expired in the UK on 14 November 2017, allowing other drug manufacturers to legally make and sell generic versions (marketed as tadalafil). Generic medicines are medically identical to branded originals and are usually much lower cost.
Daily versus Cialis '36 hours'
Most men take Cialis as and when they need it, usually 10mg or 20mg, which is effective for up to 36 hours.
Men who need erectile dysfunction treatment two or more times a week should consider taking a regular low dose tablet daily. 2.5mg or 5mg strength tablets taken every day will provide continuous erectile dysfunction treatment, without peaks and troughs.
What does it do?
Cialis contains tadalafil which is known medically as a PDE5 inhibitor. Tadalafil inhibits the PDE5 enzyme which is involved in regulating blood flow in the penis during erections. Sexual stimulation is required before the medication will work - without stimulation it will have no effect. Cialis augments and supports sexual performance and relationships.
Tadalafil can also be used to treat benign prostatic hyperplasia (enlarged prostate) symptoms.
Why do men get erectile dysfunction?
A range of factors contribute to erectile dysfunction, including lifestyle choices, mental state, chronic disease, injuries, and operations. Emotional problems, such as stress and performance anxiety, can have an impact on both erectile performance and sexual desire. Occasional treatment with a PDE5 inhibitor such as Cialis can be effective in breaking a cycle of anxiety and failure. Lifestyle factors, such as smoking, non-prescription drug use, excessive drinking, and even obesity can have an effect. Erectile dysfunction is sometimes a symptom of underlying health problems such as diabetes, atherosclerosis, and heart disease, amongst others.
Men suffering from erectile dysfunction should inform their GP who will undertake an assessment, possibly perform tests, and provide advice.
Why Cialis?
Cialis benefits from having a long duration of action. Viagra remains active for about 4 hours, Levitra for 4-5 hours, and Cialis for 36 hours – hence its familiar name 'The Weekend Pill'. Erections will not be continuous during 36 hours after taking Cialis, occurring only at times of arousal during those 36 hours.
For further details see How long does tadalafil last?
Alternative treatment
Viagra (sildenafil), Levitra (vardenafil), and Spedra (avanafil) are alternative tablet treatments for erectile dysfunction and are also available to buy in various strengths and pack sizes after completing the same medical consultation.

Compare erectile dysfunction tablets
Taking Cialis for the first time
There are four strengths: 2.5mg, 5mg, 10mg, and 20mg. The lower doses of 2.5mg and 5mg are primarily for regular daily use, although the 5mg strength can be taken on an as required basis by men who respond well to one-off lower doses.
The usual starting dose is 10mg taken at least 30 minutes before sexual activity. If this dose is highly effective, subsequent doses could be reduced to 5mg on a trial basis. If repeated trials of a 10mg dose prove ineffective, the dose can be increased to 20mg.
There is no benefit in taking a higher dose than is needed. Repeated trials of treatment at one dose are recommended before changing to higher or lower strength tablets.
For further information read NHS - How and when to take tadalafil
Dosage
---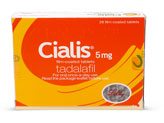 Daily Cialis
2.5mg or 5mg daily tablet for continuous erectile dysfunction treatment.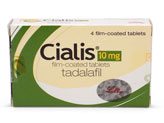 Cialis 10mg
Recommended starting dose for most men taking it for the first time.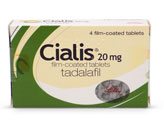 Cialis 20mg
High strength dose as required for when 10mg is insufficient.
Does it work every time?
Response to treatment is usually predictable and consistent. On most occasions, if Cialis has worked before, it will work again.
Some causes of erectile dysfunction, such as physical injuries or nerve damage, are more resistant to tablet treatments and may require other therapies, such as injections or penile implants.
Erectile dysfunction may require specialist treatment apart from tablets. Some men, whose erectile dysfunction has psychological causes, may benefit from counselling.
All men who are troubled by erectile dysfunction, which can be a distressing problem, should consult a doctor for a full assessment and advice.
Side effects of Cialis
Most men do not experience significant side effects. A full list of the most frequent side effects can be found in the manufacturer's patient information leaflet supplied with tablets (links below).
Some men experience a bluish or yellowish tinge to their vision after taking Cialis. This is not dangerous and fades after a few hours. This is a possible side effect of all ED drugs (PDE5 inhibitors).
Other common side effects (affecting 1%-10%) include headache, back pain, muscle aches, pain in the arms or legs, nasal congestion, facial flushing, and indigestion.
On very rare occasions ED treatment produces prolonged and painful erections, in a condition known as priapism. Priapism is a medical emergency with the potential on rare occasions for irreversible injury to the penis. If an erection lasts for more than 2 hours, medical attention should be sought immediately.
When not to take Cialis
During an assessment on the Dr Fox website, men are required to complete an erectile dysfunction questionnaire. This determines if treatment is suitable. Men should not take Cialis without further assessment from their GP if any of the following apply:
They are taking other erectile dysfunction drugs such as Viagra/sildenafil, Levitra/vardenafil, or Spedra/avanafil
They are currently taking nitrates for angina, including isosorbide mononitrate, isosorbide dinitrate, nicorandil, and glyceryl trinitrate - serious reactions possible
They are taking medications to treat HIV, including Indinavir and Ritonavir
They are using anti-fungal treatments like itraconazole or ketoconazole.
They are using recreational drugs such as amyl nitrate ('poppers').
They are taking alpha-blockers often used in the treatment of prostate enlargement and high blood pressure such as doxazosin, prazosin, alfuzosin, terazosin, indoramin, and tamsulosin.
They are taking antibiotics such as erythromycin, clarithromycin, or rifampicin.
They are on anticonvulsants such as phenobarbital, phenytoin, or carbamazepine.
Dr Fox cannot supply treatment to men where the above are present.
Cialis should not be taken at the same time or within 24 hours of taking Viagra/sildenafil, Levitra/vardenafil, or Spedra/avanafil.
Patient Information Leaflet

The Patient Information Leaflet (PIL) is the leaflet included in the pack with a medicine and must be read before taking the medicine. It is written for patients and gives information about taking or using a medicine.
Cialis 2.5mg Patient Leaflet
Cialis 5mg Patient Leaflet
Cialis 10mg Patient Leaflet
Cialis 20mg Patient Leaflet
Start order
Cialis FAQs
Why should I see a doctor face-to-face before starting ED treatment?
ED can be a sign of an underlying medical condition such as diabetes, raised blood pressure, or high cholesterol. An examination is required and tests may be needed. These cannot be carried out online. It is fine to obtain repeat supplies of Cialis online, but only after an initial diagnosis and assessment.
Is Cialis suitable for all men?
Cialis, along with the other commonly used ED tablets are usually effective and well tolerated medication. Most men are able to take them and they usually work well. However, men taking some prescription medicines, most notably drugs called nitrates used to treat heart disease, but also some other prescription medicines, should not take Cialis. Men who have some medical conditions, particularly those affecting exercise tolerance should also not take Cialis. Always consult your regular doctor before starting erectile dysfunction medication. Online doctors carry out checks through online questionnaires, but this does not replace initial face-to-face assessments and regular medical check-ups are necessary.
What is the difference between Cialis and Viagra?
They are similar in that they treat ED in the same way by altering blood flow in the penis and are both classed medically as PDE5 inhibitors. They differ in their duration of action. Viagra remains active for about 4 hours after taking a tablet and Cialis for about 36 hours.
Why is Cialis sometimes called the 'weekend pill'?
A 10mg or 20mg tablet taken on Friday evening will usually remain active through a whole weekend until Sunday morning, hence the name.
Why do some men take Cialis every day?
Most men take it occasionally, up to a maximum of 2 or 3 tablets per week. They take a tablet if they expect to be sexually active in the following 36 hours. Men who regularly require Cialis more than twice a week sometimes prefer to take a lower dose 2.5mg or 5mg tablet each day, at the same time of day. These low dose tablets are specifically for daily use and provide a continuous level of treatment.
Is Cialis stronger than Viagra and Levitra?
No, the duration of action is longer, 36 hours for Cialis compared with 4-5 hours for Levitra and 4 hours for Viagra, however most men find that during this active period the treatments are equally effective when equivalent strength tablets are used. The lower strength of each is Cialis 10mg, Levitra 5mg, and Viagra 25mg and the upper doses 20mg, 20mg, and 100mg respectively. Some men find one type of tablet works better for them than another, but this is not usually the case.
Is there a lower cost generic version of Cialis?
Yes. Cialis was under patent by the drug company which developed it, Eli Lilly until 14 November 2017. Dr Fox pharmacy can now offer UK licensed generic tadalafil at significantly lower cost.
Who can legally supply Cialis in the UK?
Only registered pharmacies are allowed to supply Cialis. It is a prescription only medicine. In most cases doctors write the prescriptions and pharmacies dispense the tablets. Some specialist pharmacists can also prescribe or supply it using a 'patient group direction'. In all cases only registered pharmacies can supply it. In 2023 Cialis Together (10mg tadalafil) was licensed as a 'P' medicine and is available over the counter in pharmacies without a prescription.
Why do the prices of Cialis vary?
The amount pharmacies pay is the wholesale price set by the drug company Eli Lilly. The amount pharmacies charge patients will depend on their business models. Some supply it with a small profit margin and others with bigger profit margins. It is usually worth shopping around for the lowest cost supplier, but always use a registered pharmacy to avoid fake medicines.
Can I get Cialis on the NHS?
Generic Cialis (tadalafil) is available on the NHS but there are limits on the amount which can be prescribed, usually 1 dose per week - NHS prescription fees apply. Original branded Cialis is not available on the NHS, except in special circumstances.
For further details see NHS - Tadalafil.
Can I get Cialis on a private prescription from my doctor?
Some doctors, particularly private doctors, but also some GPs, will write private prescriptions for Cialis. NHS doctors do not usually charge to write private prescriptions, private doctors will often charge a fee. A private prescription can be taken to or posted to a pharmacy for dispensing. The cost of the medicine is in addition to the prescription fee. When medicines are supplied online an electronic private prescription from a doctor is usually involved and costs are usually quite a lot lower.
Can Cialis tablets be divided and taken in parts?
Generally no but in practice many men do! The manufacturer's advice is that Cialis tablets are not suitable to be split, and patients should use the minimum effective dose as a whole tablet. Cialis tablets are film-coated, however this is not an extended or delayed release coating (to achieve delayed absorption), so tablets should actually be safe to split, in order to take a lower dose. It is also suggested that tablet 'halves' may not contain equal doses but in reality any discrepancy will be minimal. Cialis tablets are not 'scored' with an indented line in the middle of the tablet, so making an even break is difficult and also the 'halves' may crumble. If you choose to split tablets, purchasing a pill-splitter can help the process.
Why should Cialis not be taken with recreational or illegal drugs?
People who take illegal drugs are likely to engage in risky sexual practices and this likelihood is increased when ED treatments are taken at the same time. There is also an increase in side effects, such as changes in vision and changes in blood pressure. Cialis combined with cocaine and other recreational drugs may lead to the rare but dangerous condition of priapism in which a prolonged erection of more than an hour or two can cause permanent damage to the erectile tissues. See Beware club drugs and Viagra.
Is ED counselling better than tablets?
This depends - ED increases with age, affecting up to 40% of men by the age of 50. In many men there is no significant psychological cause and counselling is likely to be ineffective. In other men stress, relationship difficulties, and psychosexual factors play a role and counselling may be preferable. Sometimes a combination of medication and counselling works best.
See also erectile dysfunction FAQs page.

Authored 07 December 2012 by Dr Tony Steele
MB ChB Sheffield University 1983. Former hospital doctor and GP. GMC no. 2825328
References
Eli Lilly, 2021, Cialis 10mg: Summary of Product Characteristics, accessed 18 August 2021
BNF/NICE, 2017, TADALAFIL, accessed 18 August 2021
Coward, Carson, 2008, Therapeutics and Clinical Risk Management: Tadalafil in the treatment of erectile dysfunction, accessed 18 August 2021
10/11/2023 07:35
Anonymous Verified
Excellent product, lasts over 3 day with 1 dose
08/10/2023 11:32
Anonymous Verified
I find them very good better than anything else I've tried before
07/10/2023 20:01
Anonymous Verified
Just perfect for men over 55 a nice balance
23/09/2023 09:33
D. Parish Verified
19/09/2023 11:16
Anonymous Verified
Read more reviews
---
The order process
Choose medication, register, and pay
Dr Fox issues prescription online
Pharmacy team post medication direct