Provera
Provera 10mg tablets to delay your period by up to 17 days for special occasions. Available to buy online from Dr Fox.
Start order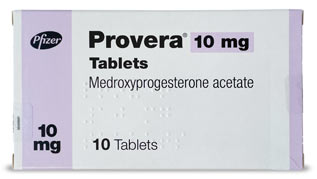 Buy Provera online in UK
How to order Provera online for UK delivery:
Read medical information about period delay
Answer medical questions to check for eligibility
Reviewed by doctors - posted from UK pharmacy (tracked 24hr service)
Prices
Start order
---
About Provera
What is Provera?
Provera (medroxyprogesterone) is a synthetic progestogen. It is a brand name of the Pfizer pharmaceutical company. Progestogens are naturally occurring female sex hormones. Provera is available in many strengths and also as injections. It has many medical uses. It is in many contraceptives, in some HRT, and is used in the treatment of endometriosis, heavy periods, lack of periods, and is even used for some female cancers. It is now also recommended for period delay. As this is a recent medical use it is not covered by the manufacturer's licence and is called 'off-label' prescribing. Doctors take responsibility for the prescribing.
Because medicine boxes come in sizes of 10 or 90 tablets these may be split up and supplied in blank boxes of 30 or 60 tablets. This is common practice in pharmacies and nothing to be concerned about. Pfizer also limit the supply of Provera - to maintain service Dr Fox may supply EU authorised imports.
Provera (medroxyprogesterone) and contraceptives
Women currently using any hormonal contraceptive including pills, patches, vaginal rings, implants, injections, or a hormonal coil should discuss period delay with their usual contraceptive provider. Sometimes those contraceptives themselves can be used to delay a period. Provera may be used as well in occasional circumstances, but Dr Fox does not prescribe alongside other hormones.
Provera does not work as a contraceptive when taken to delay periods and other contraception will be required.
How Provera works
In a natural female cycle the menstrual period (monthly shedding of the pregnancy-ready womb lining) is triggered by a drop in female hormone levels. Provera keeps the hormone levels high and delays the period until after the Provera tablets have been stopped and hormone levels drop.
How to take Provera
Provera 10mg tablets should be taken three times a day to delay a period. Begin taking the tablets at least 3 days before the expected start of a period and continue for as long as needed. A period bleed will normally start 2-3 days after stopping the tablets.
For how long should I take Provera?
Dr Fox can supply a maximum of 60 tablets to delay a period for up to 17 days. Take Provera tablets until you are ready to have a period. If you need to delay a period for more than 17 days, or more frequently than 2-3 times per year, you should consult your GP.
Provera for period delay is only designed to be taken occasionally and should not be requested more than once every 3 months.
Possible side effects of Provera
All medications can cause some side effects, but you are more likely to suffer them if you are taking Provera at much higher doses then used for period delay or are taking it long-term.
The most common side effects are:
Headache.
Feeling sick.
Unexpected or unusual vaginal bleeding or spotting with prolonged use.
In rare cases Provera can cause a severe allergic reaction. Early symptoms of this include difficulty breathing, wheezing, feeling faint, swelling of the tongue or face, intense and itchy skin rash, and swelling of the hands and feet. If affected then get medical help immediately - telephone 999 in the UK.
Risk of blood clots and Provera
All women have a small risk of developing blood clots.
This risk is increased by any increase in female hormone levels especially oestrogen, for example during pregnancy, or when taking combined contraceptive pills.
Provera is actually a progestogen which is a different class of female hormone to oestrogen. Progestogens have a lower impact on blood clotting risk. Norethisterone is another progestogen which has been used by women for many years to delay periods for holidays, weddings etc. However, it has been found that norethisterone is changed in the body, into an oestrogen and so it increases the risk of blood clots.
For this reason, using Provera to delay periods is often preferred.
Other increased risk factors for blood clots include:
Being very overweight.
Relatives who have had blood clots.
Unable to move for long periods of time (for example after an operation, serious injury or after major surgery).
History of repeated miscarriage.
Having already had a blood clot in the veins or lungs.
Traveling by air for over 6 hours.
High altitude trekking.
You can read more about potential side effects and blood clot risks in the manufacturer's patient information leaflet.
Taking other medications
Consult your doctor before taking Provera if you regularly take medication for any of the following, as the blood levels and action of either medication may be affected:
Medicines to treat epilepsy (e.g. phenytoin, carbamazepine).
Antiviral medicines to treat HIV (e.g. ritonavir, nelfinavir, nevirapine, efavirenz).
Blood thinning medication (e.g. warfarin).
Herbal preparations containing St John's Wort (Hypericum perforatum).
Antibiotics for tuberculosis (e.g. rifampicin, rifabutin).
Other cautions to consider
Do not take Provera if allergic to medroxyprogesterone, lactose, or sucrose.
Provera should not be taken in pregnancy or when breastfeeding.
Do not take Provera if there is a history of breast cancer, liver disease, or porphyria.
There are a few other conditions where it may be advised against using Provera for period delay. Checks are carried out in the online assessment. Please consult your GP if you are unsure.
Patient Information Leaflet

The Patient Information Leaflet (PIL) is the leaflet included in the pack with a medicine and must be read before taking the medicine. It is written for patients and gives information about taking or using a medicine.

Authored 04 August 2021 by Dr A. Wood
MB ChB Manchester University 1984. NHS GP in Bristol. GMC no. 2855422
References
Pfizer, 2020, Provera 10 mg Tablets: Summary of Product Characteristics, accessed 04 April 2023
BNF/NICE, 2017, MEDROXYPROGESTERONE ACETATE, accessed 04 April 2023
Mansour D., BMJ Sexual & Reproductive Health, 2016, Postponing menstruation: choices and concerns, accessed 04 April 2023
Recent Provera 10mg reviews
Very good & really helped
08/06/2023 21:24
P. Goodden Verified
Taken to delay my period for holiday and it worked perfectly, I felt less bloated and moody than when I have used a different tablet so will ask for this one if I ever need it again.
19/05/2023 12:56
Anonymous Verified
Bit apprehensive as to if would work. But 5 stars because they did the job.
17/03/2023 21:39
Anonymous Verified
Works great if going away!
09/03/2023 01:08
Anonymous Verified
Very quick delivery. Provera was easy to use and worked as wanted.
16/04/2022 08:11
Anonymous Verified
Read more reviews
---
The order process
Choose medication, register, and pay
Dr Fox issues prescription online
Pharmacy team post medication direct