Pharmacy online doctor service
Add online consultations to your pharmacy website
Dr Fox provides a simple mechanism for community pharmacies to add an online doctor service to their existing pharmacy website.
Prescriptions issued online are dispensed by your pharmacy. Implementation and accounting is straightforward - there are no set-up costs or contracts.
UK GMC registered doctors review the consultations and issue the private prescriptions. Pharmacies have a secure (encrypted) log-in area to view and print pending prescriptions for dispensing and despatch.
Dr Fox is fully regulated in the UK by the Care Quality Commission and complies with EU and UK legislation.
You can offer your website visitors the fully regulated medical services of Dr Fox, generating additional income and loyalty.
Creating your free account
Registering for the service takes minutes. We require some brief details we can verify to create your account and generate your unique 4-digit referral code.
Telephone 0117 205 0198 or email info@doctorfox.co.uk to create your account.
Requirements
Your pharmacy premises and website must be registered with the GPhC, all products must be sourced from reputable UK wholesalers. Please note we facilitate despatch of medicines within the UK only.
Items must be posted same or next working day using a Royal Mail signed for service, preferably Tracked 24. Pharmacies must have the capability to operate an effective mail order service.
Adding to your website
Implementation is a simple process for your website designer/developer.
You can place links to consultations wherever you wish on your own HTML pages. These links are direct to any consultation provided by Dr Fox - the links contain an additional tag to identify the referred visitor as belonging to your pharmacy.
All link code and full instructions are provided when your account is created. You can literally be up and running within 30 minutes of your account creation. Full support is provided.
Live examples available on request.
Customer process
Customers click on one of the links to Dr Fox on your own web page
Your logo will be displayed on Dr Fox pages
They can find the medical information they require and complete a medical questionnaire (a series of yes/no answers)
On successful completion the customer chooses the medication available and registers their details
Payment is taken online by Dr Fox
Your pharmacy details replace our default suppliers on relevant pages and emails
Registered customer's are tied to your pharmacy for the lifetime of the account
Online Prescriptions
Once a medical questionnaire is completed and paid for by the customer, it will be reviewed by Dr Fox doctors and if suitable a prescription will be issued online. Dr Fox is owned and operated by Index Medical Ltd which is registered with, and regulated by, the Care Quality Commission to provide prescriptions online. Full documentation can be provided to the pharmacy governing the legal and regulatory status of issuing prescriptions online.
Dispensing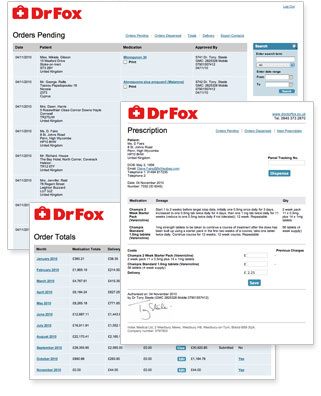 Pharmacies are given their own secure and encrypted login area to view and print pending prescriptions, and can also be notified by email each time a new prescription is pending.
To dispensing the order the Pharmacist simply enters the parcel tracking number, which triggers a notification to the customer that their order has been dispensed.
Despatch
Medications must be despatched by Royal Mail recorded delivery (UK only).
Reimbursement from Dr Fox
Pharmacies invoice Dr Fox, for branded or generic prescribing, the C+D price plus 10% or drug tariff price plus 10%, whichever is lower.
Dr Fox pays a minimum £3 where the calculated price (C+D price or drug tariff price plus 10%) is less than £3.
P&P charges are also reimbursed (to be discussed).
There is an easy-to-use automated invoicing system which will be explained to pharmacies as part of the onboarding process.
Accounting
Dr Fox has a proven and easy-to-use area for pharmacies to manage their online prescriptions which includes a monthly accounting and cost submission process.
The charge to Dr Fox for the cost of the medications and delivery can be entered for each prescription as they are dispensed, or at a later date. Previous costs for same items are 'remembered' so as to reduce admin in this area. Submitted costs are reviewed and the total paid direct to your bank account within 10 days of receipt.
Require further information?
Telephone 0117 2050198 or email info@doctorfox.co.uk requesting further information or to create your free account.