Migraine relief
Treatments for the relief of migraine headaches on prescription: Sumatriptan tablets and Imigran sprays.
Read medical information and answer medical questions to buy treatment online.
Treatment available
Prices
---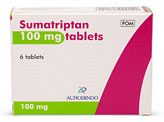 Sumatriptan tablets
(50mg and 100mg)
6-12 tablets from £8.40
Buy treatment
Imigran Nasal Spray
(10mg and 20mg)
2-6 doses from £16.40
Buy treatment
Prices
Medical information
Symptoms of migraines
Migraine headaches are severe, usually at the front of the head and usually throbbing. Migraine is common affecting about 1 in 4 women and 1 in 12 men in the UK.
With migraine there is often:
Nausea, queasiness and sometimes vomiting
Inability to carry on normal daily activities (people suffering a migraine often want to lie in a darkened room)
Heightened sensitivity: intolerance of bright light, noise, and strong smells
Migraines can last from a few hours up to 3 days. After migraine headaches have gone, tiredness is common and can last several days.
It is unusual for migraine to start after the age of 40. Some women get migraine around the time of their periods.
Migraine attacks can be triggered by stress, tiredness, and some medication. In some cases trigger foods can be identified.
Classic migraine
A quarter of people who get migraine have a warning or aura before their headaches.
This is most often a visual disturbance such as seeing zigzag lines, or blurring, or having a blind spot. Other less common auras include tingling sensations, problems with co-ordination and concentration, speech difficulty and, rarely, blackouts.
'Triptans' – Sumatriptan (Imigran)
Sumatriptan (Imigran) works by reversing the expansion of blood vessels around the brain present in migraine. The most widely used 'triptan' is Imigran, which is a brand name for the drug Sumatriptan.
Dr Fox supplies generic Sumatriptan tablets rather than the branded form of this drug, Imigran. The cost is lower. The active ingredient is the same. There is no difference in effectiveness. We also supply branded Sumatriptan Imigran nasal sprays.
Sumatriptan and Imigran nasal spray are prescription only medicine – our doctors will issue the prescription online direct to our pharmacy.
Sumatriptan (Imigran) usually starts to work after 30 minutes. It does not work for everyone. Where it does not work alternative 'triptans' are worth trying.
These alternatives included almotriptan (Almogran), eletriptan (Relpax), frovatriptan (Migard), naratriptan (Naramig), rizatriptan (Maxalt) and zolmitriptan (Zomig).
Other treatments of migraine
Rest, and simple painkillers containing paracetamol, anti-inflammatory drugs and aspirin are the most frequent remedies. Anti-sickness tablets if taken early can also help.
If painkillers are used frequently they can cause headaches. Some painkillers are associated with acid indigestion and even intestinal bleeding.
Cautions
Sumatriptan has been used by millions of people throughout the world for decades and is generally considered a safe drug.
Sumatriptan (Imigran) can cause a temporary narrowing of blood vessels. People who have had strokes or mini-strokes, have problems with poor circulation, or a history of angina (heart pain on exertion) or a have had heart attacks should not take sumatriptan.
Even in people who have never had circulation problems sumatriptan can in rare situations trigger serious heart problems. The following groups should check with their GP before taking sumatriptan.
Heavy smokers
Men over 40
Women after the menopause
In some rare serious cases migraine headaches are associated with paralysis, loss of vision and loss of speech. Sumatriptan is not to be used in these cases.
Side effects of Sumatriptan (Imigran)
Pain, heaviness, pressure or tightness in the chest, throat or other parts of the body, or unusual sensations, including numbness, tingling and warmth or cold. These effects may be intense but generally pass quickly.
Other common side effects include:
Feeling sick (nausea) or being sick (vomiting), although this may be due to the migraine itself
Tiredness or drowsiness
Dizziness, feeling weak, or getting hot flushes
Temporary increase in blood pressure
Shortness of breath
For a full list of side effects and cautions see the Imigran Patient Information leaflet.
Preparations of Sumatriptan
Sumatriptan is available as tablets and as a nasal spray.
Some people find the nasal spray works more quickly and is easier to take when they are feeling nauseated (sick).
Dose for tablets and nasal spray
Tablets come in 50mg and 100mg strength. Take 50mg (some patients may require 100mg) at onset of symptoms, dose may be repeated after at least 2 hours if migraine symptoms return. Maximum dose is 300mg in 24 hours.
Nasal spray come in 10 and 20mg strength. Use 1-2 sprays (10-20mg) into one nostril at onset of symptoms, dose may be repeated once after at least 2 hours if migraine symptoms come back. Maximum dose in 24 hours is 40mg.
Sumatriptan should not be taken with other 'triptans' or with medication containing ergotamine.
When to see a GP
Before self medicating for headaches it is best to see a GP for a diagnosis.
When headaches start for the first time over the age of 40.
When headaches are getting more frequent and lasting longer.
If headaches are worsening after taking triptans, such as Imigran, for over 10 days or other pain killers for over 15 days. Your doctor may recommend stopping treatment for a month.
When headaches are different from before; new symptoms.
Buy treatment
Dr Fox supplies migraine treatment on prescription – you are required to answer a short medical questionnaire before your order can be completed.
questions
Choose
order
Shortage of Sumatriptan 50mg currently - please expect delays if ordering.
Answer medical questions to order
(migraine)
---
The order process
Answer short medical questionnaire
Choose treatment, register, and pay
Doctor issues prescription online
Medicine posted direct from pharmacy
---
Customer reviews
"Dr. Fox is an easy to navigate website;the communication is excellent ; the service is quick and discreet. Last but not least, the prices are very reasonable."02 May 2017 – Anonymous
"very pleased, fast delivery, work just as well as brand names, good customer service, what more could you ask for thanks dr fox"24 April 2017 – Frank L., Leeds
"Dr Fox is a reputable company so had no hesitation in ordering from the company excellent service and quick response to completing my form and easy to navigate the system and the prices for my product I think are the cheapest on the internet The delivery was excellent so would order again"11 April 2017 – Keith A., Newcastle
"I have used their service many many times over the last 2 years and am a very happy customer. Always on time and deliver exactly what was ordered."02 April 2017 – Paul J., London
"We were a bit concerned about this site and worried of its reliability. Those doubts were unfounded and found Dr Fox to be genuine and trust worthy. Highly recommend using this site and fantastic prices."24 March 2017 – Alan Y., West Lothian
"always get what you ordered every time. I will use again and again and again no one else comes close for price quality and delivery."22 March 2017 – M. W., Oxon
"I've always been slightly dubious about ordering from online pharmacie but was exceptionally impressed by the excellent service and quailty of product I received . Well done guys and thank you."12 March 2017 – Philip A., Bristol
"Thoroughly recommended, it's easy to navigate the website. Prices are reasonable and ordering simple. Delivery is fast and packaging very good."13 February 2017 – Alan R., Bury St. Edmunds
"Fantastic service, discrete and great prices. Can not recommend highly enough. Will be using again."09 February 2017 – Ian V., Chester
"Easy ordering process and delivery as expected. Will be buying from Dr Fox again."01 February 2017 – Matt M., Farnham
"I have used Dr Fox twice now and on both occasions they have been excellent. Easy to use and very speedy deliveries."18 January 2017 – George H., Prestwick
"This online pharmacy not only looks professional and slick it does exactly that with its actual product supply and customer service - what a find."8 January 2017 – Angus S., Inverness
"1st time I have ever ordered on line and was very happy with the service and how quick and easy it was to do"21 December 2016 – Bezza K., Kent
"Correct products delivered, on time and discreetly packed. Prices are always competitive. I have ordered on several occasions before and alway get the same great service"12 December 2016 – Ian G., Colchester
"Fantastic service from a great and reputable company."07 December 2016 – Pete P., Macclesfield
"I don't know why I have never heard of this website before It's absolutely incredible. My transaction process was very hassle-free, the communication was great and I've got my malarial tablets for a fraction of the price if I'd gone to the doctor directly."01 December 2016 – Mariah S., London
"Superb service as always. Have been a customer for some time now and Dr Fox has maintained the quality of care throughout."22 November 2016 – Dr Keith W., Prudhoe
"Extremely satisfied with my whole dealing with Dr.Fox Fast efficient - problem free Thank you for being so easy to use"20 November 2016 – Mel E., Manchester