Epiduo
Epiduo gel is a topical treatment for acne containing a retinoid and a peeling agent.
Start order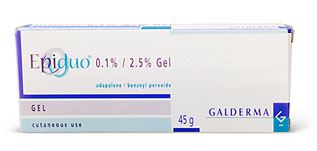 Buy Epiduo Gel online in UK
How to order Epiduo Gel online for UK delivery:
Read medical information about acne treatment
Answer medical questions to check for eligibility
Reviewed by doctors - posted from UK pharmacy
Prices
Epiduo cost (in stock)

| Acne treatment | Quantity | Cost |
| --- | --- | --- |
| Epiduo gel (benzoyl peroxide 2.5% and adapalene 0.1%) | 45 grams | £24.90 |
| Epiduo gel (benzoyl peroxide 2.5% and adapalene 0.1%) | 90 grams (2 x 45 grams) | £44.20 |
| Epiduo gel (benzoyl peroxide 2.5% and adapalene 0.1%) | 135 grams (3 x 45 grams) | £66.00 |
Price match guarantee
Prescription issued online - small prescription fee per order.
Prescription fees
Dr Fox supplies medicine on prescription and charges a small prescription fee based on the order value of each prescription.
Prescriptions are issued by our doctors online and sent electronically to our pharmacy.
| Order value | Prescription fee |
| --- | --- |
| up to £10 | £1.00 |
| up to £20 | £2.00 |
| up to £40 | £3.00 |
| over £40 | £4.00 |
If you have your own private paper prescription please post to our pharmacy (details).
Dr Fox prices are 25%–50% lower than other UK online clinics.
Delivery charges
UK delivery only: £2.90 per consultation via Royal Mail Tracked 24 Signed For (1-2 working days with tracking).
Parcel forwarding services are not permitted. Use only UK home or work delivery address.
Returns and refunds - unwanted items can be returned within 14 working days for a full refund.
Start order
---
About Epiduo
Epiduo gel is a prescription-only topical combination treatment for acne treatment, containing adapalene (retinoid) and benzoyl peroxide.
Apply once daily to acne affected areas, usually in the evening.
Read the patient leaflet for a full list of side effects, cautions, and interactions with other drugs.
How does Epiduo work?
In acne, skin pores get blocked with a combination of excess greasy sebum and shed skin cells. Acne bacteria grow in the blocked pores. This causes blackheads and whiteheads.
Epiduo combines two ingredients: adapalene and benzoyl peroxide.
Adapalene belongs to a group of medicines known as retinoids which were originally developed from Vitamin A. Retinoids control skin cell shedding and so reduce the blocking of pores and acne.
Benzoyl peroxide reduces bacteria on the surface of the skin and also softens and peels the surface layers.
The combination is more effective than either ingredient used on its own.
Who is Epiduo for?
Epiduo works best for people who have mild acne with blackheads and whiteheads. It is recommended at step 3 of the Dr Fox acne treatment plan. It can also be used on the skin alongside taking antibiotic capsules like lymecycline.
Who should not use Epiduo?
Epiduo is not suitable for children under 9 years or over 65s and is only available online from Dr Fox to over 18s. Epiduo should not be used if there is known kidney or liver disease.
How to use Epiduo
Use Epiduo at bed time.
Remove makeup.
Wash and dry the area of acne affected skin.
Using the fingertips, apply a thin film of Epiduo gel over the whole affected area (not just to the pimples and spots).
Keep the gel away from the eyes, lips, and nostrils.
Wash hands after applying Epiduo.
Ensure the Epiduo is dry before it comes into contact with clothing, towels, pillows, and hair as it can cause staining or bleaching.
Side effects and cautions
Epiduo commonly (more than 1 in 10) makes skin dry and sensitive. This may lead to reddening and scaling. It is a good idea to try a test patch before applying the gel to larger areas and when starting treatment use on alternate days for the first week or longer. If the dryness, reddening, and scaling is severe or doesn't settle then Epiduo should be stopped.
Other side effects are less common, and include itching and increased sensitivity to sun.
Do not use Epiduo on eczema, cuts, grazes, or sunburnt skin.
Do not use at the same time as drying or peeling/exfoliative cosmetic products.
Pregnancy and breastfeeding
Epiduo should not be used by women who are pregnant or who are at risk of becoming pregnant.
Epiduo can be used by women who are breastfeeding as long as it is not applied to the chest.
Other acne treatments
Benzoyl peroxide on its own is available from pharmacies in various strengths as a non-prescription medicine, and also in combination with the antibiotic clindamycin, in the prescription medicine Duac.
Prescription only Differin cream and gel contains adapalene on its own.
Antibiotic treatments for acne - Zineryt topical skin lotion or lymecycline capsules are available from Dr Fox through the acne treatment plan.
The combined contraceptive pill can also be an effective acne treatment for women.
Dermatology specialists can consider Roaccutane (isotretinoin) tablet treatment, if acne is severe, scarring, or causing significant distress.
Patient Information Leaflet

The Patient Information Leaflet (PIL) is the leaflet included in the pack with a medicine and must be read before taking the medicine. It is written for patients and gives information about taking or using a medicine.
Epiduo FAQs
Do I have to use Epiduo at night?
As Epiduo needs to be applied to clean, dry, makeup-free skin, it is usually most convenient to apply it at night. But make sure it is dry before lying on your pillow as it can bleach bed linen, clothing, etc.
How long should I use Epiduo for?
Use Epiduo for at least 8 weeks to see if it is helping. It can be continued for up to 4-6 months and then try without. It can always be restarted if needed again.
Epiduo isn't working - what now?
If after 8 weeks, the Epiduo hasn't improved the acne, try swapping to either Duac or Zineryt or move up to step 4 in the Dr Fox acne treatment plan, taking lymecycline capsules as well as continuing Epiduo.
Can I wear makeup with Epiduo?
Epiduo should be applied to clean makeup-free skin, preferably at night. Makeup can be used during the day, but use non-oily, non-comedogenic, non-acnegenic cosmetics.
See also FAQs: Acne and treatment options.

Authored 19 November 2015 by Dr B. Babor
NHS GP & dermatology specialist. MB ChB Dundee University 1996. GMC no. 4336464
Best treatment for acne (cystic acne) sufferers. Your skin has to get conditioned to Epiduo over a period of time initially. This will involve redness, and dry, flaking skin to applied areas. The properties of Epiduo cause this to happen to the skin, however this is normal; your skin has to get used to being 'turned' over at a faster rate, than when not using Epiduo. It is the continual removal of dead skin cells, that stops oil building up in pores to form acne. Once past the conditioning phase, your skin will be clearer, smoother and brighter like never before. For best results also use Cetaphil oil control face washes/Moisturizer (all products made by Galderma), for the best skincare regimen.
13/09/2023 16:02
Anonymous Verified
Seems to work so far. Nice texture. Spots are disappearing
30/08/2023 05:00
Anonymous Verified
Very drying initially but excellent results
12/04/2023 08:56
Anonymous Verified
Great product, just be sure to research the side effects and proper use. You skin will become very dry and sore over time as it starts to work, even areas you may not be putting the product on like your eye area and eye lids, so get yourself a good quality fragrance free moisturiser. Felt like my skin was badly sun burnt if I would rub certain areas and would be very red, but this was just due to lack of moisture and it's part of the process.
03/01/2023 11:42
S. Harris Verified
Amazing product!!!! I'm definitely reordering.
11/05/2022 21:23
I. Ceesay Verified
Read more reviews
---
The order process
Choose medication, register, and pay
Dr Fox issues prescription online
Pharmacy team post medication direct