Epiduo
Epiduo gel is a topical treatment for acne containing a retinoid and a peeling agent.
Start order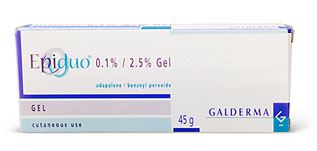 Buy Epiduo Gel online in UK
How to order Epiduo Gel online for UK delivery:
Read medical information about acne treatment
Answer medical questions to check for eligibility
Reviewed by doctors - posted from UK pharmacy
Prices
| Acne treatment | Quantity | Cost |
| --- | --- | --- |
| Epiduo gel (benzoyl peroxide 2.5% and adapalene 0.1%) | 45 grams | £26.20 |
| Epiduo gel (benzoyl peroxide 2.5% and adapalene 0.1%) | 90 grams (2 x 45 grams) | £46.00 |
| Epiduo gel (benzoyl peroxide 2.5% and adapalene 0.1%) | 135 grams (3 x 45 grams) | £69.00 |

Price match guarantee
Prescription issued online - small prescription fee per order.
Prescription fees
Dr Fox supplies medicine on prescription and charges a small prescription fee based on the order value of each prescription.
Prescriptions are issued by our doctors online and sent electronically to our pharmacy.
| Order value | Prescription fee |
| --- | --- |
| up to £10 | £1.00 |
| up to £20 | £2.00 |
| up to £40 | £3.00 |
| over £40 | £4.00 |
If you have your own private paper prescription please post to our pharmacy (details).
Dr Fox prices are 25%–50% lower than other UK online clinics.
Delivery charges
UK delivery only: £2.90 per consultation via Royal Mail 24 Signed For (1-3 working days with tracking).
Parcel forwarding services are not permitted. Use only UK home or work delivery address.
Returns and refunds - unwanted items can be returned within 14 working days for a full refund.
Start order
---
About Epiduo
Epiduo gel is an acne treatment which combines the active ingredients adapalene and benzoyl peroxide. It is applied once daily to acne affected areas, usually in the evening.
Adapalene belongs to a group of medicines known as retinoids and works in various ways to unblock pores and reduce acne. Benzoyl peroxide reduces bacteria on the surface of the skin and softens and peels the surface layers. The combination is likely to be more effective than either agent used on its own.
Other acne treatments
Benzoyl peroxide is available from pharmacies in various strengths as a non-prescription medicine and in combination with the antibiotic clindamycin in the prescription medicine Duac. Prescription only Differin cream and gel contains the adapalene as single agent product (not combined with other active ingredients).
Alternative topical and antibiotic tablets (lymecycline) for acne are available online through the acne treatment page.
It is usually preferable to use only one type of topical treatment (cream, gel, solution) at a time, although combinations are sometimes necessary. Where different topical treatments are used at the same time, they should be applied at different times of day. Topical treatments should usually be used for at least 8 weeks. If there is no improvement after 8 weeks treatment should be changed. Successful treatments can be continued long term, although they may become less effective with time, particularly treatments containing antibiotics. If acne has resolved, treatment can be stopped, to be restarted later, if acne returns.
Side effects and cautions
Not suitable for children under 9 years and is available online from Dr Fox with other acne treatments only to over 18s.
Epiduo commonly (in more than 1 in 10) makes skin dry and sensitive. This may lead to reddening and scaling. If this is significant the frequency of applications should be reduced, or in some cases treatment may need to be stopped. It is a good idea to try a test patch before applying the gel to larger areas and when starting treatment use on alternate days for the first week.
Other side effects are less common, and include itching and increased sensitivity to sun, and other rarer skin symptoms.
Epiduo should not be used by women who are pregnant or who are at risk of becoming pregnant. The gel can be used by women who are breastfeeding as long as it is not applied to the chest.
Epiduo gel can stain or bleach clothing and towels.
Avoid contact with eyes, inner nose or mouth. Wash hands after use.
Patient Information Leaflet

The Patient Information Leaflet (PIL) is the leaflet included in the pack with a medicine and must be read before taking the medicine. It is written for patients and gives information about taking or using a medicine.

Authored 19 November 2015 by Dr B. Babor
MB ChB Dundee University 1996. NHS GP and dermatology specialist.
Very drying and quite irritating to begin with but persevere and it works.
05/05/2021 20:40
L. Hutchinson Verified
30/03/2021 17:24
Anonymous Verified
Helped to clear up my acne. Really good for even period break outs. It really does wonders over night. Really recommend it
10/09/2020 23:39
G. Boksanska Verified
I built this up over a couple of weeks, starting every other night. My face was fine, but the skin on my neck reacted, (have hormonal sensitive) so just added my Moisturiser Before applying into the equation and that sorted the dryness. The perfect solution for women with ageing skin and breakouts, kills two birds with one stone. Do start slowly and then you will avoid the pealing effect.
18/07/2020 23:55
J. Turnbull Verified
09/06/2020 09:32
Anonymous Verified
Read more reviews
---
The order process
Choose medication, register, and pay
Doctor issues prescription online
Pharmacy team post medication direct