Ventolin Accuhaler
Buy Ventolin Accuhaler salbutamol inhaler online (known as the blue inhaler) for the relief of asthma from Dr Fox pharmacy.
Start order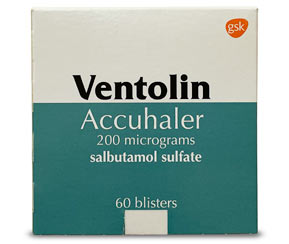 Buy Ventolin Accuhaler online in UK
How to order Ventolin Accuhaler online for UK delivery:
Read medical information about asthma treatment
Answer medical questions to check for eligibility
Reviewed by doctors - posted from UK pharmacy (tracked 24hr delivery)
Prices
| Salbutamol inhaler | Quantity | Cost |
| --- | --- | --- |
| Ventolin Accuhaler | 1 dry powder inhaler | £8.95 |
Prescription fees
Dr Fox supplies medicine on prescription and charges a small prescription fee based on the order value of each prescription.
Prescriptions are issued by our doctors online and sent electronically to our pharmacy.
| Order value | Prescription fee |
| --- | --- |
| up to £10 | £1.00 |
| up to £20 | £2.00 |
| up to £40 | £3.00 |
| over £40 | £4.00 |
If you have your own private paper prescription please post to our pharmacy (details).
Dr Fox prices are 25%–50% lower than other UK online clinics.
Delivery charges
UK delivery only: £2.90 per consultation via Royal Mail Tracked 24 Signed For (1-2 working days with tracking).
Parcel forwarding services are not permitted. Use only UK home or work delivery address.
Returns and refunds - unwanted items can be returned within 14 working days for a full refund.
Start order
---
About Ventolin Accuhaler
Ventolin Accuhaler contains the same ingredient, Salbutamol, as the Evohaler, used for asthma and other breathing conditions. This is part of a group of drugs called 'fast-acting bronchodilators' and helps relieve the symptoms of chest tightness, cough, and wheeze.
The Accuhaler is a plastic inhaler device containing a foil pack of 60 blisters, each blister contains 200 micrograms of salbutamol mixed with lactose particles.
It is a dry powder inhalation device which means there is no need for aerosols, which can be harmful to the environment. This reduces your carbon footprint. Changing to this type of inhaler can reduce emissions and have 30 times the environmental impact of planting a tree.
Asthma treatment
First-line treatment for asthma is usually a blue inhaler containing salbutamol, such as the Ventolin Accuhaler. It should be used when symptoms occur or before entering a situation where a patient recognises there are circumstances that precipitate their asthma symptoms, such as exercise. Other common triggers include cold air, pollen, animal hair, and cigarette smoke.
1 dose is inhaled up to 4 times a day and usually relieves symptoms for up to 6 hours. The onset of action is usually immediate.
If asthma is more severe, or remains uncontrolled, other types of inhalers or medications can be added and you should arrange an urgent review with your asthma nurse or GP to discuss treatment options. Regular reviews of your asthma, at least annually if stable, is important to ensure you are on the correct medication and have an asthma plan if symptoms change.
Ordering Ventolin
Dr Fox pharmacy can supply by post one Ventolin Evohaler or Accuhaler at a time after an online medical consultation. To make an order, please read the important medical information and then proceed to answer medical questions.
Our doctors will usually only supply 1 inhaler per month, although extra inhalers may be provided if there are good reasons.
Your GP must be informed about your inhaler usage and any supplies you obtain online. Dr Fox will inform your GP by letter. You will be required to provide GP practice details when ordering.
Dr Fox does not replace regular face-to-face asthma check-ups which are normally carried out by GP surgeries at least every 12 months.
Using Ventolin Accuhaler
One dose of the Ventolin Accuhaler contains 200 micrograms of salbutamol, which is twice that of the Ventolin Evohaler which contains 100 micrograms in each puff. Each inhaler contains 60 doses and there is a counter on top of the Accuhaler which tells you how many doses are left. The last 5 doses appear in red to warn you there are only a few doses left.
It is a breath activated inhaler and the dose is released when you put the mouthpiece to your lips covering the mouthpiece and breathe in. It is important to be shown how to use the inhaler by your asthma nurse, GP, or pharmacist to ensure correct usage and that the medication will be effective.
More information on how to use Ventolin Accuhaler can be found in the manufacturer's patient information leaflet supplied with the medication and from Asthma UK - How to use an Accuhaler inhaler.
What alternatives are there to Ventolin?
Different drug companies produce different salbutamol inhalers under various brand names. These reliever inhalers, which usually contain salbutamol, are always blue in colour. Ventolin is the best known and most widely used brand of salbutamol inhaler.
Salbutamol is usually administered in the form of an aerosol, as a fine powder, or even as a vapour through a machine called a nebuliser which is used for severe cases and sometimes for an asthma attack.
Cautions
Ventolin Accuhaler contains lactose so patients with any form of sugar intolerance or allergy should discuss the use of this inhaler with their usual doctor before using.
People who experience increased shortness of breath or wheezing immediately after using a salbutamol inhaler should stop their inhaler and seek immediate medical advice. The same applies to people who experience chest pain soon after using an inhaler.
Ventolin side-effects
The more common side effects tend to be dose related and tend to occur within minutes of inhalation, usually lasting a few minutes or hours. Ventolin side effects are more likely to occur with higher doses or more frequent use of inhalers.
A full list of side effects and cautions can be found in the patient information leaflet supplied with Ventolin Accuhalers.
Common side effects (more than 1 in 100 people) include:
Tremor, headache, rapid heartbeat can occur, all of which usually settle within minutes or hours.
Uncommon side-effects (1 in 100 people) include:
Mouth and throat irritation, and muscle cramps.
Allergic reactions to Ventolin are rare (affects less than 1 in 10,000 people). If wheezing or breathing gets worse straight after taking Ventolin stop using it immediately, and tell your doctor as soon as possible.
More information on less common side effects of salbutamol can be found in the manufacturer's patient information leaflet supplied with the medication.
Further information
Patient Information Leaflet

The Patient Information Leaflet (PIL) is the leaflet included in the pack with a medicine and must be read before taking the medicine. It is written for patients and gives information about taking or using a medicine.
Start order

Authored 15 February 2022 by Dr C. Pugh
MB ChB University of Liverpool 2000. NHS GP and GP appraiser in Bristol. GMC no. 4712688
References
GlaxoSmithKline, 2021, Ventolin Accuhaler: Summary of Product Characteristics, accessed 15 February 2022
NICE, 2021, Asthma, accessed 15 February 2022
BNF/NICE, 2017, Asthma, chronic, accessed 14 15 February 2022
Recent Ventolin Accuhaler reviews
Fast action, the product saves my life and allows me to breathe and ends the fight for oxygen when I have an asthma attack at night, thank you
06/12/2022 21:24
D. Niewitala Verified
04/12/2022 23:50
Anonymous Verified
Read more reviews
---
The order process
Choose medication, register, and pay
Dr Fox issues prescription online
Pharmacy team post medication direct