Customer reviews
www.doctorfox.co.uk is a member of the Trusted Shops programme and is audited for compliance to a range of quality criteria including customer service, returns and refunds, distance selling regulations, payments, and data protection.
Read over 25,000 independent customer reviews on Trusted Shops website.
Read external reviews
Trusted Shops money back guarantee: all orders eligible for £2,500 guarantee. Dr Fox commits to ensure customers receive items ordered, or will offer repost or full refund.
Other review services
Read user reviews of www.doctorfox.co.uk posted on other independent review websites:
"Buying drugs via the internet is risky, but not for people using this GP's web clinic."
Review of Dr Fox in GP magazine, the trade journal for UK GPs – read more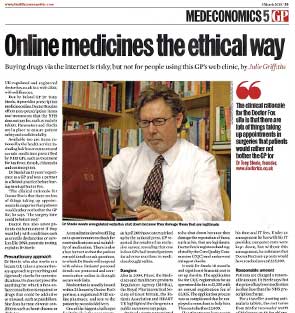 Product reviews
Dr Fox patients can write reviews of products received in their My Account area.
---
In the press
Dr Fox was featured in an article by Margaret McCartney in the British Medical Journal (30 October 2012): The doctor won't see you now: online consulting and prescribing.
GP newspaper reviewed the www.doctorfox.co.uk service and published an article (5 March 2010) entitled Online medicines the ethical way in which they outline the ethos, aims and approach of Dr Fox.
A widely seen press article British patients click online to see doctor (6 August 2010) also featured the Dr Fox service. The journalist, Maria Cheng of Associated Press, had done excellent research on online medicine.
---
Customer Satisfaction Surveys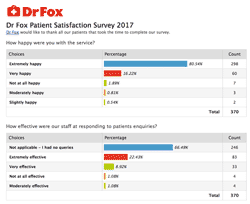 Dr Fox undertakes annual independent customer satisfaction surveys, the results of which continue to confirm our commitment to providing the best service possible is recognised by our customers.
To complete a patient survey please login to your Dr Fox account.