Customer reviews
www.doctorfox.co.uk is a member of the Trusted Shops programme and is audited for compliance to a range of quality criteria including customer service, returns and refunds, distance selling regulations, payments, and data protection.
Read over 16,900 independent customer reviews on Trusted Shops website.
Read external reviews
Trusted Shops money back guarantee: all orders eligible for £2,500 guarantee. Dr Fox commits to ensure customers receive items ordered, or will offer repost or full refund.
Other review services
Read user reviews of www.doctorfox.co.uk posted on other independent review websites:
"Buying drugs via the internet is risky, but not for people using this GP's web clinic."
Review of Dr Fox in GP magazine, the trade journal for UK GPs – read more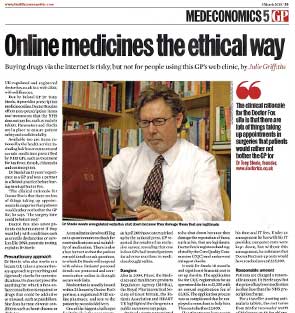 Product reviews
Dr Fox patients can write reviews of products received in their My Account area.
Feedback from customers
Below are genuine reviews and emails received at the office from appreciative customers.
Service is second to none

Can't fault this site for prompt service and delivery, and customer care. I wish all sites and shops showed the same amount of care about there products and procedures as these do. Well done Dr Fox.
Mr E. Morgan via email (December 2015)
Service is second to none

Being a retired professional myself I can absolutely state this service is second to none.
Dr K W via
Trustedshops
(August 2015)
Best price on the internet

Best price on the internet and very safe delivery. Will definitely buy from again as they are very helpful and professional.
Anonymous via
Trustedshops
(January 2014)
Always helpful and trustworthy

This is my second re-order from Dr Fox. Always helpful and trustworthy, comparatively well-priced too. I'm a happy customer.
Anonymous via
Trustedshops
(March 2014)
Service is fantastic, speedy delivery

I have ordered a number if times, service is fantastic, speedy delivery to Ireland. I only wish more were like this. Thanks again.
Brendan, Ireland (February 2014)
Fast, efficient service with huge savings

Clearly designed and worded website provided all the information I needed quickly and easily. Fast, efficient service with huge savings for the same prescription previously obtained from my GP. I'll definitely use this site again and have already recommended it to friends and family.
Anonymous via
Trustedshops
(January 2014)
I received very detailed guidance

I purchased Diamox as I am visiting Lhasa, Tibet. I received very detailed guidance about the product, and will use this website again.
V. Jensen, Denmark (May 2013)
Reasonably priced and arrived the next day

Thank you for your excellent service. I rarely go to the GP and usually only for prescriptions of Imigran. I was so pleased to find you online. The products were reasonably priced and arrived the next day. I have not tried the melatonin yet but was also delighted to get this product. I will definitely be using your service again.
D. Jenkins, UK (October 2012)
Highly recommend Dr Fox

I highly recommend Dr Fox and his pharmacy, I was very pleased with the very professional way I was treated.
Carol, UK (April 2012)
A fantastic service for busy professionals

Hi - I just wanted to thank you for your excellent service, my prescription arrived on Saturday much to my delight. I will be definitely recommending Doctor Fox to others, a fantastic service for busy professionals or those struggling to get an appointment with their GP. Thanks again
Deborah, UK (March 2011)
Highly impressed with your company

Dear Dr Steele, Thank you for your advice. I would like to take this opportunity to say that I am highly impressed with your company and truly appreciate your prompt responses. Kind Regards.
M. U., UK (March 2011)
Outstanding service

I would just like to give some feedback on the service I have received by using your website. It has been absolutely outstanding ... I would give 10 out of 10. Thank you very much.
Mr Y., Scotland (February 2011)
Very high standard of customer service

You have a very high standard of customer service. it's not common. You have just won yourself a very loyal customer.

Thank you very much.
Mr Eran, Israel (February 2011)
For the first time in 11 yrs I could make love

Just wanted to say that I have suffered from ED for over 11 yrs which has cost me my marriage, I met a lovely woman 3 months ago but could not get over the ED. I researched about difference tablets and decide to try Cialis 10mg from your website, and last night for the first time in 11 yrs I could make love, you've no idea what that means to me. Thank You.
Anonymous, UK (August 2011)
Saved me over £70 - thank you

I have already had the starter pack. I then found your website which was a lot cheaper. You have saved me over £70 thank you.

Your service is excellent and I shall return for the last 4 week course. The savings I have made by using Dr Fox has been huge. It just proves that there are still companies like yourselves that are customer orientated.

Keep up the great work.
Russell L. (January 2011)
Urgent: Malarone!

I was reluctant to order pills from a website but had no choice because Malarone isn't available in my region. I was travelling from Qatar to Sri Lanka with a long layover in Delhi and needed Malarone ASAP.

Dr Fox sent the pills by regular post but they were delayed in international transit and it became clear they wouldn't arrive before I left Qatar. Dr Fox sent a new batch of pills by international courier to meet me during my layover in Delhi. Customer service stayed on top of my shipment the whole time and responded promptly to all my emails. The pills actually arrived at the hotel before I did!

Dr Fox covered the courier costs and didn't charge me for the extra batch. I was pleasantly surprised by Dr Fox's responsiveness and efficiency – I'll be a repeat customer.
F. S. Qatar (September 2010)
Time/cost efficient

Thank you for authorising the second prescription - your service is far easier and more cost efficient than taking a day off of work to deal with this kind of thing!
Ms D. (May 2010)
---
In the press
Dr Fox was recently featured in an article by Margaret McCartney in the British Medical Journal (30 October 2012): The doctor won't see you now: online consulting and prescribing.
GP newspaper reviewed the www.doctorfox.co.uk service and published an article (5 March 2010) entitled Online medicines the ethical way in which they outline the ethos, aims and approach of Dr Fox.
A widely seen press article British patients click online to see doctor (6 August 2010) also featured the Dr Fox service. The journalist, Maria Cheng of Associated Press, had done excellent research on online medicine.
---
Customer Satisfaction Survey 2017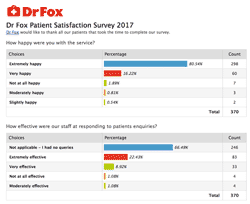 Dr Fox has undertaken an independent customer satisfaction survey for 2017, the results of which continue to confirm our commitment to providing the best service possible is recognised by our customers.
97% of people were either 'extremely happy' (80.5%) or 'very happy' (16.2%) with the Dr Fox service and said they were 'very likely' or 'extremely likely' to use our service again (an improvement from 2016 survey).
The full 2017 survey results are available to view here.
We would like to thank those customers that took the time to respond to our survey.