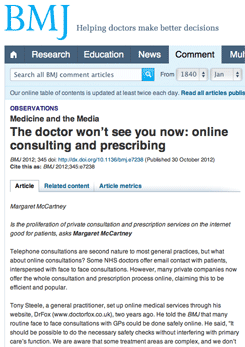 Dr Fox has been featured in an article by Margaret McCartney in the British Medical Journal: The doctor won't see you now: online consulting and prescribing
The BMJ (British Medical Journal) is an international, peer reviewed, influential and widely read medical journal.
Tony Steele, a general practitioner, set up online medical services through his website, DrFox (www.doctorfox.co.uk), two years ago. He told the BMJ that many routine face to face consultations with GPs could be done safely online. He said, "It should be possible to do the necessary safety checks without interfering with primary care's function. We are aware that some treatment areas are complex, and we don't get involved in that. Hay fever or malaria medication would normally involve an appointment with the doctor, whereas online it may actually be better." The site also provides copious written information for patients.

Steele told the BMJ, "We know that in ED [erectile dysfunction], the NHS will fund only small quantities [of drugs], and most men don't qualify for a supply on the NHS, so it will likely be a private prescription anyway. Many people with busy lives might need a stopgap when they can't get it from their GP, they are busy at work, or have travel commitments. We would only do this if there is the mechanism for making sure it was safe and by doing the necessary checks."

Steele is aware that his service doesn't have access to notes on medical history. He said, "We are more conservative than any other clinic we know." He also said that a GP's contact details are required when women request repeat supplies of contraceptive pills or cystitis treatment. However, for other treatments between 20% and 30% of patients ask for details not to be sent to their GP. The DrFox website has 2500 visitors a day, with 5% making an order. Half these orders are repeat prescriptions, especially for erectile dysfunction drugs, travel drugs, and cystitis. The site has issued 70 000 prescriptions to date, with no reported adverse effects (personal communication).
Free registration with the BMJ website is required for temporary access to the full article.