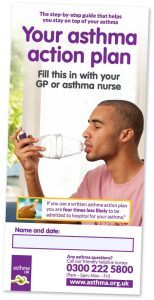 Asthma sufferers must attend an asthma check-up with their GP or asthma nurse at least once every 12 months.
If you suffer from asthma and have NOT had an asthma check-up in the last year please book an appointment with your GP surgery as soon as possible.
Asthma check-ups are important and will usually include breathing tests, inhaler technique, symptoms, triggers, use of spacer devices, and a medicines review.
Check-ups will often also include completing an asthma action plan with your GP or nurse. Patients that use a written action plan are four times less likely to be admitted to hospital. Read in full