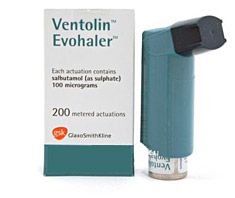 Ventolin is a brand name for the inhaled asthma medicine salbutamol. Ventolin side effects are the same or similar to those of other salbutamol inhalers.
Ventolin Evohaler is a salbutamol asthma inhaler which delivers a puff of salbutamol when the end of the inhaler capsule is pressed down.
Other asthma inhalers are breath actuated and release a puff of salbutamol only when air drawn in through the inhaler nozzle, e.g. Salamol Easi-Breathe asthma inhaler.
All the following asthma inhalers contain salbutamol; Ventolin Evohaler®, Ventolin Accuhaler® (dry powder for inhalation), Salamol Easi-Breathe®, Airomir Autohaler®, Airomir Aerosol inhalation®, Salbulin Novolizer® (dry powder for inhalation), salbutamol (non-proprietary) aerosol inhalation- includes Salamol® and Salbumalin®, and salbutamol (non-proprietary) dry powder for inhalation – includes Easyhaler® Salbutamol.
Ventolin side effects
Like all medicines, Ventolin can cause side effects, although most people taking asthma inhalers at the recommended dose do not experience side effects.
Most Ventolin side effects start within minutes of inhaler use and last for between a few minutes and a few hours. They are caused by the active ingredient, salbutamol, although very little inhaled salbutamol finds its way from the lungs into the circulation.
The dose of salbutamol delivered by inhalers is low, usually 100 mcg per puff. The amount absorbed into the blood stream is usually too low to cause side effects. However, some people are sensitive to even small amounts of salbutamol. Occasionally Ventolin and other asthma inhalers are given at high dose (frequent puffs) and this can cause a build up of salbutamol in the circulation.
The side effects of Ventolin are usually dose related, the higher the dose (number of puffs used), the more side effects are likely to occur.
Salbutamol has similar properties to adrenaline, although salbutamol does not exert the same effects as adrenaline throughout the body. Salbutamol's adrenaline like action is selective and its effects are restricted mainly to the lungs. Inhaled salbutamol works in the lungs by opening up airways and making it easier to breath.
Side effects are usually short lived because salbutamol is broken down in the circulation over a period of a few hours. A few hours after an inhaler is used very little salbutamol remains in the circulation.
Occasionally asthma inhalers cause side effects related to throat irritation produced by constituents of inhalers, either the active ingredients or the propellent.
Allergy to Ventolin
Allergic reactions to Ventolin are rare (affects less than 1 in 10,000 people)
Signs of an allergic reaction include: swelling of the face, lips, mouth, tongue or throat which may cause difficulty in swallowing or breathing, itchy rash, feeling faint and light headed, and collapse.
If wheezing or breathing gets worse straight after taking Ventolin, stop using it immediately, and tell your doctor as soon as possible.
Frequency of side effects – listed below
Common side effects (affects less than 1 in 10 people)
Feeling shaky, your heart beating faster, headache
Uncommon side effects (affects less than 1 in 100 people)
Mouth and throat irritation, muscle cramps
Rare side effects (affects less than 1 in 1,000 people)
Low level of potassium in your blood, increased blood flow to your extremities (peripheral dilatation)
Very rare side effects (affects less than 1 in 10,000 people)
Changes in sleep patterns and changes in behaviour, such as restlessness and excitability
Other Ventolin side effects
The following salbutamol side effects can also occur, although the frequency of these side effects are not known:
Palpitations or uneven heart beat, chest pain, due to heart problems such as angina can occur. Tell your doctor, nurse or pharmacist if this occurs. Do not stop using this medicine unless told to do so.
If any of the side effects gets serious, or if you notice any side effects not listed in this leaflet (link below), please tell your doctor, nurse or pharmacist.
Manufacturer's patient information leaflet for Ventolin Evohaler.