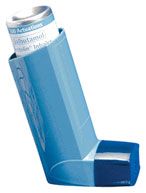 If you use a salbutamol inhaler (blue inhaler) you may be able to receive a repeat inhaler online. The service won't replace your regular asthma check-ups or visits to the doctor's surgery, but it can make the process of obtaining your inhaler much easier.
Dr Fox does not provide additional asthma medicines or steroid inhalers but you can save time and money by ordering your salbutamol inhaler here on our website. This also helps ensure you are never left without your inhaler when you need it.
Here is how the process works: If you use a salbutamol inhaler (also known as a reliever) you can carry out an online consultation with one of our doctors, in which you will be asked about the type of inhaler you use, whether you have had an asthma or breathing clinic check-up within the last year and other important medical questions.
We will determine if you are eligible to use our services to receive your inhaler. If you are, you can then place an order for your inhaler, keeping in mind that we can normally only provide one inhaler per month. If you require additional inhalers we will ask you further questions to determine whether you may need additional treatments.
We can provide you with an asthma inhaler online if we can be certain that you already use salbutamol inhalers, if you have had a proper asthma/breathing check within the last 12 months, and if you have not experienced any worsening symptoms. If you do not meet this criteria it is unlikely you will be able to obtain an inhaler by using our service. We offer inhalers to patients who have an established case of asthma, regularly use an inhaler, and follow proper treatment protocol.
It is also important to mention that asthma must be treated with extreme care, meaning it may not always be enough to reach for your inhaler as and when you need it. Certain signs are cause for alarm – if you find yourself needing to use your inhaler more than four times a day, or feel that your breathing is getting worse despite treatment, seek medical help immediately.
The gradual worsening of symptoms should also not be ignored. Go for an early check-up if you have ongoing breathing symptoms or need to use your inhaler more often than before.
Once on our site, you'll see that we offer reduced prices on inhalers such as the Ventolin Evohaler and Salmol Easi-Breathe. We can provide you with a prescription for your inhaler, and we supply medicines for existing prescriptions at lower prices. Dr Fox's medical services are provided by experienced doctors registered with the General Medical Council. We simply offer an alternative to waiting in your doctor's surgery.