GP magazine reviewed the www.doctorfox.co.uk service and published an article entitled Online medicines the ethical way in which they outline the ethos, aims and approach of the Dr Fox online clinic: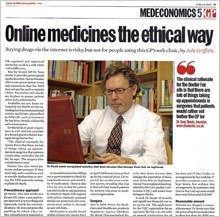 Buying drugs via the internet is risky, but not for people using this GP's web clinic.

UK-regulated and registered doctorfox.co.uk is a web clinic with a difference.

Started by Bristol GP Dr Tony Steele, it provides prescription medicine online. Dr Fox also offers non-prescription items and treatments that the NHS does not pay for, such as malaria tablets. Parameters and checks are in place to ensure patient safety and confidentiality.

Available too are items rationed by the health service including hair loss treatments and certain medicines prescribed by NHS GPs, such as treatment for hay fever, thrush, chlamydia and contraception.

Dr Steele has 15 years' experience as a GP and was a partner in a Bristol practice before leaving to set up Dr Fox.

'The clinical rationale for Dr Fox is that there are lots of things taking up appointments in surgeries that patients would rather not bother the GP for,' he says. 'The surgery time could be better used.'

Dr Fox also saves patients embarrassment if they want help with conditions such as erectile dysfunction or services like DNA paternity testing, explains Dr Steele.

Precautionary approach

Dr Steele, who also works as a locum GP, takes a precautionary approach to prescribing and rigorously checks for contraindications. He does not prescribe anything for which a face-to-face consultation is required or drugs that could be addictive or misused, such as painkillers. Nor does he treat chronic conditions such as heart disease or diabetes.

'I won't do weight reduction drugs either because I can't monitor them. My experience is that you have to monitor that kind of medication carefully because people over-medicate,' says Dr Steele. Any request that is unsafe or suggests an unusual pattern of medication is rejected.

'What I do is at the minor end of treatment in the sense that most of it is pretty non-toxic and available from the chemist (community pharmacy). I am providing it at a lower cost and in greater quantities.'

The site provides information about medical conditions for patients who can have online consultations, regardless of whether they place an order.

A consultation involves filling out a questionnaire to check for contraindications and suitability of medication. There is also a box for text so that the patient can add details or ask questions, to which Dr Steele will respond with advice. Patients' personal details are protected and communication online is through secure web links.
GP magazine is a trade publication distributed free to all GPs based in the UK.