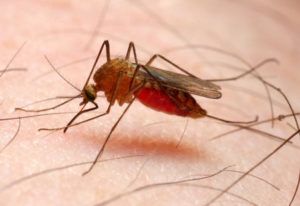 As we've seen in recent news, travelling to a country where disease-carrying mosquitos thrive can have lasting repercussions. The Aedes mosquito is responsible for the transmission of viruses like Dengue, Chikungunya, and Zika. Malaria, on the other hand, is transmitted by the Anopheles mosquito, and it isn't a virus.
Malaria is a caused by the Plasmodium parasite, which is picked up from infected people by female mosquitos. When the mosquito bites again, it transmits the parasite, now mixed with the mosquito's saliva, to the blood of its victim.
There are four types of human malaria, of which the deadliest is Falciparum malaria, which is responsible for close to one million deaths in Sub-Saharan Africa every year.
Malaria symptoms usually come on one to two weeks after being bitten, and are flu-like in nature. They include fever, chills, vomiting and headaches. If the person does not receive proper treatment the parasite can be deadly, killing the host by destroying red blood cells and obstructing the arteries. Read in full