Acid reflux / indigestion
Losec (Omeprazole) and Zantac (Ranitidine) for acid reflux / indigestion and heartburn. Medicine on prescription from UK pharmacy.
Read medical information and answer medical questions to buy treatment online.
Treatment available
Prices
---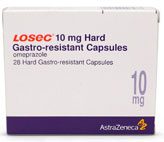 Losec 10mg
(omeprazole)
28-56 capsules from £14.50
Buy treatment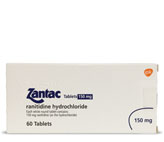 Zantac 150mg
(ranitidine)
30-60 tablets from £8.40
Buy treatment
Prices
| Acid reflux/indigestion treatment | Quantity | Cost |
| --- | --- | --- |
| Losec (Omeprazole) 10mg capsules | 28 capsules | £14.50 |
| Losec (Omeprazole) 10mg capsules | 56 capsules | £23.10 |
| Zantac (Ranitidine) 150mg tablets | 30 tablets | £8.40 |
| Zantac (Ranitidine) 150mg tablets | 60 tablets | £14.40 |
Prescription fees
Dr Fox supplies medicine on prescription and charges a small prescription fee based on the order value of each prescription.
Prescriptions are issued by our doctors online and sent electronically to our pharmacy.
If you have your own private or NHS paper prescription please post to our pharmacy (details).
Dr Fox prices are 25%–50% lower than other UK online clinics.
| Order value | Prescription fee |
| --- | --- |
| up to £10 | £1.00 |
| up to £20 | £2.00 |
| up to £40 | £3.00 |
| over £40 | £4.00 |
Delivery charges
UK delivery only: £2.90 per consultation via Royal Mail 24 Signed For (1-3 working days with tracking).
Parcel forwarding services are not permitted. Use only UK home or work delivery address.
Returns and refunds - unwanted items can be returned within 14 working days for a full refund.
Medical information
Acid reflux, acid indigestion and heartburn
Acid reflux, heartburn and acid indigestion are used interchangeably. They are all terms describing the burning pain caused by stomach acid.
Acid produced in the stomach can travel up to the gullet and the back of the throat. This produces a burning sensation in the region of the breastbone and occasionally a taste of acid in the throat.
Dr Fox supplies two different strong acid suppressant medications for the treatment of reflux: Losec (Omeprazole) and Zantac (Ranitidine).
Frequency of acid indigestion
Almost everybody will experience acid indigestion from time to time. It can be brought on spicy food or by drinks such as wine or acid fruit juice. Most acid indigestion will settle with antacid tablets containing an alkali. These are the familiar chalky tablets or medicines.
Some people are prone to repeated episodes of acid reflux. For these people Losec (Omeprazole) or Zantac (Ranitidine) taken daily for few days will usually settle symptoms for a week or two at a time. Indigestion symptoms can usually be kept under control by taking a Losec (Omeprazole) or Zantac (Ranitidine) tablets on an as required basis.
Treatment
GPs prescribe regular Losec (Omeprazole) or Zantac (Ranitidine) for people with severe or ongoing acid symptoms.
Losec is more effective at suppressing acid than Zantac. Losec suppresses acid for around 24 hours per dose, Zantac for 12 hours. Both will be effective in people who get only occasional acid reflux symptoms.
GPs normally investigate acid reflux symptoms when they are severe, are changing, or do not respond to simple antacid and acid suppressant treatments.
Medication and dosage
For people with mild or occasional symptoms Losec (Omeprazole) daily or Zantac (Ranitidine) twice daily for 4-5 days will settle the problem, usually for a few weeks at the time.
Where a short course of Losec (Omeprazole) or Zantac (Ranitidine) for 4-5 days does not control symptoms, or where a person's symptoms return immediately on stopping tablets, it is best to see a GP.
Losec (Omeprazole)
The starting dose of Losec is one 10mg capsule daily. This can be doubled to two 10mg capsules daily if symptoms are not controlled by the lower dose. Losec works best if taken daily for 4-5 days to settle symptoms down.
One or two 10mg Losec capsules daily can also be taken on an as required basis when symptoms flare up.
Zantac (Ranitidine)
Zantac is best taken at a dose of one 150mg tablet twice daily for 4-5 days to settle symptoms down.
Zantac 150mg tablets can also be taken once or twice daily on an as required basis when symptoms flare up.
Risk of taking strong acid suppressants (Losec or Zantac)
Zantac and Losec are widely used and safe medications. Both interact with a few prescription medication, most notably Warfarin and Phenytoin.
The main risk of taking either is the danger of masking the symptoms of a cancer in the stomach or gullet.
For this reason Losec (Omeprazole) or Zantac (Ranitidine) should only be taken after seeing a doctor face-to-face if the following apply.
Those aged 55 years or over:
With new onset of symptoms within the last year
Where symptoms are worsening or changing
People of any age with heartburn where there is:
Unintentional weight loss
Anaemia
Difficulty or pain on swallowing
Vomiting, particularly if there is blood in the vomit
Previous gastric ulcer or surgery
Jaundice
Those sufferers who have had to take an antacid or acid suppressor continuously for four or more weeks in order to control their symptoms.
Those who have taken an indigestion or heartburn remedy for two weeks with no relief of symptoms.
When to consult a doctor
If a person is not sure about their symptoms or has never seen a doctor about acid problems it is best to see a doctor face-to-face.
If symptoms improve with treatment, but come back when it is stopped, your regular doctor may want to test for H. Pylori, which is a bacterial infection of the stomach associated with reflux symptoms. If the H. Pylori test is positive, a course of antibiotic eradication treatment is usually prescribed.
Some medication can produce irritation in the stomach and gullet, most notably anti-inflammatory medications. Where a person is taking these drugs they should see their GP to discuss possible alternatives.
Anybody taking regular medication should let their regular doctor know they are taking occasional Losec (Omeprazole) or Zantac (Ranitidine). The GP may want to monitor the regular medication or adjust the dosages.
Interactions and contraindications
Losec (Omeprazole) is well-tolerated and side effects generally mild and reversible. Headache, diarrhoea, nausea, abdominal pain and rash are among adverse side effects reported with Omeprazole.
Similarly Zantac (Ranitidine) does not normally produce sided effects. Headache, feeling dizzy and diarrhoea are the most frequently reported side effects.
Buy treatment
Dr Fox supplies Losec and Zantac on prescription – you are required to answer a short medical questionnaire before your order can be completed.
---
Last updated 20 September 2018.
---
questions
Choose
order
Answer medical questions to order
(acid reflux)
---
The order process
Answer short medical questionnaire
Choose treatment, register, and pay
Doctor issues prescription online
Medicine posted direct from pharmacy
---
Recent reviews
"Easy order fast delivery perfectly wrapped"10 Dec 2018 – Mr martin B., Twickenham
"Thank you"09 Dec 2018 – Anonymous
"thanks many thanks and kind regards."09 Dec 2018 – Dana S., London
"First class service"09 Dec 2018 – Anonymous
"Thanks"09 Dec 2018 – dee d., Dublin
"Very satisfied"09 Dec 2018 – Anonymous
"Spedra product purchased is not fit for purpose."09 Dec 2018 – Anonymous
"excellent service, very straightforward and easy to use"09 Dec 2018 – Paul H., Shropshire
"Totally the best.I have never felt so respected in my whole life.Thank u"09 Dec 2018 – Gwynn C., milton keynes
"Great service"09 Dec 2018 – Anonymous