Aciclovir
Aciclovir 400mg medication to treat recurrent genital herpes available to buy online from Dr Fox.
Start order
About us | Approved to sell medications online


Buy Aciclovir online for herpes
Read medical information about genital herpes treatment
Answer medical questions to check for eligibility
Reviewed by doctors - posted from UK pharmacy
Prices
---
About Aciclovir
Aciclovir 400mg medication for recurrent genital herpes
Aciclovir is sometimes also spelt as Acyclovir and is better known by the brand name Zovirax. Aciclovir tablets are an antiviral medication. The tablets reduce herpes virus growth and spread. A 5-day course of aciclovir treatment for genital herpes will typically reduce the duration of herpes sores by one or two days and also reduce severity of symptoms and infectivity. If taken early enough aciclovir may prevent sores from breaking open.
The best-known brand of aciclovir is Zovirax. A number of different pharmaceutical companies make generic aciclovir, which is medically the same as Zovirax, but at lower prices. Dr Fox pharmacy supplies lower cost generic aciclovir.
Aciclovir is also used to treat other viral infections, particularly chickenpox, shingles, and virus infections in immunocompromised patients. The dose and strength of aciclovir prescribed depends on the type of infection being treated.
For further information see NHS - Aciclovir (including Zovirax).
What is genital herpes?
Genital herpes is the name given to sores occurring in the vaginal area or on or around the penis caused by herpes viruses. Genital herpes includes herpes sores in the region of the anus (back passage). Herpes viruses spread from person to person, usually by unprotected sex, or sometimes by kissing or orogenital sex. The same sorts of herpes viruses also cause cold sores. Cold sores are herpes sores on the lips or around the mouth.
Not every sore in the genital area is caused by herpes. It is important to see a doctor or STI clinic to have a diagnosis and to be tested for other sexually transmitted infections. Do NOT self-treat with antiviral medication without getting a medical diagnosis first.
For further information see NHS - Genital herpes.
Below are photos of herpes blisters: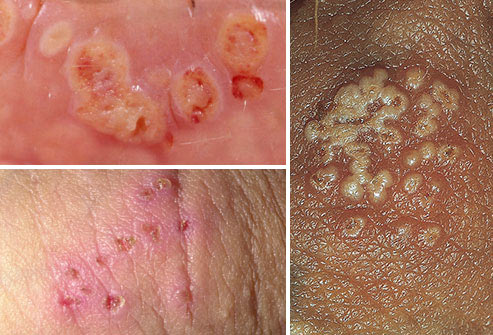 What is recurrent genital herpes?
First infections with the herpes virus typically produces a small blister rapidly followed by a painful sore. A sore is an inflamed area of broken skin, usually a few millimetres across. Sores usually last a few days (5 to 10 days), during which time there are often also flu like symptoms (fever, no energy, irritable). The sores then heal up. However, the herpes virus stays in the skin and the infection and the sore can break-out from time to time. New break-outs, are similar to first infections, although usually less severe. New sores occur in the same place as before. New sores in different places are unlikely to be caused by herpes.
Can I have sex whilst taking aciclovir?
During a flare up, and possibly in-between, a person with genital herpes is infectious and can spread the herpes virus to sexual partners. It is best to refrain from sexual contact during an outbreak of herpes. Using condoms provides protection from transmission, but this protection is not 100% effective.
How does aciclovir treat genital herpes?
The aim of treatment is to reduce the severity and duration of the sores by taking antiviral medication each time a new sore breaks out. The most commonly prescribed antiviral medication is aciclovir tablets. Tablets should be started as early as possible once symptoms (tingling, pain) start, preferably within the first 24 to 48 hours. A course of treatment lasts 5 days.
Alternatively, people who get frequent or very severe outbreaks of their genital herpes can take preventive treatment. This involves taking antiviral tablets daily for periods of months at the time. Dr Fox pharmacy does NOT supply long-term preventative treatment of this sort. This treatment needs to be monitored and is best provided through a GP or specialist clinic.
Aciclovir is not the only antiviral medication. There are alternative antivirals for herpes, namely famciclovir and valaciclovir. These work in the same way as aciclovir, but are less commonly prescribed. They are NOT available from Dr Fox.
Does aciclovir medication cure genital herpes?
A course of aciclovir, or other antiviral medications, does not eliminate the herpes virus completely or prevent future outbreaks. The herpes virus remains in the body after an outbreak, usually for many years, and will continue to produce sores from time to time. There may be months or years between outbreaks of the sores. Sores may break out more when a person is tired or run down, but often there is no pattern to outbreaks.
How to take aciclovir medication
The standard dose for the treatment of recurrent genital herpes is one aciclovir 400mg tablet three times daily for 5 days. Swallow tablets whole with plenty of fluids, or dissolve in 50ml of water. Can be taken with or without food.
Please note: The dose instruction in the patient information leaflet supplied with the tablets is different from the instruction on the packet - follow the prescription instruction label on the box. BNF/NICE recommended dose for Aciclovir to treat 'Genital herpes simplex, treatment of recurrent infection' is 400 mg 3 times a day for 3–5 days.
One course of treatment for genital herpes is 15 tablets (3 tablets daily for 5 days), and two courses will be 30 tablets. Because medicine boxes come in sizes of 56 tablets these must be split up and supplied in blank boxes of 15 or 30 tablets. This is common practice in pharmacies and nothing to be concerned about.
The dosage for cold sore treatment is different to genital herpes treatment.
Other strengths and doses of aciclovir are prescribed for treating recurrent herpes and other types of viral infections. See your doctor if the standard treatment is not effective or there are new symptoms of side effects. It is important to drink plenty whilst taking aciclovir.
Missed doses can be taken late – but avoid double dose and do not exceed daily dose.
Can anyone take aciclovir?
People over 65 years, and those diagnosed with kidney disease (impaired renal function) and women who are pregnant may not be able to take aciclovir. Checks are carried out during the Dr Fox online consultations and advice is given. Dr Fox pharmacy supplies medicine to adults only (over 18s).
If you experience a bout of herpes during pregnancy or while breastfeeding, visit your doctor to discuss treatment options.
Aciclovir tablets and other medication
People taking the following medications should consult a doctor or pharmacist before taking aciclovir:
If you experience a bout of herpes during pregnancy or while breastfeeding, visit your doctor to discuss treatment options.
Probenecid, used to treat gout.
Cimetidine, used to treat stomach ulcers.
Mycophenolate mofetil, used to stop your body rejecting transplanted organs.
Ciclosporin (an immunosuppressant drug).
Theophylline (used in asthma and other breathing problems).
Zidovudine (used in HIV infection).
Side effects of Aciclovir
Like all medicines, this medicine can cause side effects, although not everybody gets them.
Serious side effects
If any of the following happen, stop taking Aciclovir 400 mg Tablets and tell your doctor immediately or go to the casualty department at your nearest hospital.
Allergic reactions (may affect up to 1 in 1,000 people). If you have an allergic reaction, stop taking Aciclovir 400mg tablets and see a doctor straight away. The signs may include:
Rash, itching or hives on your skin.
Swelling of your face, lips, tongue or other parts of your body.
Shortness of breath, wheezing or trouble breathing.
Collapse.
Other side effects
Common (may affect up to 1 in 10 people):
Headache
Feeling dizzy
Feeling or being sick
Diarrhoea
Stomach pains
Rash
Skin reaction after exposure to light (photosensitivity)
Itching
Patient Information Leaflet

The Patient Information Leaflet (PIL) is the leaflet included in the pack with a medicine and must be read before taking the medicine. It is written for patients and gives information about taking or using a medicine.

Authored 26 February 2020 by Dr Tony Steele
Last updated 15 September 2020
Not strong enough improved symptoms but didn't resolve the problem
09/09/2020 10:48
Anonymous Verified
Amazing! Fabulous service as always
13/08/2020 19:56
Anonymous Verified
23/05/2020 22:14
Anonymous Verified
15/05/2020 08:00
Anonymous Verified
Read more reviews
---
The order process
Answer short medical questionnaire
Choose medication, register, and pay
Doctor issues prescription online
Pharmacy team post medication direct
---