Aciclovir 400mg & 800mg
Aciclovir 400mg & 800mg tablets to treat and suppress recurrent genital herpes outbreaks available to buy online from Dr Fox.
Start order
Buy aciclovir online in UK
How to order aciclovir 400mg-800mg online for UK delivery:
Read medical information about genital herpes treatment
Answer medical questions to check for eligibility
Reviewed by doctors - posted from UK pharmacy (tracked 24hr service)
Prices
---
About aciclovir
Aciclovir tablets are a prescription-only antiviral medication.
5-day course of aciclovir 400mg tablets or a 2-day course of aciclovir 800mg tablets will treat genital herpes outbreaks.
Aciclovir 400mg tablets may be used for long-term daily suppressive treatment.
Read the patient leaflet for a full list of side effects, cautions, and interactions with other drugs.
Aciclovir tablets are an antiviral medication which reduces herpes virus growth and spread, by blocking the DNA replication of the virus. A 5-day course of aciclovir 400mg tablets or a 2-day course of aciclovir 800mg tablets will typically reduce the duration of genital herpes sores by one or two days and will also reduce severity of symptoms and infectivity. If taken early enough aciclovir may prevent sores from breaking open.
Taking aciclovir every day can suppress herpes outbreaks.
The original brand of aciclovir was Zovirax. A number of different pharmaceutical companies now make generic aciclovir, which is medically the same as Zovirax, but at lower prices. Dr Fox pharmacy supplies lower cost generic aciclovir (see generic medicines FAQs).
Aciclovir is also used to treat other herpes family virus infections, particularly chickenpox, shingles, cold sores, especially in immunocompromised patients. The dose and strength of aciclovir prescribed depends on the specific type of infection being treated. Dr Fox only supplies aciclovir to treat herpes simplex infections i.e. genital herpes and cold sores.
For further information see NHS - Aciclovir (including Zovirax).
Genital herpes
Genital herpes is a herpes simplex infection causing sores in the vaginal area or on or around the penis. Genital herpes also includes herpes sores in the region of the anus (back passage). It is similar to cold sores, which are herpes simplex sores on the lips or around the mouth.
Not every sore in the genital area is caused by herpes simplex. If you have a genital sore or ulcer it is important to see a doctor or sexual health clinic to have a diagnosis and to be tested for other sexually transmitted infections. Do NOT self-treat with antiviral medication without getting a medical diagnosis first.
For further information see NHS - Genital herpes.
Below are photos of herpes sores and blisters: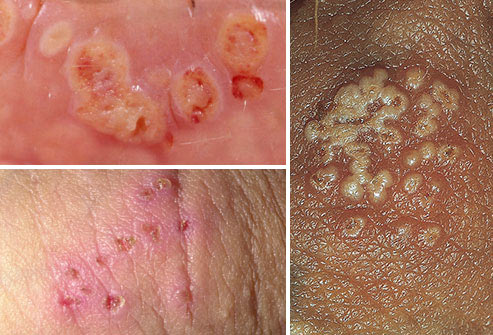 More photos of herpes on genitalia from DermNet NZ.
Recurrent genital herpes
Herpes simplex viruses are spread directly from person to person, by kissing, unprotected sex, or orogenital sex. Genital herpes follows the same pattern as herpes simplex elsewhere e.g. cold sores. First infections with the herpes simplex virus typically produce a cluster of small blisters rapidly followed by painful sores. A sore is an inflamed area of broken skin, usually a few millimetres across. Sores usually last a few days (5 to 10 days), during which time there may also be flu-like symptoms (fever, no energy, irritable). The sores then heal up, but the herpes virus stays in the body continuing to live in the nerve cells close by. The herpes simplex virus will from time to time reactivate, travelling down the nerve to cause further herpes outbreaks in the same area. New outbreaks are similar to first infections, although usually less severe. New sores occur in the same place as before. New sores developing in different places are unlikely to be caused by herpes simplex.
Herpes simplex viruses
Genital herpes used to be caused mostly by HSV2 (herpes simplex virus type 2) and cold sores by HSV1 (herpes simplex virus type 1). However there is now a lot of overlap - HSV1 genital herpes tends to cause fewer recurrent episodes than HSV2. Because of this it can sometimes be helpful to know which of the two herpes simplex viruses is causing your outbreaks - a doctor or sexual health clinic may be able to take a swab to determine this.
Partners and genital herpes
As genital herpes is spread from person to person by direct sexual contact it is a sexually transmitted disease. To reduce the possibility of passing it on to sexual partners please read the following advice:
Use male condoms for all sexual contact, including oral and anal sex.
Avoid all sexual contact if you or your partner have blisters or sores, or other signs that a herpes sore is developing.
Avoid contact with blisters and sores - wash thoroughly if this occurs.
Avoid sharing sex toys and use them with a condom.
Manage stress - a common trigger for an outbreak.
Be open about discussing the risk with your partner.
Suppressive aciclovir treatment reduces the frequency of outbreaks and also reduces viral shedding between outbreaks. It is often recommended if you have genital herpes and your regular partner does not.
Aciclovir to treat genital herpes
Aciclovir treatment reduces the severity and duration of the sores if taken each time a new sore starts to break out. Tablets should be started as early as possible once symptoms (tingling, pain) start, preferably within the first 24-48 hours. A course of 400mg lasts 5 days and a course of 800mg tablets lasts 2 days.
People who get frequent (more than 6 times a year) or very severe outbreaks of their genital herpes can take daily suppressive aciclovir treatment.
Aciclovir is not the only antiviral medication. There are alternative antivirals for herpes viruses, namely famciclovir and valaciclovir. These work in the same way as aciclovir, but are more expensive and less commonly prescribed. They are NOT available from Dr Fox.
Outlook for genital herpes
Unfortunately, a course of aciclovir, or other antiviral medications, cannot eliminate the herpes virus completely. The herpes virus remains in the body after an outbreak, usually for many years, and will continue to produce sores from time to time. There may be months or years between outbreaks of the sores. Sores may break out more frequently when a person is tired or run down, but often there is no pattern to outbreaks. They do usually become less frequent over time. Suppressive aciclovir treatment makes it less likely that outbreaks will occur, but the virus does continue to remain in the body.
How to take aciclovir medication
Repeat genital herpes outbreak: the standard dose for the treatment of a recurrent genital herpes outbreak is one aciclovir 400mg tablet three times daily for 5 days. Short course treatment is one aciclovir 800mg tablet three times daily for 2 days.
Suppression of genital herpes: the standard dose of treatment for genital herpes suppression is one aciclovir 400mg tablet twice a day for an initial period of 6 to 12 months. A break should then be taken to reassess the overall frequency of outbreaks. Aciclovir suppression can be restarted if needed and, if necessary, it can be safely taken long term.
Swallow tablets whole with plenty of fluids, or dissolve them in a glass of water. They can be taken with or without food.
Please note: The dose instruction in the patient information leaflet supplied with the tablets is different from the instruction on the packet - follow the prescription instruction label on the box. BNF/NICE recommended dose for aciclovir to treat genital herpes is 400mg 3 times a day for 5 days or 800mg 3 times a day for 2 days.
Because medicine boxes come in sizes of 35 or 56 tablets these must be split up and supplied in blank boxes of 6, 12, 15, or 30 tablets depending on dosage and number of courses of treatment. This is common practice in pharmacies and nothing to be concerned about.
Recommended aciclovir dose for suppression is 400mg twice a day - this will be supplied in original medicine boxes of 56 tablets.
The dosage for cold sore treatment is different to genital herpes treatment.
See your doctor if the standard treatment is not effective or there are new symptoms or side effects.
It is important to drink plenty of water to avoid becoming dehydrated whilst taking aciclovir.
Missed doses can be taken late - but avoid taking a double dose and do not exceed the total daily dose.
Cautions taking aciclovir
There are a few conditions where someone may be advised not to take aciclovir. Checks are carried out during the online consultation.
If the following apply, you are recommended to check with your regular doctor before taking aciclovir:
Over 65.
Reduced immunity e.g after a bone marrow transplant, low white blood cell count, HIV.
Neurological illness.
Long-standing low oxygen levels from any cause.
Abnormal liver function tests.
Blood chemistry abnormalities.
Kidney disease.
If you have an outbreak of genital herpes during pregnancy or while breastfeeding, it is important to discuss treatment with your doctor or midwife, to protect the infant.
Dr Fox pharmacy only supplies medicine to adults (over 18s) so if you are aged under 18 please contact your GP or a local sexual health clinic for testing and treatment.
Aciclovir tablets and other medication
People taking the following medications should consult a doctor or pharmacist before taking aciclovir:
Mycophenolate mofetil (used to stop your body rejecting transplanted organs).
Theophylline (used in asthma and other breathing problems).
Any medication which mentions urine or kidney problems as side effects in the patient information leaflet.
Side effects of aciclovir
Like all medicines, aciclovir can cause side effects, although not everybody gets them.
Allergic reactions (may affect up to 1 in 1,000 people). If you have a severe allergic reaction, stop taking aciclovir tablets and contact a doctor (or telephone 999 in the UK) straight away. The signs may include:
Rash, itching, or hives on your skin.
Swelling of your face, lips, tongue, or other parts of your body.
Shortness of breath, wheezing, or trouble breathing.
Collapse.
Other common side effects
May affect up to 1 in 10 people:
Headache.
Feeling dizzy.
Feeling or being sick.
Fever/fatigue.
Diarrhoea.
Stomach pains.
Rash.
Skin reaction after exposure to light (photosensitivity).
Itching.
Other measures to help a genital herpes outbreak
Sores may be soothed by using a salt bath. Taking painkillers such as paracetamol or ibuprofen, and applying petroleum jelly such as vaseline can be helpful. An anaesthetic like lidocaine ointment or gel can be applied, if needed, to ease pain before passing urine. Some anaesthetic creams can be bought in pharmacies, stronger versions require a prescription.
Patient Information Leaflet

The Patient Information Leaflet (PIL) is the leaflet included in the pack with a medicine and must be read before taking the medicine. It is written for patients and gives information about taking or using a medicine.
Aciclovir 400mg patient leaflet
Aciclovir 800mg patient leaflet
Aciclovir tablets FAQs
Can I have sex whilst taking aciclovir?
During a genital herpes outbreak, and to a lesser extent in-between, a person with genital herpes is infectious and can spread the herpes virus to sexual partners. It is best to refrain from sexual contact during an outbreak of herpes. Using condoms provides protection from transmission, but this protection is not 100% effective.
Can genital herpes be cured?
Unfortunately once the genital herpes virus is in your body, it cannot be 'cured'. Between outbreaks the virus remains living in the nerve cells and from time to time reactivates causing new outbreaks of genital herpes. The repeat outbreaks are often less severe than the first episode and the reactivations do often become less frequent after several years. If outbreaks are very frequent then suppressive aciclovir treatment may reduce the number of episodes.
Why is it important to drink lots of water whilst taking aciclovir?
Aciclovir is removed from the body by the kidneys. Maintaining good hydration levels helps the kidneys to work efficiently and prevents too high levels of aciclovir building up in the body.
See also genital herpes FAQs page.

Authored 26 February 2020 by Dr Tony Steele
MB ChB Sheffield University 1983. Former hospital doctor and GP. GMC no. 2825328
Recent Aciclovir 400mg/800mg tablets reviews
They've really saved me from an breakout I get on my nose and lips I was getting a couple of time a month on for about a year. It was sore, I would get a little fever and be embarrassed. I just didn't wanna talk about this stuff with anyone, the doctors specifically. Thanks for the service, it's saved me from an embarrassing face to face.
03/09/2023 08:34
Anonymous Verified
I've been taking these tablets for nearly 3 months now and I haven't had a single outbreak. I used to have two every month. My quality of life has improved so much, feeling normal again. It's two tablets per day, but for the results that I have obtained, it's definitely worth it.
29/07/2023 20:29
Anonymous Verified
Had an attack of herpes and got these Acyclovir tablets on prescription. Very pleased with them as I really don't think I would have had any relief without them. They have taken a good 2 weeks to start to go and were painful. If I didn't have this medication I think it would still be quite painful. I'm very grateful for this prescription.
07/06/2023 14:00
Anonymous Verified
22/11/2023 11:26
K. Schofield Verified
very good and helped with my cold sores
09/11/2023 10:35
Anonymous Verified
Read more reviews
---
The order process
Choose medication, register, and pay
Dr Fox issues prescription online
Pharmacy team post medication direct