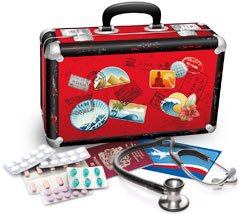 Travel health
Health and medicines should be on your checklist when travelling abroad, along with tickets, accommodation, money and passports.
Increasing numbers are visiting exotic or developing countries, many of which require precautions.
Travellers returning from abroad and feeling unwell should contact their GP and inform them where they have been.
Dr Fox prices are 25%–50% lower cost. Many GP surgeries refer patients to our service because of this.
Vaccinations and immunisations

The NHS Fit For Travel website gives details about travel health considerations, including immunisations, vaccinations, malaria prophylaxis recommendations and other travel health information for every country worldwide.
Travelling abroad with medicine

Countries have different restrictions on taking medicines through customs.
Dr Fox can provide a copy of a patient's prescription on request for travel/import purposes.