In the UK malarone is a prescription only medicine. This means Malarone tablets are not available without a prescription, except from some pharmacists using 'patient group directions' (a form of exception for the need for a prescription). Most pharmacists still require a prescription before Malarone can be supplied.
Doctors, or nurses and pharmacists with specialist travel medicine training, write the prescriptions. Usually there is a charge of between £10.00 to £25.00 for writing a prescription. The cost is set by the prescriber.
Dr Fox provides Malarone tablets at a low cost. Prices shown on the Dr Fox malaria tablets page (compare prices of online clinics).
Update March 2013: Malarone is Glaxo's brand name for a medicine called atovaquone/proguanil. In February 2013, following a challenge to Glaxo's patent,  non-branded 'generic malarone' – non-branded atovaquone/proguanil became available as a UK licensed medicine. Malarone and non-branded atovaquone/proguanil (generic malarone) are medically the same.

How to order
Malarone tablets on the NHS
In the UK nearly everyone who needs Malarone tablets has to buy them. The NHS will provide malaria tablets to only a very small number of patients who have specific medical problems. Most people do not have these medical problems. The NHS will not pay for medicines for travel or recreation.
The cost of buying malarone tablets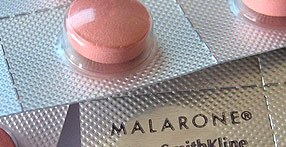 Malarone tablets are expensive. Up until February 2013 Malarone tablets (atovaquone/proguanil) were under license and produced only one drug company (GSK). Since Feb 2013 two other drug companies have started to supply 'generic malarone' – atovaquone/proguanil, although to date (March 2018) prices still remain high. Dr Fox provides Malarone tablets to buy from £1.65 per tablet plus a small prescription fee and postage (prices vary depending on the quantity supplied). If wholesale prices of atovaquone/proguanil fall Dr Fox prices will be reduced.
Our researchers have compiled a list of comparative costs for Malarone supply from regulated UK online clinics.
Dr Fox prices for Malarone
| Atovaquone/proguanil (Malarone) | Quantity (trip length) | Cost |
| --- | --- | --- |
| Malarone | 16 tablets (1 week) | £26.40 |
| Malarone | 23 tablets (2 weeks) | £32.30 |
| Malarone | 30 tablets (3 weeks) | £49.50 |
| Malarone | 37 tablets (4 weeks) | £61.05 |
| Malarone | 44 tablets (5 weeks) | £72.60 |
| Malarone | 51 tablets (6 weeks) | £84.15 |
| Malarone | 65 tablets (8 weeks) | £107.25 |
| Malarone | 93 tablets (12 weeks) | £153.45 |
| Malarone | 193 tablets (6 months) | £318.45 |
Side effects of malarone
As with all malaria tablets Malarone has side effects, although these are usually mild. The commonest side effects include, headache, feeling sick and being sick (nausea and vomiting), stomach pain, diarrhoea. Less common but still frequent include, dizziness, sleeping problems (insomnia), strange dreams, depression, loss of appetite, fever, rash, cough.
When traveling it is difficult sometime to know if a symptom is a side effect or part of the travel experience.
Malaria prevention
No malaria tablet is 100% effective. People who experience flu like symptoms from one week to a year after being in a malaria area should seek medical advice. Malaria tablets reduce the risk. It is also important to reduce mosquito bites by covering up, using insect repellents and sleeping under nets or in screened rooms.
Alternatives to Malarone tablets
The type of malaria tablet required depends on the area being visited. The pattern of drug resistance of the malaria parasite varies from place to place and from time to time. Up-to-date guidance on the tablets required can be found at anti malaria page.
The most widely recommended alternative to malarone is doxycycline. This is less expensive but needs to be taken for 4 weeks after leaving a malaria area compared to one week for malarone tablets. Doxycycline although as effective as malarone tends to be less well tolerated. The side effects of doxycycline although usually not severe or serious tend to be more troublesome.