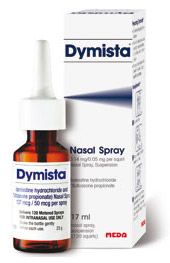 Dymista: New Spray for Allergic Rhinitis
Dymista is a nasal spray used to control the symptoms of hay fever and allergic rhinitis (allergic nasal inflammation). The spray treats a runny and blocked nose, sneezing and itching. Relief of symptoms usually starts within 30 minutes of using Dymista. Dymista is most effective when the spray is used regularly for at least a few days.
Ingredients and action
Dymista combines two medicines in one treatment. It is has a dual action. It contains a fast acting antihistamine called azelastine and a steroid called fluticasone.
Azelastine usually starts to work within 30 to 60 minutes. It takes a few days of regular use for the steroid part of the spray to reduce inflammation. Symptom control is likely to be fast and to improve over a few days, providing Dymista is used regularly.
The antihistamine effect of Dymista wears off over 12 to 24 hours and the steroid effects usually wear off over a few days after use of the spray is stopped.
Other allergic rhinitis sprays and treatments
There are alternative nasal sprays to Dymista for the treatment of allergic rhinitis, some of which contain antihistamines and others steroids, in separate sprays. Dymista combines the long acting antihistamine azelastine present in Rhinolast nasal sprays with the glucocorticoid fluticasone present in Pirinase and Flixonase nasal sprays.
These alternative nasal sprays should NOT be used at the same time (concomitantly) with Dymista.
Studies show Dymista usually works more quickly than steroid nasal sprays and improved symptom relief continues with sustained use of Dymista.
You should discuss treatment options with your doctor or pharmacists. Alternative nasal sprays to Dymista may control allergic rhinitis symptoms adequately and may be preferred, particularly by patients who have mild or occasional symptoms or patients who have responded well to these sprays before.
People who are using both an antihistamine nasal spray and a steroid nasal spray may find it more convenient and cost effective to use Dymista. Dymista is a single combined treatment.
Dymista nasal spray acts directly on the nasal membranes, reducing inflammation and sensitivity. Studies show eye symptoms, such as inflammation, watering and itching, also improve when Dymista is used.
Dymista does not replace antihistamine tablets and is not primarily a treatment for dry itchy or inflamed eyes. However, if allergic rhinitis symptoms are well controlled by Dymista, it is possible other allergic rhinitis treatment, such as antihistamine tablets and eye drops, may no longer be needed.
You must NOT use other hay fever nasal sprays whilst you are using Dymista.
Dymista side effects and cautions
Serious side effects are unlikely. The commonest side effects are; nosebleed, headache, a bitter taste in the mouth, and an unpleasant smell. For more detail, see the manufacturer's patient information leaflet supplied with Dymista sprays. All patients must read this leaflet before using Dymista.
Dymista should NOT to be used with other nasal sprays for allergic rhinitis. These may contain the same or similar ingredients and you may get a double dose.
Consult a doctor if allergic rhinitis symptoms are not controlled after using Dymista for 7 days.
Consult a doctor if symptoms are worsening or if bleeding or ulceration of the nose occurs.
Dymista should NOT be used continuously from more than 3 months without the approval of a doctor.
Dymista could impair your ability to drive or operate machinery, particularly if used in combination with sedating medications, such as some antihistamine tablets.
Dosage and usage
Dymista is most effective when used regularly on a twice daily basis for as long as needed. The usual dose is one puff in each nostril twice daily. If used irregularly or on an occasional basis, Dymista will be less effective.
The manufacturer's patient information leaflet supplied with Dymista describes how to use the spray (spray technique).
Further information: NHS – Hay fever