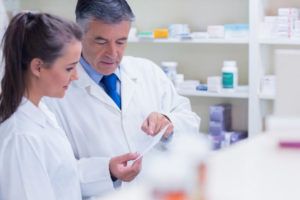 Both Viagra and sildenafil are widely used to treat erectile dysfunction. In fact, they contain the same active ingredient. Viagra is a brand name for the sildenafil produced and sold by the company Pfizer. Sildenafil is also sold as a generic drug, which is medically identical to Viagra.
History of sildenafil as Viagra
Sildenafil citrate was created in 1989 by British scientists Albert Wood and Peter Dunn as a possible treatment for hypertension and angina; conditions associated with coronary heart disease. In 1991 Dr. Nicholas Terrett, now often referred to as the father of Viagra, was named in the British patent for the drug as a heart medication. And though Pfizer's early trials of the drug in the 1990s did not prove its efficacy as a heart medication, patients who took part in the clinical trials reported increased erections after taking sildenafil. Separate studies provided more information on the biochemical process that causes erections, which helped scientists understand how sildenafil could enhance the effects of sexual stimulation and open up blood vessels in the penis. Sildenafil was then studied in men with erectile dysfunction, and in 1998 it was approved by the FDA specifically for treatment of ED and branded as Viagra.
Sildenafil (generic Viagra) becomes available
When Pfizer lost its UK patent for the drug in June 2013 it made way for generic manufacturers to produce sildenafil, or 'generic Viagra'. It costs a fraction of the price of Viagra, and has made the treatment more accessible to a wider range of patients. You can now choose to buy Viagra, Pfizer's branded drug, or sildenafil, the generic version.
Blue or white pills?
Branded Viagra comes in small diamond-shaped blue pills – Pfizer has also patented this pill design and appearance. Sildenafil is sold as white or blue tablets, with different characteristics depending on the brand. Some have chalky finishes while others are smooth, and some are scored for easy division, while others are not. Both Viagra and the different brands of sildenafil can be purchased in 25mg, 50mg, and 100mg preparations, and there is no significant difference between them in terms of active ingredients.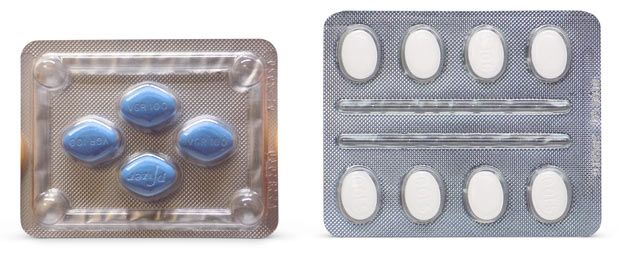 Why is sildenafil cheaper than Viagra?
As a generic medicine, sildenafil is produced by a number of manufacturers, and competition among them helps to regulate its price and keep it affordable for consumers. Branded Viagra is only produced by Pfizer, whose name recognition and customer loyalty allow it to charge a higher price for its renowned 'little blue pills'.
Is one preferable to the other?
Viagra and sildenafil are medically the same. It is a requirement for the generic version to contain the same levels of the active ingredient in the body as its branded alternative, which is known as bioequivalence. Before generic drugs are licenced for sale the manufacturer must demonstrate bioequivalence to the licensing authorities (the European Medicines Agency).
If you have a private prescription for Viagra, the branded drug must be dispensed; but you may ask for sildenafil at the time that the prescription is made. They are considered equally effective, however patients must follow proper protocol for optimum results. Also note that if the condition does not respond to the initial dose of Viagra or generic sildenafil, a higher dose may be required (after several unsuccessful attempts).