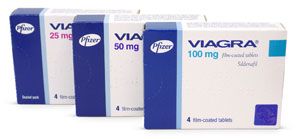 Its benefits are widely known, but when it comes to actually taking Viagra, there are a lot of unanswered questions. Men thinking about taking any PDE5 inhibitor should review the following FAQs and discuss the medication with their GPs.
What drug is Viagra?
Viagra's active ingredient is sildenafil citrate, which belongs to the group of PDE5 (Phosphodiesterase-5) inhibitors. It works by inhibiting an enzyme that regulates blood flow to the penis, which then increases blood flow into the penis and sustaining an erection for longer when sexual stimulation occurs.
What is sildenafil?
Sildenafil is also known as generic Viagra, and they are medically the same. Sildenafil citrate is the active ingredient in both preparations. Sildenafil is cheaper than Viagra but has the same effect. There are many manufacturers of sildenafil; Dr. Fox commonly offer sildenafil preparations manufactured by Torrent, Mylan and Zentiva.
When do you take Viagra?
Viagra is prescribed to men who have been deemed healthy enough for sexual activity, and who do not have certain health conditions such as high or low blood pressure that could put them at risk if they take Viagra.
For optimum results, Viagra and sildenafil are taken at least 2 hours after eating, and one hour before you plan to have sex. If taken on a full stomach, Viagra will still work, but there may be a delay in the onset of action. It is also important to avoid citrus fruits, especially grapefruit, after taking a pill, as a chemical found in the fruit can affect the absorption of medication.
What does Viagra treat?
Viagra and the generic sildenafil treat erectile dysfunction, which is the inability to achieve or maintain an erection sufficient for sexual activity. Erectile dysfunction can have a number of different physical or emotional causes. Often it is necessary to address the underlying cause of erectile dysfunction before Viagra or sildenafil can be recommended.
Can I get sildenafil with a prescription for Viagra?
If you have a private prescription for Viagra, then the branded drug must be dispensed. If you wish to buy sildenafil instead of Viagra, you must ask for it at the time of prescription.
How can I buy Viagra and sildenafil?
Both forms of sildenafil citrate are available with a private prescription from a number of pharmacies, including Tesco, Boots and Dr Fox. You will find that it is often more convenient and cheaper to purchase Viagra or sildenafil from a regulated online pharmacy, but it is important to confirm that the company is allowed to provide online prescription services. Dr Fox is registered with the General Pharmaceutical Council and regulated by the Care Quality Commission. If obtaining supplies online, it is essential first to have a full face-to-face assessment with your regular doctor.